This post is about my latest haul from ULTA. Recently, Ulta had a BOGO going on all the ULTA brand items. I needed a bronze eyeliner and a good eye makeup remover so I decided to try the Ulta automatic eyeliner since I prefer mechanical eyeliners (no sharpening hassle). Of course, I  didn't just stop there! With the BOGO free sale plus Free shipping and a bag full of makeup samples with $25 purchase, I couldn't stop myself from ordering more ULTA goodies. My total came out to be $27.99. Here is the list of stuff I got :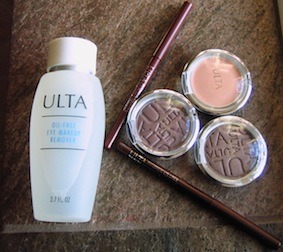 Ulta eyeshadow singles in Organza and Sandstone (2 for $7)
Ulta automatic eyeliner in chocolate and bronze (2 for $7)
Ulta wedges value pack 96 ct ($6.99)
Ulta oil free eye makeup remover ($7)
Ulta eye base (free)
Ulta Pretty in Pink beauty bag (free)
Ulta eyeshadow single Sandstone – These eyeshadows offer a pretty good quality and amount  of product for the price. This is a really pretty taupe shade with a silver sheen and is perfect for a daytime polished look. Used as an all-over lid color, looks flattering on my brown eyes. It is shimmery (but not too much) with a smooth texture that blends easily and has good staying power. Definitely recommended for taupe eyeshadow lovers!
Ulta eyeshadow single Organza – Organza is a mauvish color with a bit of taupe mixed in and slight sheen. However, the mauve color doesn't show up well on my eyelids and just looks like a cool neutral shade on my fair- medium skintone. Looking at the swatch on ULTA website, I was hoping it find more of a pinkish-mauve shade but it turned out to be quite similar to sandstone….as you can probably make out in the pic above too.
ULTA automatic eyeliner in chocolate – This is a basic brown eyeliner that applies easily but wish it was a little more pigmented.
ULTA automatic eyeliner in bronze – This is a nice bronze color to brighten up your eyes. I prefer to wear it over the chocolate eyeliner to add a hint of shine to matte brown color.
Ulta cosmetic wedges – I am not too happy with these sponge wedges.  They are a little flimsy and get too soggy when used wet to apply/blend foundation .Overall, they are Ok for the price since you  get 96 for 7 bucks ( so I don't reuse) but I would not repurchase.
Ulta oil free eye makeup remover – It's an effective makeup remover that leaves no oily residue and works well to remove even the waterproof liner or mascara. Stings a bit on the eyes though…..that's a bummer 🙁
Ulta eye base – Very disappointing product.I usually do not have a problem with creasing so a primer is not an essential thing for me. I bought this eye base mainly to make the eye shadow colors  more vibrant but it doesn't serve that purpose at all and feels very drying on the lids. I even gave it a try on my lips as a base for the lipstick but it didn't work out.
And yeah, did I mention they also included a full sized Essence eyeshadow in the free beauty bag with other makeup & perfume samples. This eyeshadow (Dress to impress) is a medium brown shade with grayish undertones and is pretty decent. Overall, a decent haul….. except the eye base of course. What's your favorite ULTA item? Do tell……