L'Oreal Colour Riche le Gloss is the latest offering by the brand to hit the drugstores. As Per L'Oreal, "Discover our richest shine indulgence for your lips. Infused with ultra-hydrating Omega 3, protective Vitamin E and Argan Oil, Colour Riche Le Gloss keeps lips moisturized, soft and supple."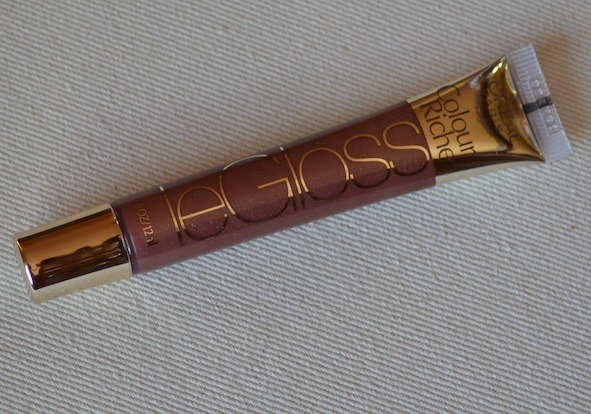 L'oreal has done a good job with the packaging of Colour Riche Le Glosses as the shiny golden lipgloss tubes look pretty elegant. It does not have a conventional lipgloss applicator but I found the slim squeeze tube convenient to use. The Colour Riche le Gloss applies velvety smooth with a high-shine glossy finish. I picked up "Chocolate Obsession" which is a shimmery chocolate brown (not too flashy). It appears as a bronzey-nude shade with a hint of shimmer on my lips so just wish it was a little more pigmented. That said, it's still a gorgeous natural shade with enough opacity to add some color to your lips and should be flattering on almost all skintones.
This lipgloss feels slightly sticky but the formula is very moisturizing as claimed and really keeps my lips hydrated. Another good thing is that there is no strong scent or flavor in this Loreal lippie. It has a subtle sweet smell but that does not stick around. I can get about 2 hours of wear from Colour Riche le gloss which is decent enough but it doesn't last through a meal.
Overall, L'Oreal Colour Riche le Gloss in "Chocolate Obsession " is a lovely bronzey shade with a touch of shimmer that looks good on its own and also pairs well with several lip colors. The lightweight creamy texture wears comfortably without being sticky and gives you the perfect glossy pout!
I'd say it's definitely worth picking up since the price ($7.95) is also reasonable and you can choose from 16 pretty shades! I must say the color selection looks lovely and I am certainly tempted to pick up a couple more shades.
Have you tried L'Oreal Colour Riche le Gloss? Did you like it as much as I do? Do tell!