Hello lovelies! Today I have a quick post on MAC "O" lipstick. MAC describes "O" as purplish-red with golden pearl. However, it looks like a plain bronzy brown lip color in the tube and initially I thought it might end up looking a little muddy on me (as a lot of brown shades do). But the color on my lips turns up so much better – a lovely plummy /burgundy bronze with a beautiful golden sheen. True to the description, the reddish undertones show up after you apply it.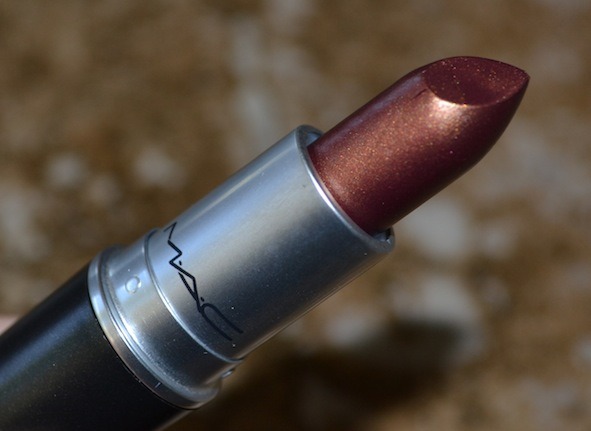 MAC "O" is pretty pigmented to stay on but doesn't look heavy and the bronze/gold iridescence perks up your skin. You can wear it over chocolate lip liner for a coppery bronze color or enhance the plummy undertones with a plum liner for a glam look. I love that you can apply it lightly to make it suitable for day (just add clear lipgloss on top for a sophisticated, chic day look) .The formula is fairly long lasting (about 3-4 hours on me) and the color leaves a plum stain as it fades that stays on for quite some time. Even with its frost finish, the texture of this lipstick is not too drying and feels nice and creamy on lips. If you have very dry lips, just make sure you prep them well.
Overall, O is a gorgeous lip color that looks great with neutral eyes and dresses up your face with minimal effort. I think this MAC llippie would work with most skintones but the warm toned gals have a better chance of rocking it. This would surely be an amazing shade for fall/winter but I can wear it all year-round.
Have you tried MAC O? How does it turn out on you? I'd love to know your thoughts!
Just a friendly reminder : Make sure to check out my Murad skincare international giveaway with two-winners that's going to end soon.  Click here to enter