I switched to Sulfate-free shampoos more than a year ago and that has helped a lot in improving the overall look and feel of my thick, coarse hair. So, I am always up for checking out sulfate-free hair products that have gentle, naturally-sourced ingredients to keep my hair nourished and healthy. Recently I tried Bassu Hydrating Moisture shampoo and conditioner from Surface hair care  which is an eco-friendly line of hair products formulated with certified organic ingredients.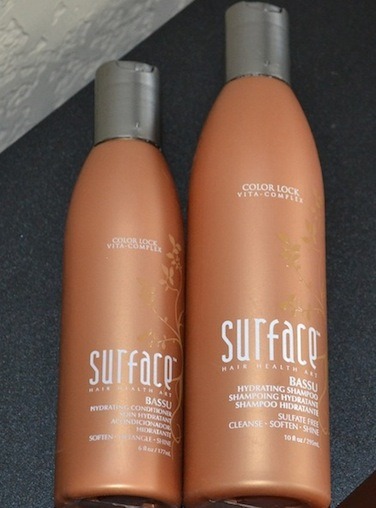 Product Details
Gentle and Thorough Cleansing  Bassu Hydrating Shampoo provides luxurious moisture for dry hair. Natural palm and coconut oils gently cleanse while babassu seed oil penetrates and softens.
Moisturize, Shine and Soften Bassu Hydrating Conditioner has Babassu, Aloe and Flax Seed Oil that combine for the ultimate in penetrating moisture, shine and condition. The Babassu tree known as "The Tree of Life", is a superior emollient for dry or oily hair and skin. Aloe soothes and heals. Flax seed is antioxidant rich and is nature's richest cource of omega-3.
Color Retention All Surface products are infused with "Color Lock Vita Complex". This complex combines Ceramide 3 and Vitamin A,C, E antioxidants which provides internal color retention and an external UV shield by reducing free radicals and preventing oxidative damage.
I have been using Bassu Hydrating shampoo and conditioner for almost two weeks now. These two products are meant for dry/damaged hair that need extra nourishment.
Bassu Hydrating Shampoo – This gentle (SLS free) hydrating shampoo has a creamy formula that does not lather up a whole lot. I work it through my hair by massaging gently and it rinses out easily leaving my hair thoroughly clean and not feeling coarse to touch. It does not strip my color treated hair and makes it look healthier. Although it is an oil-based shampoo, my hair does not feel heavy or weighed down. And it smells so good too!
Bassu Hydrating Conditioner – I have tried a lot of conditioners, both drugstore and high-end, for my very dry, frizzy hair to keep them moisturized and soft to touch. Bassu hydrating conditioner is definitely one of the best and does a great job of moisturizing, softening and adding shine to my dry tresses. I just leave it in my hair for a minute or two as I finish up my shower and it leaves my hair so smooth and soft without the grease factor. Just like the shampoo, it smells amazing (just wish the scent lasted longer).
Overall, I am very pleased with Bassu Hydrating Shampoo and Conditioner as the combo keeps my hair replenished with luxurious moisture – just what my dry hair needs!  The natural properties of this duo, certified organic extracts, no sulfates, parabens, phthalates, DEA, TEA and the fact that Surface products are not tested on animals all make them a winner in my book. The retail price of Bassu Moisture Hydrating shampoo (10oz) and conditioner (6oz) is $23.95 and $18.95 respectively.
Surface hair products are available for sale exclusively in professional salons throughout the US and Canada. You can use the salon locator on surfacehair.com to find a salon closest to you.
Disclosure: This review features a sample product provided by PR for consideration. All opinions are my own.