Women across the world have endured many pains to ensure being beautiful be it pouring hot wax over their skin, pulling hair with a plucker, wear 7 inches of heel, workout till dawn to get that perfect body and lots more. But what if I told you that there were some other ways to get gorgeous however they involve snakes, bulls, sheep and snails? Intrigued? Read on to find out how women (and even men) are using these strange but true beauty rituals to keep looking good.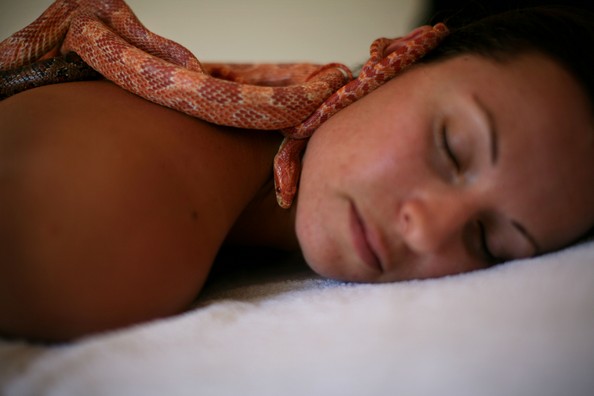 Israeli Snake Massage
Creepy but true, a Spa in Israel offers a unique spa experience which includes a massage by snakes. For around $80 the massage offers a solution to customers with aching joints and muscles. If you can get over the crawling effect of snakes all over your body, the snakes are supposed to provide you with a feeling of relaxation. The larger snakes are used to alleviate deep muscles tensions and the smaller ones will create a fluttering and soothing effect.
Now if you are still shaking in your stilettos, the snakes are non-venomous. Small mercies eh?
Chilean Snail Secretions
Apparently this beauty trend originated from the Snail farms in Chile where the handlers of snails were found to have exceptionally smooth hands. Research showed that the Secretions of these snails had regenerative properties. The Slime of these snails is now being used in gels, creams and other cosmetics for anti-aging, acne, blemishes and even pregnancy related pigmentation. The main component of snail slime is Allatonin which is present in most mammals but not humans and which supposedly has moisturising and exfoliating properties.
Don't get bogged down by the ewww factor because if snails are good enough to eat then why not slather their goop on our faces.
Swiss Sheep Placenta therapy
I know the gross factor is increasing but Placenta has been used for medicinal purposes for thousands of years in China. The Swiss sheep placenta is made from the fresh, pollution-free placenta of sheep from Switzerland. Sheep placenta has bio-active ingredients to renew, repair and regenerate body cells. The live-cells in the placenta will give a kick-start to your metabolism and immune system and will stop aging, regulates hormone balance, improves healing and even libido.
If it is any consolation, there are people who eat human placenta in the belief that it will reverse aging and give them glowing complexion.
Butt facials in America
Summer is still away but if you are planning to rock that beach bod then you must take a look at the butt facial or fanny facials. Just like a face facial, the treatment involves cleansing, exfoliating and moisturising but goes a step further to include a massage to stimulate circulation and reduce cellulite. You can even go for a microdermabrasion to get rid of acne from your butt.
To top it all, you can have an organic tan spray on your behind to give you that bikini ready derriere that you always wanted.
Bull Semen hair conditioner in London
Although it seems that famed Hari's Salon in London where this trend originated, is no longer providing this service, any talk about strange beauty rituals cannot be complete without mentioning this unique offering. In a treatment especially developed for their frizzy haired clients, the salon prepared a hair masque which would contain bull's semen with Katera plant extract. This would create a protein rich hair conditioning treatment which would smooth even the frizziest of hair and repair the damage caused to the hair. Now one cannot vouch whether the treatment works or is just a lot of bull but it does take the pursuit of beauty to another level.
Although these beauty rituals might seem bizarre to us right now, who knows if they will become the norm soon. Remember Turkish Fish pedicures, they too were once exotic but are now a staple at almost every neighborhood mall.
Do you follow any strange beauty ritual or have any weird beauty tips? Feel free to add to the comments below.
This post has been written by our staff writer Swapna.
Image credit weheartit.com