Apivita is a natural cosmetics brand from Greece with a wide range of natural Skincare and Bath & Body products. According to the company, they develop innovative green products by combining three basic elements: Nature, Effectiveness and Holistic Wellbeing inspired by Greek Nature, Bees and Hippocrates. Their products exclude any synthetic ingredients that may pose harmful effects to your health and the environment.
I have been testing out a few products from Apivita and wanted to start off with one of their anti-aging formulation – Wine Elixir Anti-wrinkle & Firming Night Cream.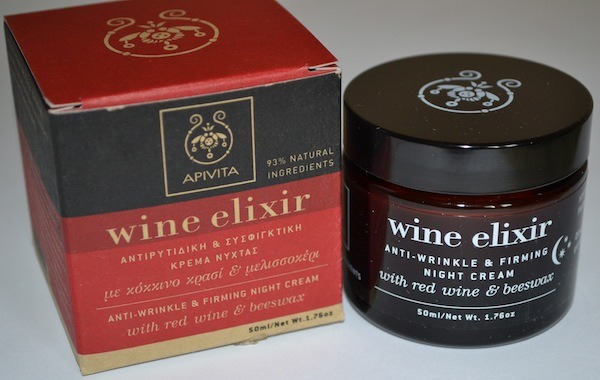 Here's the product description :
A gentle exfoliating, rejuvenating night cream that restores the skin while you sleep. 93% natural ingredients.
Rejuvenates the skin at night while reducing even the deepest wrinkles
Red wine helps increase quality collagen and elastin to firm the skin
Salicylic acid gently exfoliates the skin and leaves it with a natural glow
Beeswax moisturizes and smoothes skin
Neroli, patchouli, clary sage and geranium essential oils tone the skin and provide a sense of well-being
Free of: Parabens, Silicone, Propylene Glycol, Mineral Oil, Ethanolamine and Phthalates.

Apivita Wine Elixir Anti-wrinkle and Firming Night Cream has a rich, moisturizing formula but the silky, lightweight texture never feels greasy/sticky on skin (even when I 've gone overboard a few times). I love the way it slips on my face and soaks in instantly leaving my skin soft and glowy! The light scent is quite pleasant, relaxing and sure enhances the soothing feel.
Along with potent antioxidants (resveratrol from red wine) that sop up damaging free radicals, the product also contains a salicylic acid derivative for gentle exfoliating action thus improving skin texture. And to enhance the antioxidant action of the products, Apivita replaces water in the wine elixir range with a green tea infusion.
As for the wrinkle-reducing claim, I can't comment on that since I don't have any serious wrinkles yet but I can definitely say that this cream has proved to be a wonderful choice for my dry, sensitive skin, keeping it soft and supple without any irritation or breakouts. The only downside of the product is jar packaging which affects the stability of the antioxidants and other active ingredients in the formula by repeated exposure to air.
Apivita Wine Elixir Anti-wrinkle and Firming Night Cream retails for $58 per 50 ml (1.76 oz) tub, and is available online at  Apivita.com
Disclosure: This review features a sample product provided by PR for consideration only and reflects my honest opinion as always!