PR sample L'Oreal has introduced a new haircare collection for wavy to curly and coily hair – Elvive Dream Lengths Curls – with nourishing paraben-free formulas that help you achieve hydrated, defined, bouncy, soft curly hair without the weigh down.
Formulated with a cocktail of hyaluronic acid and fine castor oil, L'Oreal Dream Lengths Curls curly hair regimen helps lock in long-lasting moisture for deeply hydrated curls and defines curly hair by sculpting and retaining shape. Plus, it helps fight humidity!
The L'Oreal Dream Lengths Curls collection features a regimen including a Moisture Push Shampoo, No-Build Up Micellar Shampoo, Moisture Seal Conditioner, Dreamy Curls Leave-in Cream and Leave-in Refresh & Reshape Spray. All of these products have a sweet, fruity-floral scent with notes of pomegranate, caramel orchid and milk sorbet.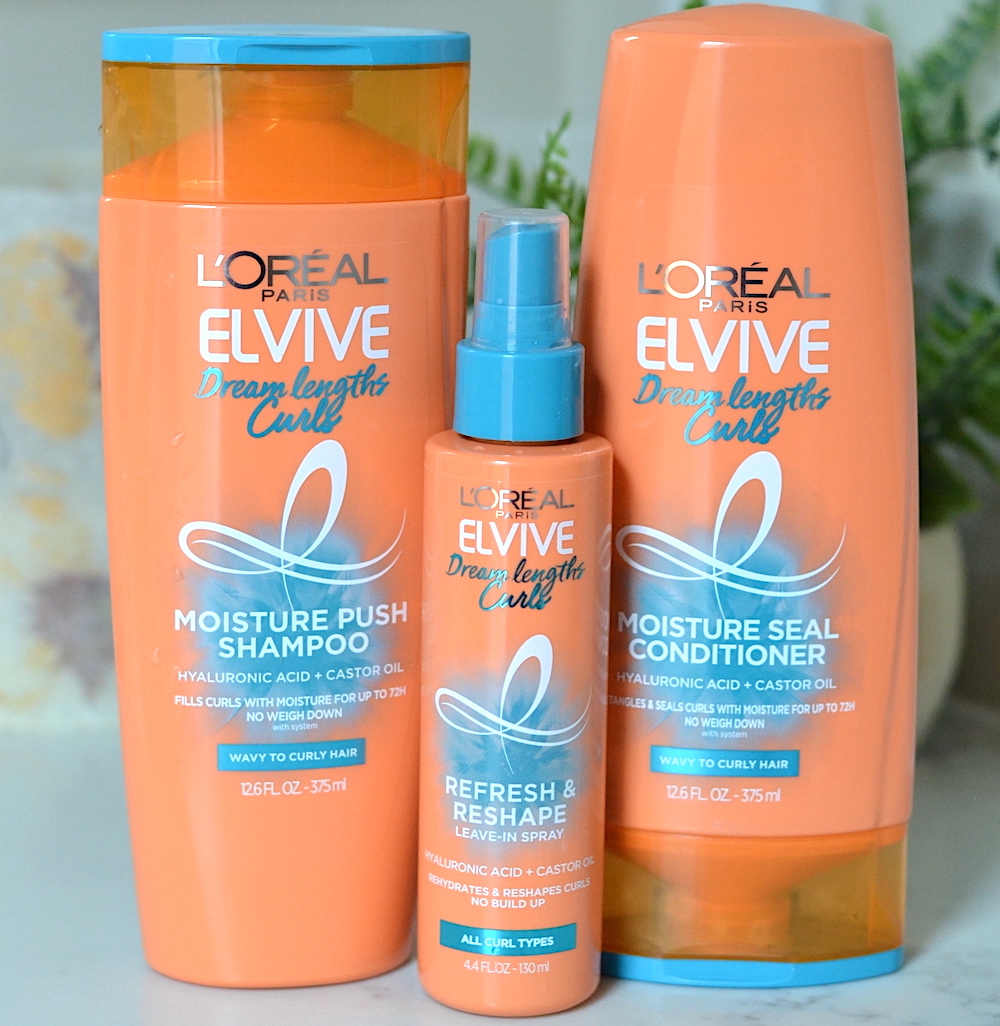 L'Oreal Elvive Dream Lengths Curls Moisture Push Shampoo ($6.99)
True to its name, this creamy shampoo has a hydrating paraben-free formula that cleanses without stripping hair of moisture. Best for wavy to curly hair.
I use only sulfate-free shampoos for my wavy to curly hair that's dry, color-treated and quite frizzy. When I first used this shampoo, I forgot to check if the formula is sulfate-free! Well, it's not free of sulfates and yet I found it be gentle and not drying.
It lathers up nicely and leaves my hair thoroughly clean without any dryness. That said, I still prefer sulfate-free shampoos and my favorite is the L'Oreal EverPure Glossing shampoo that works really well for me!
L'Oreal Elvive Dream Lengths Curls Moisture Seal Conditioner ($6.97)
Infused with hydrating hyaluronic acid and castor oil, this conditioner helps moisturize and detangle curls without breaking the definition of curly hair.
The formula has a lightweight, creamy texture that applies easily and leaves my hair feeling soft and manageable without weighing them down. I am not a big fan of the sweet, fruity-floral fragrance that these Dream Lengths Curls haircare products have but thankfully the scent is not strong and doesn't linger around.
L'Oreal Dream Lengths Curls Refresh & Reshape Leave-in Spray ($6)
This is a leave-in spray that lightly re-hydrates and revitalizes curls with no build-up. Spray anytime all over your hair to wet your hair and use your fingers to reshape your curls.
The hyaluronic acid and castor oil infused formula is lightweight and quickly refreshes curls while minimizing frizz. I like to use it in-between wash days to lightly hydrate and define my curls. It's moisturizing but doesn't leave my hair crunchy, sticky, greasy or weighed down. And a little goes a long way! This is great for anyone with wavy, curly or coily hair.
L'Oreal Elvive Dream Lengths Curls No-Build Up Micellar Shampoo ($12.99)
This product is described as a "game changing transformative water-to-foam shampoo that gently cleanses scalp and hair removing stubborn build-up. Formulated with Hyaluronic acid and castor oil, it's sulfate-free, paraben-free and silicone-free."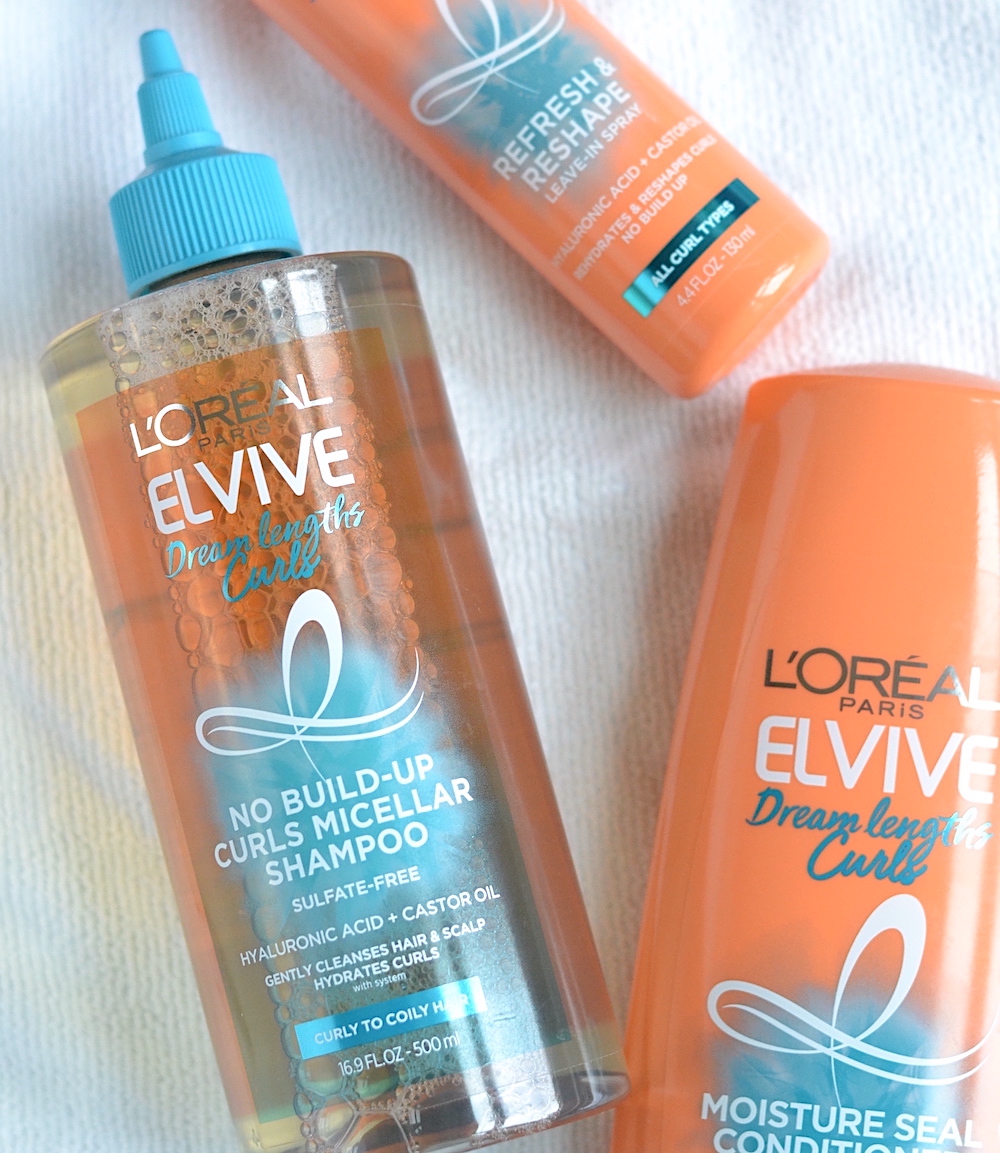 This shampoo is supposed to lather effortlessly and give you a deep cleanse while being non-drying and gentle. I tried it a few times and it doesn't foam up which was a bit disappointing given the claims.
It does manage to remove the excess oil and product build up though and gave me that squeaky clean feeling (without making my hair feel stripped). Overall, I didn't like this shampoo much even though it's sulfate-free.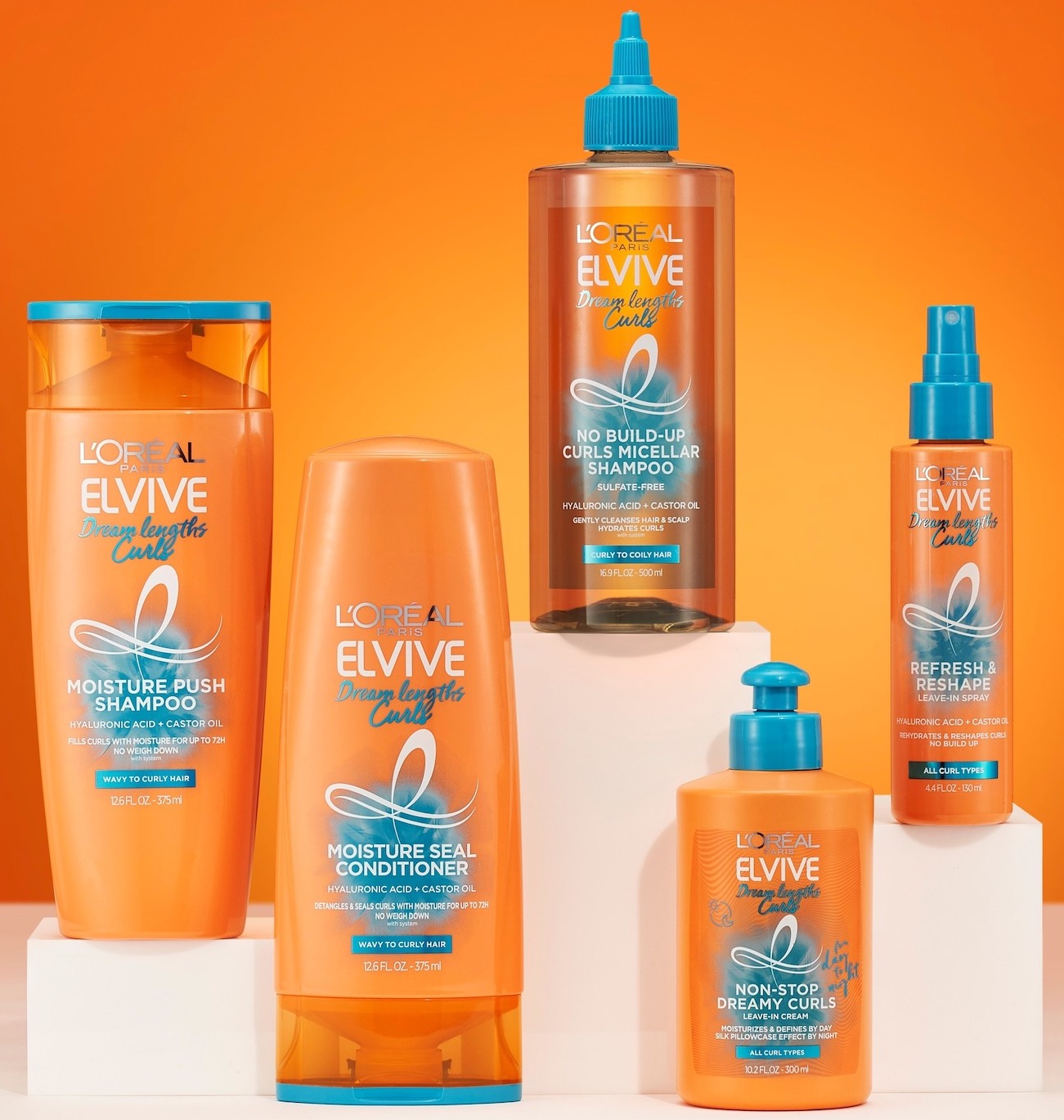 L'Oreal Elvive Dream Lengths Curls Haircare Collection is available for purchase at Target, Walmart and Amazon.com
Shop this post….