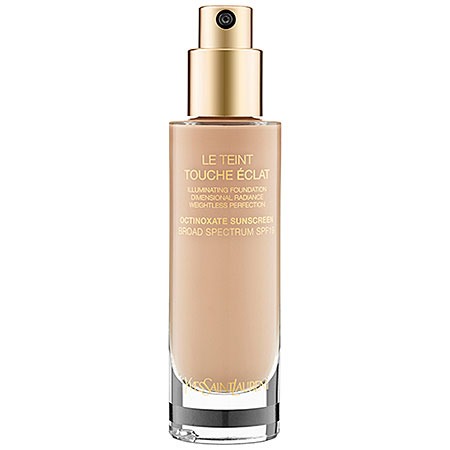 Any foundation that promises a 'luminous glow' is bound to catch my attention and this new skin-perfecting, luxurious formula from Yves Saint Laurent seems right up my alley! Inspired by YSL's iconic Touche Éclat highlighter, the Le Teint Touche Eclat Illuminating Foundation ($55) claims to diminish dullness and shadowy areas while adding radiance to the skin. The color range is pretty good too with 16 shades.
From Sephora :
YSL Le Teint Touche Eclat Illuminating Foundation : 'Illuminating foundation, dimensional radiance, weightless perfection'
For the first time, the magic light of Touche Éclat is in a foundation. Infused in a weightless fluid, Touche Éclat foundation targets shadowy areas and highlights the contours of the face. With buildable coverage and free of opaque fillers, this foundation's perfecting texture evens the complexion and helps conceal imperfections, enhancing your skin's natural beauty. Available in 16 shades with SPF 19 broad spectrum UVA/UVB protection.
I don't really need a new foundation at the moment but this one sounds lovely and I am definitely going to try it out on my next trip to Sephora!
What do you think?
Available at Sephora.com