Today I am showcasing another fabulous monthly subscription box – POPSUGAR Must Have. With POPSUGAR Must Have, you get an exciting monthly box full of fun, full-sized and premium products (worth over $100) in beauty, fashion, home, fitness, and food – delivered directly to your door for $39.95/month, with Free Shipping.
I have the April POPSUGAR Must-Have Box to show you guys…..ready to see what's inside? let's begin!
From POPSUGAR
Spring is finally here, which means it's time to think about getting outside, cleaning house, and going green. Embracing eco-friendly habits can be chic and fun, and we're here to show you how. Plus, make not only your home but also your makeup routine a little more awesome with some help from a gorgeous palette. You'll find all the essentials to keep you healthy and beautiful for April and beyond. Now you're ready to run the world.
BlueAvocado (Eco)Shopper Bag ($25) – This is such a cute and reusable bag! I like that it's foldable/collapsable and easily folds neatly into a wallet-sized pouch. The size is pretty good too…. great for carrying just about anything. I think I am going to use it as a beach tote.
Too Faced Natural Eyes Palette ($36) – This is undoubtedly the star product of this box for me… Must Have Beauty indeed! With 9 richly-pigmented shadows (including 3 brand new shades), this palette has a color for every skin tone plus there's a Glamour Guide that will teach you the ropes if you are a makeup newbie! Perfect for a neutrals loving gal like me!
Graphic Image Pocket Notes ($20) – Although I used to carry a pocket diary in my purse to jot things down, I don't really use little notenooks anymore (thanks to my iPhone!). That said, I really like this one! It's a superbly crafted notebook with silver edges, acid-free paper, and a flexible cover….very nice!
Caldrea Rosewater Driftwood Hand Soap ($10.50) – This is one of my favorite items in this box! Infused with aloe vera gel, olive oil and essential oils to cleanse and condition, this is a great hand soap free of any harmful chemicals. And I just love the scent…..it has a combination of floral aromas and spicy cedar undertones that's very pleasant!
Fresh Pastry Stand Totally Awesome Tea Towel Set ($18) – Receiving towels may not be the most exciting experience but I must say the quality of these towels is pretty good. These are handmade from a water-based ink and completely lint-free. I am sure I will get a lot of use out of these!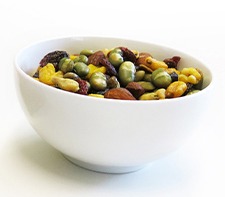 NatureBox POPSUGAR Must Have Mix ($5) – A delicious snack mix of almonds, soybeans, corn, and cranberries for a satisfying crunch. Yes please! And there are NO artificial flavors, colors, corn syrup and hydrogenated oils so you can grab a handful (or two) with no regrets!
Overall, I am very impressed! This Popsugar Must-Have box totally lived up to its name as I loved almost every item in there. The total value of this box is about $115, with a $40 price tag, which is awesome!
What do you think of the April Popsugar Must-Have box?
You can also join POPSUGAR Must Have to get in on the fun! Use code APRILSELECT to get $10 off on a 3-month subscription (offer ends 5/3/14)
Disclosure : I received April POPSUGAR Must Have Box courtesy of POPSUGAR as a POPSUGAR Select Beauty member.