Talking about the new HUDA BEAUTY Creamy Kohl eyeliner today and how it compares with the Maybelline Lasting Drama Matte Eyeliner. Both are amazing but there is quite a bit of price difference between the two, so keep reading to see my comparison and swatches, and decide which one is the best for you!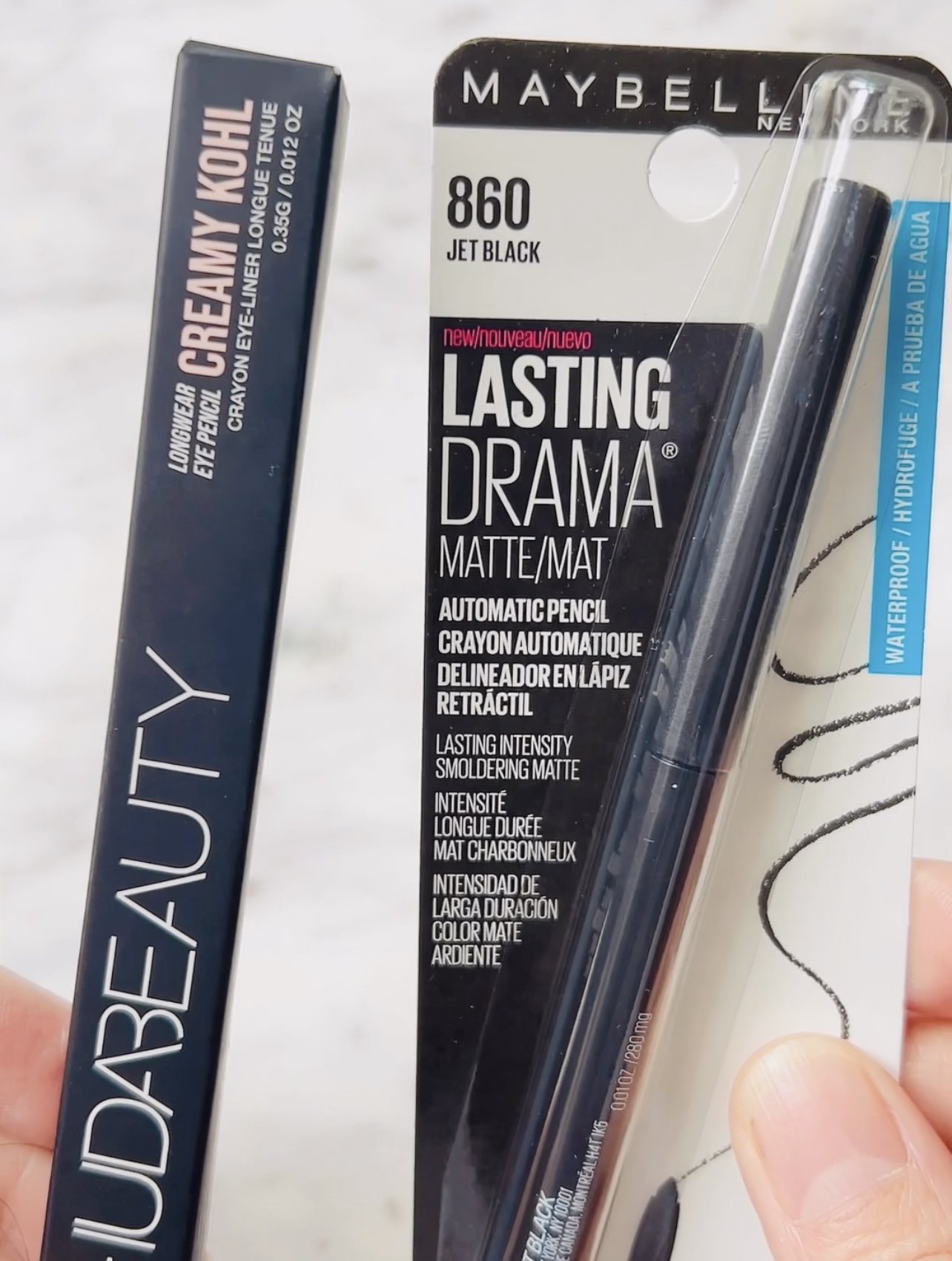 I picked up the HUDA BEAUTY Creamy Kohl Eyeliner ($21) during the recent Sephora sale. I got the black shade (Very Vanta) to try on my waterline. This eye pencil is waterproof, smudge-proof and super-pigmented with a rich color payoff and creamy matte finish. It glides on very smoothly and the formula is quite long-wearing on my waterline.
Check out my Instagram reel below to see the swatches of both the eyeliners…
View this post on Instagram
I have been a longtime fan of the Maybelline Lasting Drama Matte Eyeliner ($5.99). It's such a fantastic eyeliner, especially for waterline! Shade is 860 Jet Black.
This one is also waterproof and highly pigmented with a creamy matte finish, applies smoothly without tugging or skipping and doesn't irritate my eyes when used on the waterline. I use it almost everyday on my waterline and it gives me great color payoff that lasts long!
Does the HUDA BEAUTY eyeliner perform better than the Maybelline one? Well, yes…I think it's more creamy and pigmented than the Maybelline version but lasts almost the same amount of time on my waterline.
On my waterline though, there is no noticeable difference between the two eyeliners in terms of color payoff, smoothness/ease of application and longevity. And of course, both have a rich, matte black color. Basically, they are pretty much the same!
So, I will stick to my trusty Maybelline eyeliner that's only about $6…it's fantastic for the price! For me, performance is really what matters at the end of the day.
I won't hesitate saying that Maybelline Lasting Drama Matte Eyeliner ($5.99) is a great affordable alternative (dupe) for HUDA BEAUTY Creamy Kohl Eyeliner ($21) I highly recommend trying out this affordable dupe at almost one fourth the price! I think you'll be impressed too.
Maybelline Lasting Drama Matte Eyeliner is available at Walmart, Target and Amazon.com
I'd love to know if you've tried either of these eyeliners? Which one would you pick? Do you like finding makeup dupes?