As a beauty blogger, I love checking out new monthly beauty box subscriptions but thanks to Cate & Chloe, I've discovered another new subscription service for designer jewelry! Cate & Chloe is a chic, classic yet fashion-forward, high-end jewelry line and they have recently launched a VIP Membership program that will deliver members 2 of C&C's newest and most popular pieces valued at over $200 – for only $39.99/month. Oh yes, you get a new exquisite designer jewelry piece delivered to your door every 15 days. The pieces retail from $69 to $135 and one item each month will be an exclusive pre-release item that will only be available to members!
Here's the piece I got……take a look!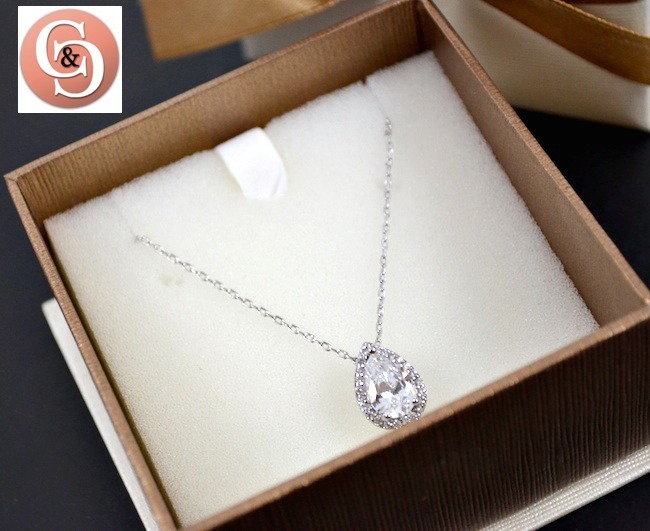 The Diana "Divine" Necklace is inspired by the sophisticated style icon, Princess Diana and retails for $115. I am loving this beautiful faux diamond pear-shaped pendant! It's so classically elegant and goes with almost everything. Whether casual or formal, this necklace is just perfect for adding a bit of bling to your look!
As a Cate & Chloe VIP member you not only get your monthly jewelry packages, but you also enjoy a variety of other benefits as well.
What better way to stay ahead of the trend than with a VIP service that directly delivers hottest new designer jewelry pieces at affordable prices? Styles include earrings, bracelets, bangles, necklaces and more. And if you don't like a product that arrives in your VIP box, you can replace it with something that you love from their collection!
What do you think of Cate & Chloe VIP membership? Will you be signing up? As a bonus sign up offer, you get an additional Free gift item, meaning the first month you receive 3 items for over $300 retail value!
Also, here is a code that you can use to get 20% off on your first VIP box : BEAUTYTIDBITS20