Affiliate linksConcealer is without a doubt the biggest must-have product to keep in your makeup bag. It covers a multitude of issues from unsightly blemishes and small breakouts to dark circles and beyond.
But if you're dealing with more harsh skin care realities like rosacea, acne scars, dark spots or mild to extreme skin discoloration, a color correcting concealer applied before your foundation and concealer will do the trick!
Lately, color correcting is the beauty trend everyone's buzzing about, much like Strobing last year! The idea of color correcting (that is, neutralizing facial discolorations by applying contrasting makeup shades over them) isn't new as makeup artists have been using this technique for decades, but recently it's made a big-time comeback!
The concept is actually based on the color wheel. For example, green is opposite to red on the color wheel, which makes them complementary colors. Complementary colors effectively cancel one another out, so if you dab some green concealer on top of anything red (like rosacea, acne or scars), that redness is immediately neutralized.
Color correctors come in various shades that address specific complexion concerns you may have. If color correcting concealers are slightly outside of your comfort zone, here's your color-correcting cheat sheet that you can reference to know exactly what each color does and which ones you need for your skin concerns…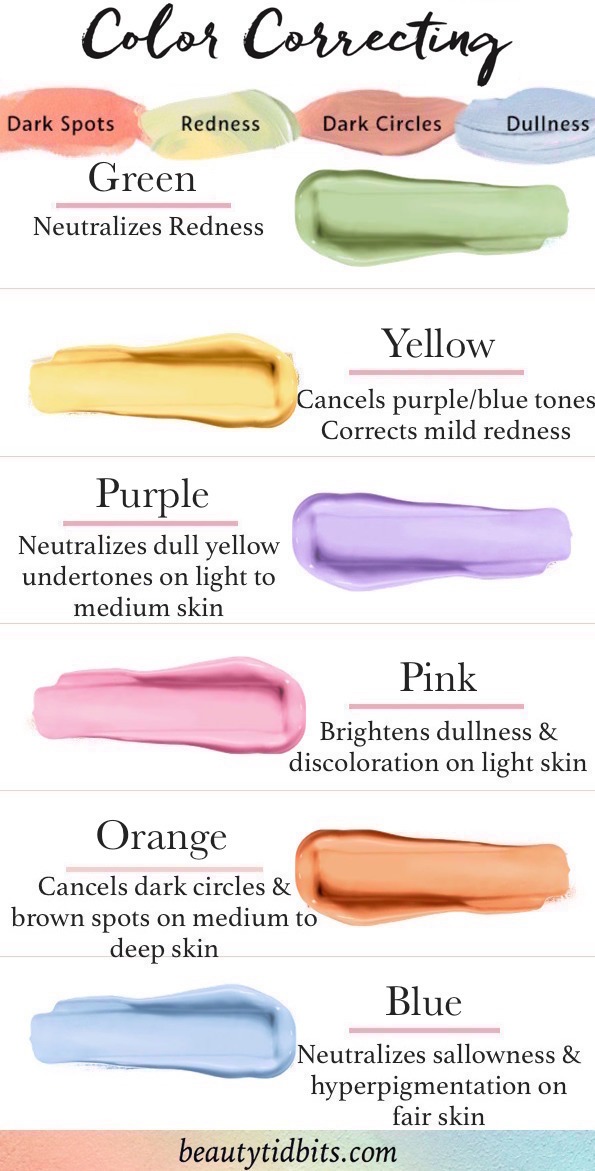 Yellow: Corrects mild redness on all skin types. Also, it cancels blue or purple tones (from bruises or broken capillaries)
Green: Neutralizes intense redness on all skin types. Perfect for covering rosacea, mild sunburn, acne, dermatitis, birthmarks, ruddy skin and rashes
Purple/Lavender: Cancels dark under-eye circles and brightens dullness (by neutralizing unwanted dull yellow undertones) on light to tan/olive medium skin.
Pink/Salmon: Covers dark under-eye circles and brightens dullness on pale, fair to light skin.
Peach/Apricot: Cancels dark under-eye circles and covers hyperpigmentation, dark spots, acne scars or bruises on light to medium skin.
Orange: Cancels dark under-eye circles and covers brown spots, acne scars or (blue) bruises on medium tan to deep skin.
Red: Cancels dark under-eye circles and dark spots on very deep skin.
Blue: Brightens sallowness and hyper pigmentation on fair to light skin. Also, it cancels out any orange discoloration (like overly orange self-tanner stains)
How to use color-correcting concealer
Once you've got the right color corrector, keep in mind that less is more! Start with a little bit of product. If you need more, add little by little. First, make sure your skin is moisturized and primed before using a corrector. Then apply the proper color correcting concealer (with either your fingers or a concealer brush) to your trouble spots like acne scars, dark spots or under eye circles….use the corrector only where you need it!
After blending the color corrector, allow it to set for a few seconds and then apply your foundation and concealer on top. Voila…flawless skin! Yes, it's a little extra work, but if you're seeking perfection, this method corrects imperfections that your average foundation and concealer just can't cover. The magic of color-correcting makeup is very real!
Now that you have the lowdown on how to use color correcting concealer, let's talk about the best color correcting makeup for those dreaded dark circles, acne scars, dark spots, redness and other beauty woes! 

Below, I've rounded up 11 best color-correcting concealers, primers and palettes that include just about every concealer shade you'll ever need! Get ready for flawless skin…
Nyx Color Correcting Concealer ($11.99) – This budget-friendly palette features six color correcting shades with a creamy & lightweight, non-creasing formula that glides on for an ultra-smooth finish. They all blend beautifully, providing customizable coverage to neutralize discoloration and hide imperfections.
Urban Decay Naked Skin Color Correcting Fluid ($29) – If you've ever tried UD's Naked Skin Concealers, these have almost the exact same formula and consistency! With five color-neutralizing shades (green, yellow, peach, purple and pink) to target every skin concern, the lightweight fluid blurs flaws and corrects discoloration while illuminating your complexion.
The beauty of these correctors (other than the easy wand applicator) is the subtle pearlescent pigments, which leave a beautiful, illuminated finish. And you can see the shade through the clear bottle, so it's easy to find the right one in your bag!
Yves Saint Laurent Touche Éclat Neutralizers ($38) – YSL's coveted complexion highlighter is now available in three neutralizing shades to counterbalance color imperfections; Green to conceal redness, Bisque to correct dark circles & spots and Violet to brighten dull skin.
Their easy-to-use, one-click brush allows you to precisely target the problem zone. Just click, swipe, blend, and go! The formula is lightweight and blends like a breeze.
Tarte Rainforest of the Sea Wipeout Color-Correcting Makeup Palette ($45) – This all-in-one pretty palette features six color-correcting shades that work across different skin tones to offset the appearance of dark circles, redness, and acne, while contouring and highlighting. The easy-to-use palette comes with numbered shades and a coordinating visual guide to color-correct like a pro!
Sephora + Pantone Universe Correct + Conceal Palette ($25) – With 15 creamy concealer and corrector shades created by the Sephora Pro team experts, each of these palettes target main areas of concern for color correcting: dark circles, redness, hyperpigmentation, dullness, and brightening.
The palette is available in two shades—for Light/Medium skin and for Medium/Dark skin and includes a handy booklet with application instructions of color combinations, expert tips and tricks!
Becca Backlight Targeted Color Correctors ($30) – This ultra-pigmented corrector comes in four distinctive colors designed to target specific imperfections: The orangey Peach (for brown spots), the mint-green Pistachio (for redness), the light purple Violet (for sallow skin), and the bright red Papaya (for purple-blue dark circles).
The formula is also infused with light-reflecting pearls so, not only do these bad boys neutralize imperfections, they diffuse light for even more optical blurring!
MAKE UP FOR EVER Step 1 Skin Equalizer Primer ($37) – This is a lightweight makeup primer plus color corrector available in 10 shades to target every texture and tone concern for all skin tones.
Perfect for balancing the skin's texture and achieving longer-lasting makeup wear, it's lightweight and creamy formula leaves a more evenly-toned appearance while adding subtle radiance.
MAKE UP FOR EVER No. 5 Camouflage Cream Palette Color Correct & Concealer ($40) – This multi-use cream palette is perfect for when you want to have all your options at your fingertips! Whether you want to color correct discoloration, conceal dark undereye circles or spot treat imperfections, the full coverage cream correctors & concealers have you covered!
COVER FX Correct Click ($18) – This mini cream color corrector comes in six shades (Green, Yellow, Lavender, Peach, Orange, Brick) that work across different skin tones to visibly even out the complexion by neutralizing the appearance of discoloration.
You can also load these up into your customizable portable Click Stick, so you always have your must-have shades on hand!
Marc Jacobs Beauty Cover(t) Stick Color Corrector ($42) – These easy-to-use color corrector sticks come in 3 specially formulated shade filters in marbleized dual hues: Bright Now to eliminate dullness, Co(vert) Affairs to neutralize redness, and Getting Warmer to conceal hyperpigmentation and cancel out dark circles.
The creamy sticks are sheer (but buildable), slide on easily and can be blended all-over or just used to spot treat. Easy!
Sephora Collection Bright Future Color Correctors ($14) – These gel-serum color correctors are available in seven shades to address a variety of skin discoloration concerns.
The ultra lightweight formula blends beautifully and offers great coverage, while the cotton swab-like applicator provides the perfect amount of product every time. Just dip, dot, and blend to neutralize before you conceal.
Now that you know all about the best color correctors, here are a couple of color correcting makeup tutorial videos to get you inspired!

This one is a fun watch!

Also, check out this step by step makeup tutorial on how to use color correcting concealer plus some expert tips!
Have you tried color correcting makeup yet? If not, will you be giving it a shot?
Shop this post…