Affiliate links NYX Hydra Touch Oil Primer is a new lightweight face oil that doubles as face primer to prep skin for flawless makeup application. It's formulated to nourish skin while giving you a radiant look with a dewy finish.
With my dry skin, I love using face oils in my skincare routine but never used one to prep my skin for makeup. I always use a hydrating primer before applying makeup but I admit I had my doubts about using face oil as a makeup primer.
However, after trying the NYX Hydra Touch Oil Primer, my first thought was why didn't I buy this sooner? Seriously, it's a total game changer for me…
Product Description
Treat your complexion to the ultimate fresh touch with the new NYX Hydra Touch Oil Primer. Infused with skin-loving ingredients like jojoba and rice oil, this ultra-lightweight formula features a luxurious texture and glides on like a dream for a finish that feels and looks amazing. A smooth-looking, dewy canvas and beautiful foundation coverage is just drops away!
NYX Hydra Touch Oil Primer Ingredients
Prunus Amygdalus Dulcis (Sweet Almond) Oil, Carthamus Tinctorius (Safflower) Seed Oil, Simmondsia Chinensis (Jojoba) Seed Oil, Glyceryl Caprylate, Propanediol, Hydrogenated Polydecene, Caprylyl Glycol, Tocopherol, Tocopheryl Acetate
NYX Hydra Touch Oil Primer has a very lightweight consistency and doesn't make my face look oily or greasy. It goes on more like a dry oil (not superslick) and leaves my skin hydrated without a heavy feel. It has a light scent that's nice, not at all overwhelming.
I usually dispense 2-3 drops on my hands and then gently massage it all over my face, especially on my cheeks where I usually get dry flaky patches. I wait for about a minute to let the formula soak in completely and then put on my foundation.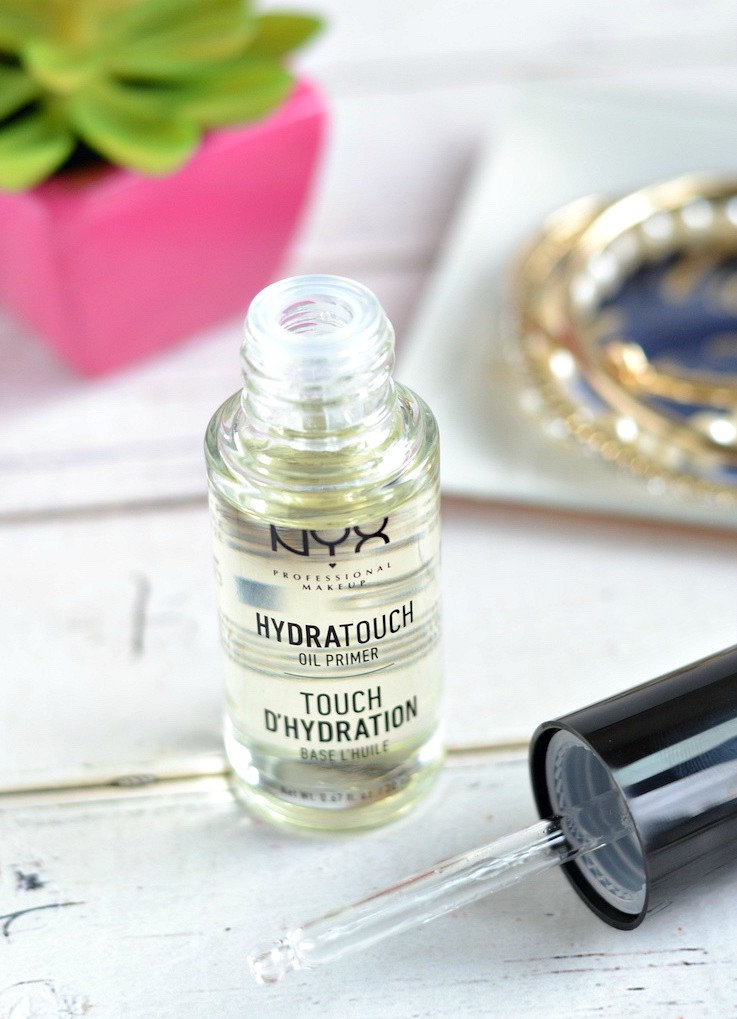 I LOVE how my makeup glides on soooo smoothly when using this oil primer! It gives me a beautiful dewy finish, making my skin look flawlessly smooth!
And my makeup stays put all day long, even though I don't use a setting powder on top of my foundation because I like my (dry) skin to look glowy.
I've tried 3 different foundations over this oil primer and it gives me a flawless finish every time. It makes any foundation I use (even this demi-matte foundation) go on very smoothly and not cling to any dry patches.
Another thing worth a mention is that NYX has done a good job with the packaging design of this oil primer. Once you open the bottle, the oil comes out of the dropper only when you push the button on the cap, so there's no dripping or greasy mess while using the product.
Despite being dry, my skin is also acne-prone but this oil primer doesn't make my face breakout or anything, which is a big plus! Also, the formula has no silicones or dimethicone if that's something you like to avoid.
Last but not the least, NYX Hydra Touch Oil Primer is a great drugstore dupe for Smashbox primer oil that's $42 at Sephora. You can check out a comparison of the two oil primers in this YouTube video…they are nearly identical and in fact NYX primer has better packaging!
Bottom Line
If you love a dewy, radiant look, NYX Hydra Touch Oil Primer is the perfect pick! It makes my dry skin look dewy fresh with a healthy glow…complexion perfection without any effort, yes please! At $14 a bottle, this primer is a drugstore beauty bargain.
Grab it now at Ulta Beauty or Amazon.com and get glowing!