PR sample AXIS-Y Dark Spot Correcting Glow Serum is a Niacinamide-based serum that is designed to correct dark spots and improve uneven skin tone while providing lightweight hydration to give your skin a healthy glow.
Especially formulated for those dealing with hyperpigmentation or dull skin issues, this serum is a gentle formulation which moisturizes and brightens at the same time. Suitable for all skin types, it retains moisture with the help of plant-derived Squalane and also calms irritated skin with soothing ingredients.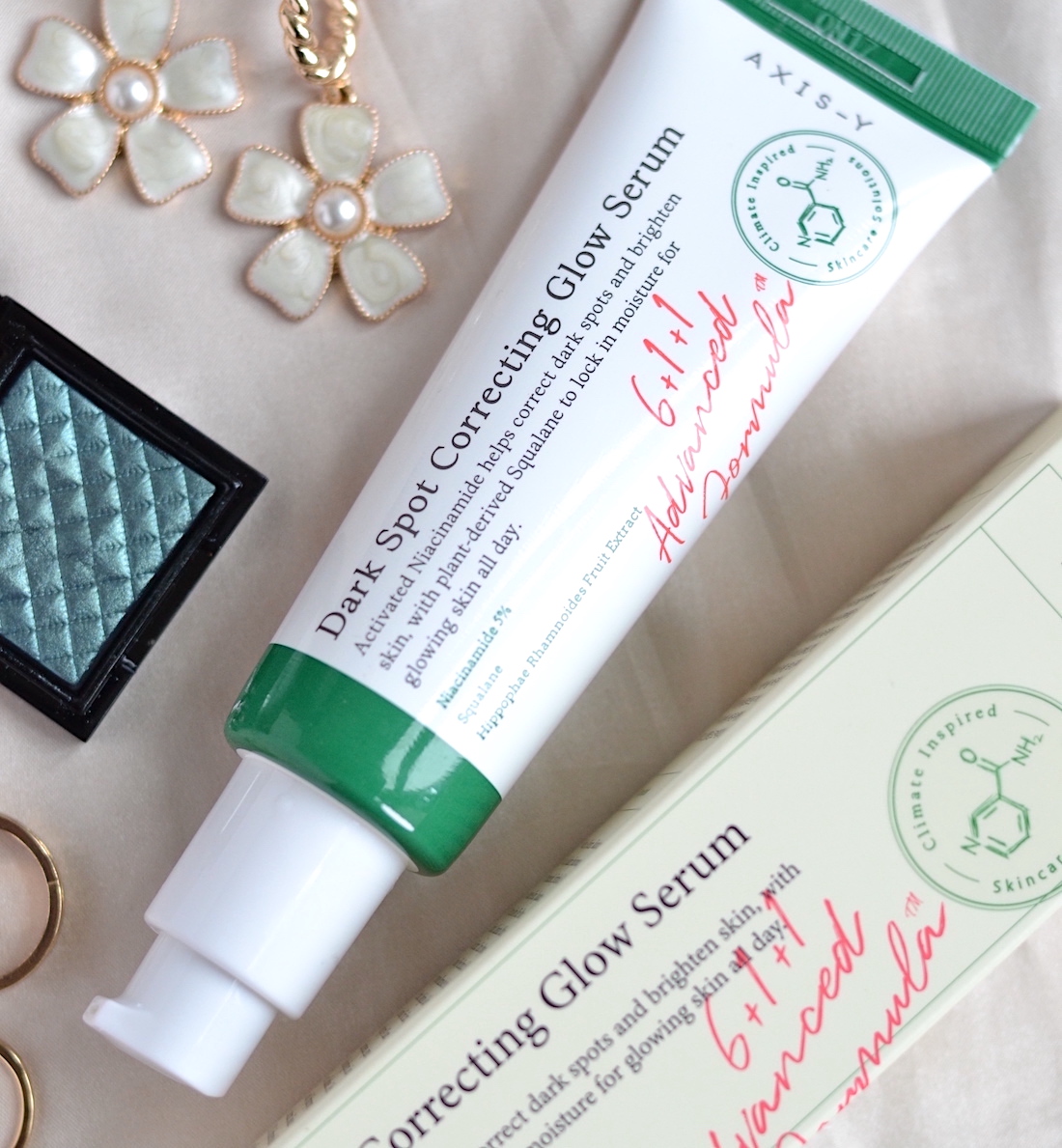 Full List of Ingredients:
Water, Glycerin, Niacinamide, Sodium Hyaluronate, Propanediol, Erythritol, Butylene Glycol, Squalane, Oryza Sativa (Rice) Bran Extract, Calendula Officinalis Flower Extract, Carica Papaya (Papaya) Fruit Extract, Hippophae Rhamnoides Fruit Extract, Malpighia Glabra (Acerola)Fruit Extract, Polyglyceryl-10 Laurate, Chlorphenesin, Arginine, Ethylhexylglycerin, Carbomer, Glutathione, 1,2-Hexanediol, Hydroxypropyl Cyclodextrin, Disodium EDTA, Hydroxyethylcellulose, Allantoin, Rosmarinus Officinalis (Rosemary) Leaf Oil
KEY INGREDIENTS
Squalane: Fights skin aging by protecting against free radicals
Papaya: Brightens sun damaged skin and dark under eye circles
Sea Buckthorn: Brightens skin and reduces spots
Rice Bran: Smooths and brigthens skin
Allantoin: Stimulates cell proliferation and encourages new tissue growth
Calendula: Speeds healing of blemishes and acne scars
Core ingredient: Niacinamide (5%)
Niacinamide is a water soluble vitamin which helps to improve uneven skin tone, dullness and strengthen the skin's natural barrier.
Plus, the formula contains hydrating ingredients like hyaluronic acid and glycerin.
Now that we have covered the formulation aspect of this serum, let's see how it feels and performs…
AXIS-Y Dark Spot Correcting Glow Serum comes packaged in a tube with a pump dispenser. Texture-wise, it's a silky lightweight gel serum that absorbs quickly with a smooth, natural finish. There's a faint rosemary scent that fades right away.
The formula is lightly hydrating but doesn't feel sticky or greasy and layers easily under other skincare products (no pilling issues) I like to use this serum after cleansing and toning and then use my moisturizer on top.
It can be applied to your entire face or just over the problem areas. AXIS-Y suggests using this serum in both morning and night skincare routines for best results.
I have been using this serum everyday for about 3-4 weeks now and it has definitely helped improve my uneven skin tone and texture. It also helps fade acne scars faster with consistent use. Overall, this serum has done a good job of making my skin look smoother and a bit brighter.
However, so far there's been no noticeable difference in the appearance of my dark spots. I am in my early 40's and struggle with stubborn dark spots from sun damage, and seems like this treatment hasn't been powerful enough to diminish those pesky spots.
Bottom Line
AXIS-Y Dark Spot Correcting Glow Serum gives your skin a boost of brightness while hydrating it, thanks to a blend of 5% Niacinamide and moisture-boosting squalane. It has a gentle formula with beautifully lightweight texture that is suitable for all skin types.
For me, it hasn't really been effective enough to fade those stubborn dark spots noticeably but I still like it as a daily hydrating serum with brightening benefits.
Vegan and cruelty free, AXIS-Y Dark Spot Correcting Glow Serum is available for purchase at axis-y.com for $22. Also available at Amazon.com, YesStyle and Stylevana (currently on sale for $11.51)