Press sample IT Cosmetics fans have a new reason to rejoice! The brand has launched an Oil-Free Matte version of their best-selling CC Cream! Enter, IT Cosmetics Oil-Free Matte CC Cream SPF 40, which is available now at Sephora.
The new IT Cosmetics Your Skin But Better CC+ Cream Oil-Free Matte with SPF 40 is designed to give you the same color-correcting full-coverage and anti-aging skincare benefits plus broad-spectrum physical sunscreen as the original CC cream, but with a natural-looking matte finish.
In addition to all the anti-aging ingredients in the original formula, IT Cosmetics Oil-Free Matte CC Cream is also infused with charcoal to detoxify, colloidal clay to absorb oil and tea tree extract to combat breakouts. This matte CC cream is clinically tested to reduce shine and control oil for up to 12 hours, making it especially perfect for combination to oily skin types!
Another thing worth a mention is that the new oil-free, matte CC Cream is available in 12 shades, as compared to 7 for the original.
Compared to the original CC cream, I found the formula of IT Cosmetics Oil-Free Matte CC Cream slightly thicker but it still applies so smoothly and feels very lightweight on my skin. I like that it doesn't dry down and set super quickly (unlike some matte foundations I've tried before), giving me enough time to blend easily for an evenly smooth finish.
Whether blended with fingers or a foundation brush, the formula is easy to work with. That said, I do get more of a full coverage when using a flat top foundation brush.
Coverage-wise, IT Cosmetics Oil-Free Matte CC Cream is basically the same as the original CC cream formula. It gives me solid medium to full coverage that conceals almost everything from my acne scars to dark spots. A little bit definitely goes a long way!
And the coverage is long-lasting too, with only minor fading by the end of the day. With my drier skin, I don't feel the need to set it with a powder.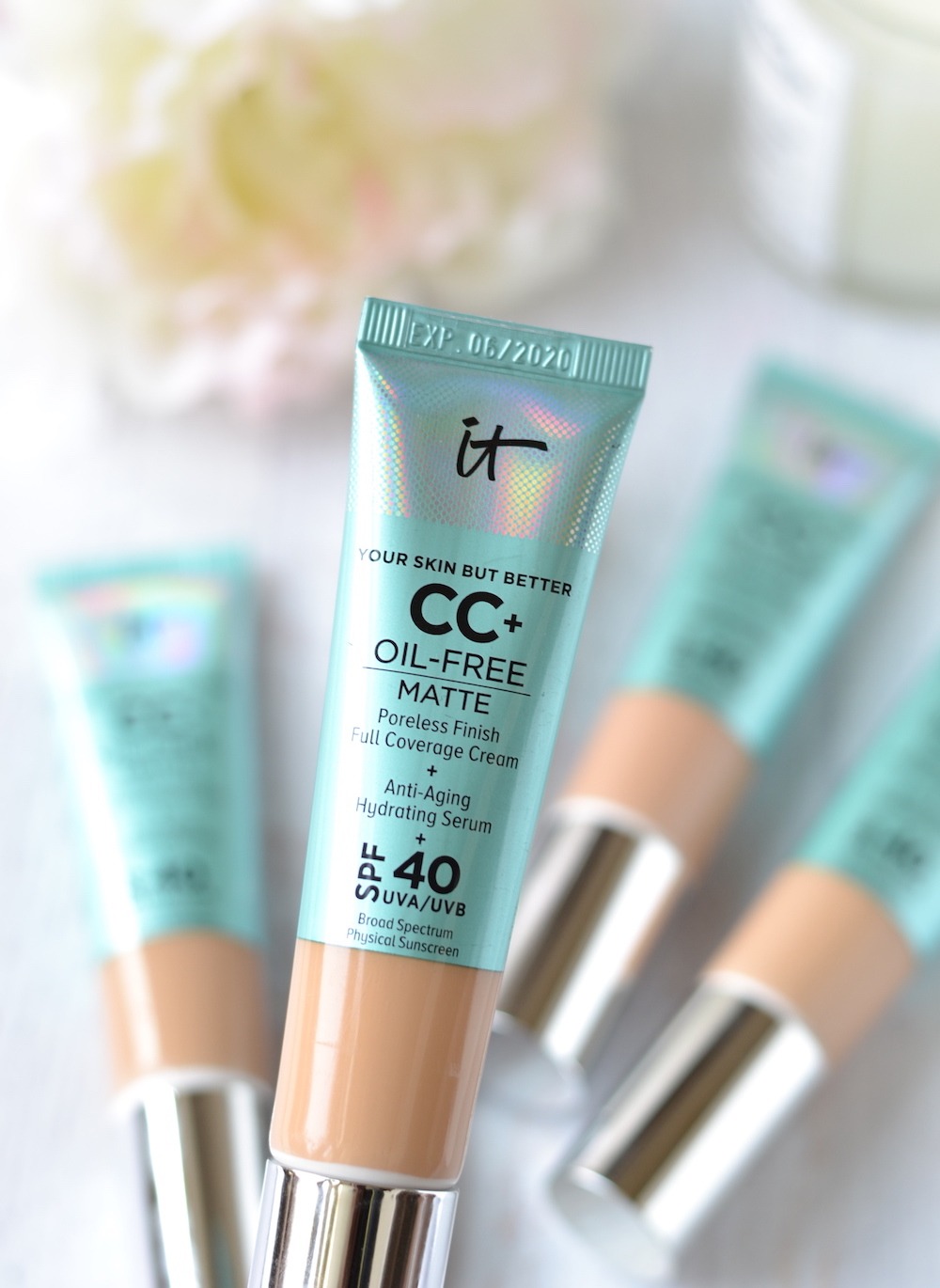 The finish is matte and and stays matte all day (on my normal-to-dry skin). What I really LOVE is that the finish is very natural without a cakey, flat look that some full-coverage matte foundations tend to have.
Also, this Matte CC Cream doesn't feel drying or tight on my dry skin. As long as I've moisturized and prepped my skin with a smoothing primer before applying makeup (as I always do), the formula doesn't cling to the dry patches on my face.
So, I have nothing but good things to say about the IT Cosmetics Oil-Free Matte CC Cream SPF 40! It checks off all the right boxes for me in terms of coverage, wear and finish. But does it really go the distance when it comes to all day oil-control? Here's where the real test comes in!
Since this matte CC cream seems to have been designed for oily skin types, I asked my friend Rachel to give it a try because she has super oily, acne-prone skin. As you probably know by now, Rachel is my go-to girl for putting any matte makeup to the real test!
First off, she loves the great coverage and natural matte finish but her favorite thing about the Matte CC cream is its weightless feel on her skin. She found the formula to be impressively long-wearing on her super oily skin, when paired with a mattifying primer and setting powder. It stays put for the majority of the day without feeling greasy or looking cakey.
As for shine control, IT Cosmetics Oil-Free Matte CC Cream doesn't keep her oily skin matte all day. But it does keep the shine away for a good 4-5 hours, before she needs to blot (especially in the t-zone). She also mentioned that blotting away the oil doesn't remove the CC cream and the coverage still holds up for the rest of the day.
Overall, this new Matte CC cream turned out to be a winner for her…it has quickly become her everyday go-to matte foundation!
Above are swatches of all the shades: Fair, Fair Light, Light, Light Medium, Medium, Neutral Medium, Medium Tan, Neutral Tan, Tan, Rich, Rich Honey and Deep.
Bottom Line
With a weightless feel and skin-perfecting coverage infused with SPF and skincare benefits, there's a lot to love about IT Cosmetics Oil-Free Matte CC Cream SPF 40!
No matter your skin type, its non-drying, natural matte finish makes it a great choice for everyone but especially perfect for oily skin gals. With this multi-tasking must have, you get to fake a flawless complexion and fight those harmful UV rays. Talk about a win-win! This is matte makeup that's sure to please!
IT Cosmetics Oil-Free Matte CC Cream SPF 40 ($38) is available for purchase at Sephora and itcosmetics.com