Affiliate links Whether it's acne scars, hyperpigmentation, sun spots or melasma, dark spots are one of the most common skincare woes. To make matters worse, sometimes they can be really hard to get rid of once you've got them.
Skin discoloration, also known as hyperpigmentation occurs when the skin produces too much melanin (the pigment that gives skin its color) in certain areas, resulting in dark spots and uneven skin tone. It can be triggered by a number of factors such as cumulative sun damage, aging, hormonal imbalances (in the case of melasma, which is common during pregnancy) or acne scars from past pimples.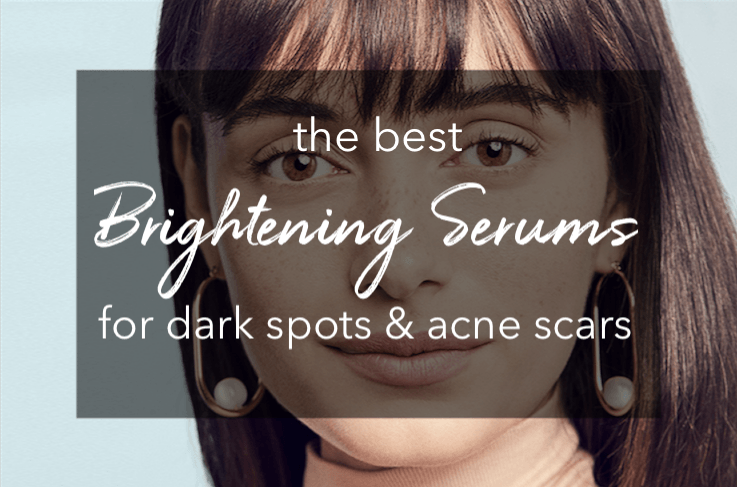 That's where Dark Spot Correctors come in!
Generally, it takes about 6-8 weeks to see results from a dark spot treatment. So, just be consistent and use your brightening serum twice a day, morning and night. And don't forget to slather on a broad-spectrum sunscreen daily (rain or shine!) to make sure those dark spots really go away for good!
Keep in mind that unprotected Sun exposure is the root cause of most dark spots AND makes any discoloration darker (UV rays can make even acne scars worse), so if you're not using SPF 30 or more every morning, not even the best dark spot correctors can help!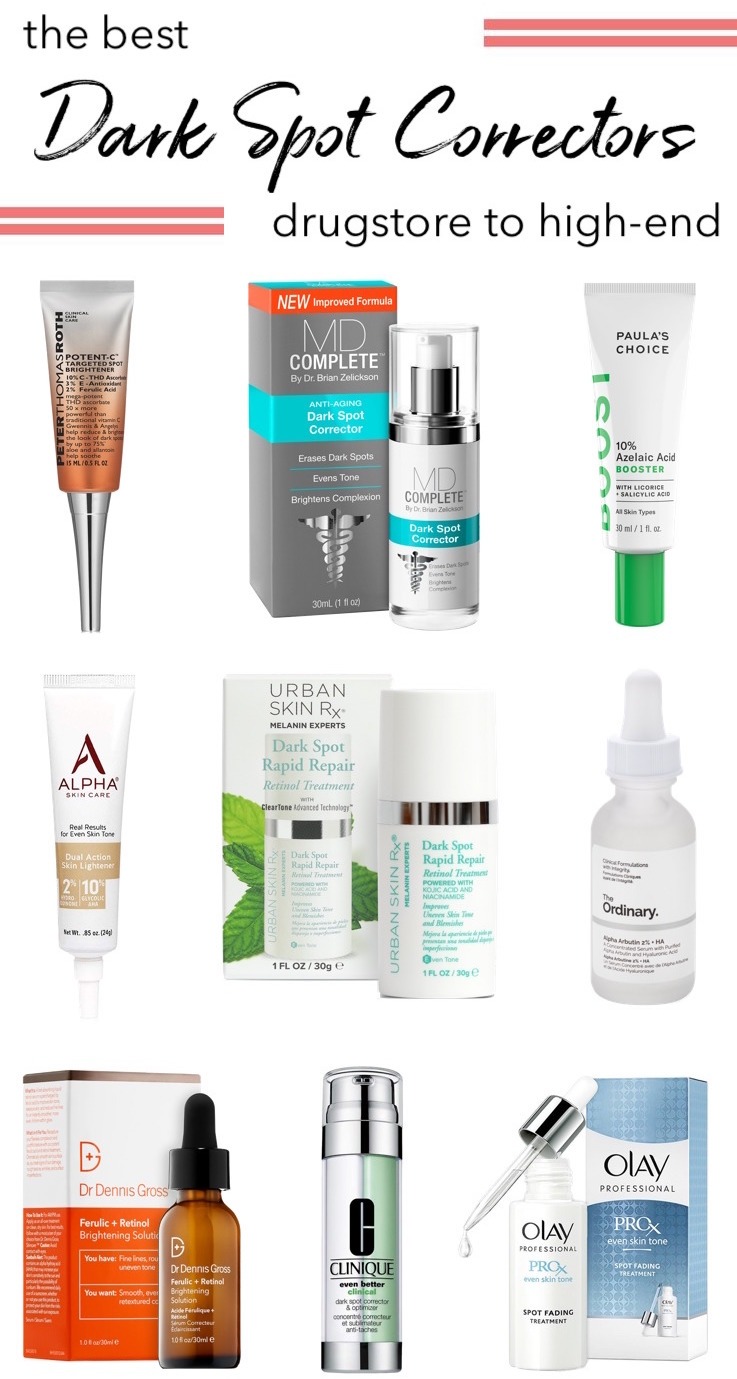 Here are the best dark spot correctors and brightening serums that help fade those pesky spots fast for a bright, clear complexion!
1. Peter Thomas Roth Potent-C Targeted Spot Brightener ($58)
Think of this as your magic wand for all of those stubborn skin tone issues! Packed with a concentration of 10% Vitamin C, this supercharged dark spot treatment also contains 3% Vitamin E and 2% Ferulic Acid, providing powerful skin-brightening benefits. Gwennis (an active algae extract) and Angelys help brighten dark spots while aloe & allantoin help soothe skin.
2. MD Complete Dark Spot Corrector ($39.99)
With a kick-ass ingredient list including 2% hydroquinone (the gold-standard for skin lightening) plus pigmentation-fighting niacinamide, Vitamin C and Alpha-Arbutin, this concentrated brightening treatment is clinically proven to deliver dermatologist-level results.
Designed to be used as a full face treatment, not only does it help fade dark spots and discoloration caused by sun damage but also improves overall skin tone and texture.
3. Paula's Choice 10% Azelaic Acid Booster ($34.20)
Acne-prone skin types, listen up! If you're struggling with acne scars, blemishes, bumpy skin texture and redness, this is a product you'll want to try!! With 10% azelaic acid supported by anti-inflammatory (and skin-brightening) licorice root extract and Salicylic Acid, it's a wonderful treatment for acne scars, melasma and post-inflammatory hyperpigmentation.
Perfect even for sensitive skin types, it tackles stubborn spots and brightens up dull, blotchy complexion while reducing redness. It can be used alone or easily added to your favorite moisturizer or serum.
4. Alpha Skin Care Dual Action Skin Lightener ($10.99)
This drugstore dark spot treatment is formulated with 2% Hydroquinone to fade pesky brown spots plus 10% Glycolic AHA that exfoliates (for smoother, even-toned skin) while boosting the effectiveness of hydroquinone. This is one of the best hydroquinone-based dark spot correctors that's super affordable and effective!
5. Urban Skin Rx Dark Spot Rapid Repair Retinol Treatment ($23)
Although hydroquinone is considered the holy grail of skin-lightening ingredients, it can be irritating for sensitive skin types.
Packed with proven brighteners including retinol, niacinamide, kojic acid, vitamin C, azelaic acid, and alpha arbutin that all work synergistically, this hydroquinone-free brightening treatment makes acne scars and dark spots disappear. It also smooths rough texture while reducing the appearance of fine lines while hydrating skin (thanks to hyaluronic acid and ceramides). For under $25, this is truly a hardworking hero!
6. The Ordinary Alpha Arbutin 2% + HA ($15)
This concentrated brightening serum is powered by 2% Alpha Arbutin to fade away acne scars, dark spots and hyperpigmention. Arbutin is a natural skin brightener derived from bearberries that inhibits cells from producing skin darkening pigments.
Plus, the formula contains a next-generation form of hydrating hyaluronic acid to enhance the delivery of alpha arbutin and provide a smoothing, plumping effect. This is another great hydroquinone-free dark spot corrector that gets the job done at a price that's nice!
8. Dr. Dennis Gross Ferulic Acid + Retinol Brightening Solution ($88)
If you want a brightening serum with extra anti-aging abilities, this multi-tasking formula is your best bet! This brightening powerhouse is loaded with potent antioxidant ferulic acid, licorice root extract, arbutin and bearberry extract (a natural alternative to hydroquinone) to correct signs of sun damage while retinol reduces fine lines and wrinkles, leaving you with smoother, even-toned skin with a lit-from-within glow!
6. Clinique Even Better Clinical Dark Spot Corrector & Optimizer ($80)
What makes this brightening serum unique is that it's packaged in a dual-chamber bottle that houses two products – dark spot corrector and a soothing treatment. When the pump dispenser is pressed down, equal amounts of both formulas come out, and then you apply the mix to your face.
The Even Better Clinical serum diminishes dark spots and blemish marks with the brightening trio of Vitamin C, yeast blend and Acetyl Glucosamine, while the soothing serum formula contains antioxidant-rich plant extracts that calm and reduce skin irritation caused by environmental stressors.
9. Olay ProX Even Skin Tone Spot Fading Treatment ($27)
Specially designed to tackle the root causes of uneven skin tone, this hydroquinone-free dark spot treatment packs a punch with a potent combination of Niacinamide, undecylenoyl phenylalanine and glycerin.
Not only does it target dark spots and discolorations at the source to correct hyperpigmentation but also delivers a healthy dose of hydration.
10. Paula's Choice Skincare CLINICAL Triple-Action Dark Spot Eraser 2% BHA Gel ($27)
This skin brightening treatment is especially great for oily and acne-prone skin types struggling with discolorations. Not only does it have 2% hydroquinone that fades dark spots and red marks from acne but also contains 2% salicylic acid that clears out clogged pores and busts breakouts!
If you struggle with both pesky pimples and dark spots you have to do yourself a favor and try this dark spot treatment!
Shop this post…