Affiliate links Now that winter (aka dry skin season!) is right around the corner, our skin will need all the extra help with hydration! That's where Hyaluronic Acid comes in.
Even if you are not a skincare fanatic like me, there's a good chance you've probably heard of hyaluronic acid before. It is one of the most buzzed about beauty ingredients because of its incredible ability to hold up to 1,000 times its weight in water to help hydrate and plump skin.
Hyaluronic acid is also something that occurs naturally in all connective tissues in your body. Think of hyaluronic acid as a sponge in your skin that holds on to moisture and keeps your skin soft and supple. As we age, our skin's hyaluronic acid production decreases, causing dehydration and signs of aging.
How Does Hyaluronic Acid Benefit Skin?
When you apply a hyaluronic acid skincare product, it works as a humectant. In other words, it pulls water from the environment into the skin, pumping up its hydration levels…it's a BIG moisture magnet!
Simply put, Hyaluronic acid's magic lies in its ability to replenish moisture, a lot of moisture! It acts as a filler for fine lines and wrinkles, making skin look firmer and smooths out even the roughest dry patches.
The beauty of hyaluronic acid is that it benefits all skin types, at any age. It doesn't matter what skin type you have – hydration is the foundation of healthy skin! HA is also incredibly gentle with calming benefits, for even the most sensitive, redness-prone and acne-prone skin.
Is Sodium Hyaluronate the same thing?
Sodium hyaluronate is derived from hyaluronic acid and has all the same benefits, but is more easily absorbed than hyaluronic acid. That doesn't make one better than the other—in fact, it's great if a product contains both to ramp up moisture in deeper layers of the skin.
Now that we have covered the basics, let's talk about the best hyaluronic acid products that you should add to your skincare routine NOW, before the freezing-cold weather hits!
Let's start with the best drugstore hyaluronic acid serums and moisturizers that keep skin supple and hydrated at a price that's nice! Most of these products are also easily available at Amazon prime…even better, right?
1. CeraVe PM Facial Moisturizing Lotion ($11)
Along with hyaluronic acid, this night-time moisturizer also contains glycerin and 3 essential ceramides – basically everything thirsty skin needs! Plus, it has Niacinamide to brighten up dull, uneven skin tone. The fragrance-free formula is oil-free and won't clog your pores.
For daytime, CeraVe AM Facial Moisturizing Lotion SPF 30 offers the same benefits along with broad-spectrum sunscreen.
2. Physicians Formula Skin Booster Vitamin Shot Hydrating ($12.99)
With a healthy dose of ultra-hydrating Hyaluronic Acid, this lightweight booster drenches skin with moisture to keep it supple and flake-free. It also contains a good amount of skin-brightening niacinamide plus soothing aloe vera and vitamin E.
The oil-free formula has a silky, serum texture that soaks in quickly and layers easily under moisturizer. It's cruelty-free, fragrance-free and paraben-free.
3. Vichy Minéral 89 Daily Skin Booster Serum with Hyaluronic Acid ($29.50)
This face serum combines 89% Mineralizing Thermal Water with 15 essential minerals and natural origin Hyaluronic Acid, leaving your skin drenched with moisture.
With a lightweight gel texture, this oil-free hyaluronic acid serum is suitable for all skin types, including sensitive. It's free of any potential irritants like parabens, silicones, fragrance and alcohol.
4. Cetaphil Rich Hydrating Night Cream with Hyaluronic Acid ($11)
Perfect for dry or extra dry skin, this nourishing night cream plumps up skin with moisture and strengthens skin's natural moisture barrier. The soothing soufflé-type cream is also spiked with antioxidants and olive extract to protect against free-radical damage from the environment.
If you are looking for a great drugstore eye cream with hyaluronic acid, Cetaphil Hydrating Eye-Gel Cream is an excellent option!
5. Olay Age Defying Advanced Hydrating Gel Cream Moisturizer with Hyaluronic Acid ($10)
Dry skin and fine lines are no match for this Hyaluronic Acid moisturizer that's also packed with Pro-vitamin B5, vitamin E and Niacinamide. Not only does it nourish and smooth skin's texture but also brightens up a dull complexion without clogging pores.
6. derma e Hydrating Serum With Hyaluronic Acid ($23)
This super-concentrated Hyaluronic Acid serum delivers a surge of nourishing nutrients deep within skin's surface, for a beautifully hydrated complexion. The oil-free formula is also loaded with antioxidant Vitamin C, skin-soothing Allantoin, green tea extract and hydrating Panthenol (Pro-vitamin B5). It's 100% vegan, cruelty-free and paraben-free.
7. Cetaphil PRO Night Moisturizer ($9.65)
This gentle, nourishing night moisturizer is specially formulated for sensitive skin to soothe irritation from dryness. Along with hyaluronic acid, it contains soothing licorice extract and antioxidants plus ceramides to calm dry, redness-prone skin. The lightweight lotion is non-comedogenic (won't clog pores)
8. NO7 Restore & Renew Face & Neck Multi-Action Serum ($34)
Powered by Hyaluronic Acid along with vitamin C, peptides and ceramides, this multi-action serum delivers line-smoothing and skin-brightening benefits with a weightless, silky texture suitable for all skin types.
9. Lumene Valo Glow Boost Essence ($24)
Formulated with two different types of ultra-hydrating Hyaluronic Acid and vitamin C, this glow-boosting serum will help you ditch dull skin in no time! It also contains pure arctic spring water and antioxidants that work together to make your skin look smoother, supple and radiant with daily use.
10. The Ordinary Hyaluronic Acid 2% + B5 ($6.80)
Although not available at drugstores, there's no denying that when it comes to affordable skincare, few do it better than The Ordinary. This hyaluronic acid serum combines three of types of HA with different molecular weights (at a combined concentration of 2%) allowing it to penetrate multiple layers of the skin. Plus, it has Vitamin B5 which enhances surface hydration for a smooth, supple feel.
The Ordinary Hyaluronic Acid 2% + B5 is actually a great dupe for Skinceuticals Hydrating B5 Gel. In fact, Skinceuticals version has only one form of hyaluronic acid while The Ordinary serum is formulated with two.
11. L'Oreal Paris Revitalift Derm Intensives 1.5% Pure Hyaluronic Acid Serum ($23)
What sets this new hyaluronic acid serum apart from others is that it combines 0.5% high molecular weight hyaluronic acid (for instantly plump, supple skin) with 1% low molecular weight hyaluronic acid that penetrates deeply to replenish skin hydration. The lightweight, gel serum absorbs in a snap without a tacky feel or residue.
12. Garnier SkinActive Moisture Bomb The Antioxidant Super Moisturizer ($12.53)
This oil-free moisturizer is packed with hyaluronic acid, plus antioxidant-rich Goji Berry, Vitamins C & E, and Pomegranate to give your skin an instant burst of long-lasting, healthy hydration! It has a sheer, water-gel formula that plumps out dry lines and helps strengthen the moisture barrier to stop the cycle of dry skin.
Best Hyaluronic Acid Serums That Give You The Most Bang For Your Buck
Here are the best hyaluronic acid serums that are really worth the splurge! Perfect to give your skin some serious T.L.C.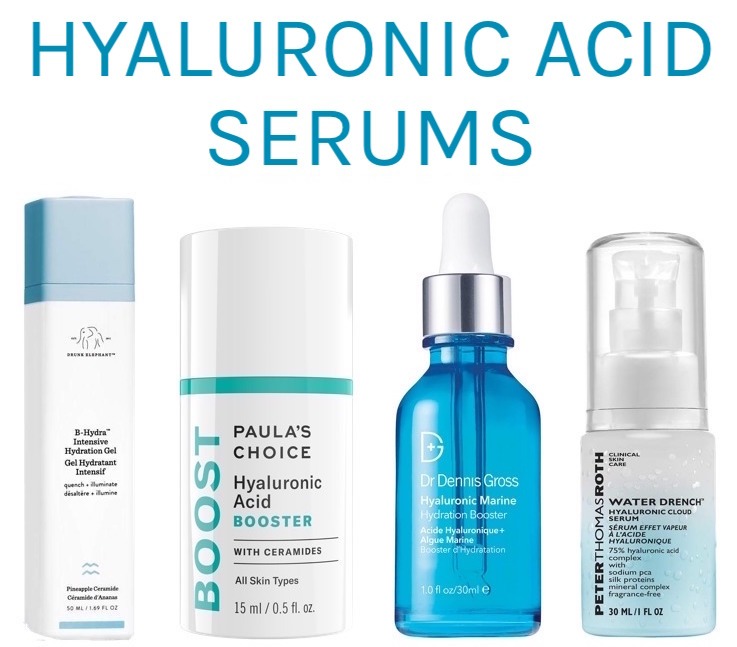 1. Drunk Elephant B-Hydra Intensive Hydration Serum ($52)
This ultra-hydrating hyaluronic acid serum provides a mega dose of moisture, without a heavy or greasy feel. Think of it like a tall, cold drink of water for your face! Although an outstanding option for all skin types, its water-light refreshing gel texture makes this serum especially perfect for combination to oily, acne-prone skin.
And its benefits don't just stop at hyaluronic acid—the hard-working serum also contains a range of beneficial antioxidants and ceramides to reduce fine lines and brighten up dull, dehydrated skin.
2. Paula's Choice RESIST Hyaluronic Acid Booster ($34)
Great for all skin types, this concentrated hydrating booster supplies skin with a healthy dose of hydrating, skin-smoothing hyaluronic acid plus ceramides. It contains both hyaluronic acid and sodium hyaluronate to hydrate and plump skin on multiple levels.
The ultra-light gel formula can be used alone or mixed with your fav serum or moisturizer to supercharge its smoothing benefits. The fragrance-free formula can even be used around the eyes to smooth crow's-feet!)
3. Dr. Dennis Gross Hyaluronic Marine Hydration Booster ($68)
If you want an impressive dose of hydration and anti-aging benefits, this hydrating serum is the perfect pick! The weightless fluid sinks into skin without a trace. Not only does it infuse moisture deep into the skin with hyaluronic acid and evening primrose oil, but also targets fine lines and wrinkles (thanks to a cocktail of antioxidants, ceramides, glycolic acid, retinol and hydrolyzed collagen). Although expensive, it's worth the extra investment for the youthful radiance you'll love seeing!
4. Glossier Super Bounce ($28)
Supercharged with skin-plumping hyaluronic acid and hydrating panthenol, this serum splashes skin with intense moisture for supple softness. It has a silky liquid texture that soaks in quickly without any stickiness. Great for skin depleted from hangovers, long layovers, blasting a/c, or high heat!
Peter Thomas Roth Water Drench Hyaluronic Cloud Serum ($65)
True to its name, this powerful serum drenches skin in lightweight yet long-lasting hydration. Formulated with a hefty dose of hyaluronic acid and silk proteins, it smooths out fine lines and rough skin texture. With a soothing fragrance-free formula, its perfect for all skin types, even for those with acne and dry skin at the same time.
Do you have a favorite hyaluronic acid serum or cream? If not, which of the above hyaluronic acid products will you be trying out first?
Shop this post…