Or perhaps in Slytherin,
You'll make your real friends,
Those cunning folk use any means,
To achieve their ends.
Yes, this one is for you Harry Potter fans!
Halloween is only 10 days away…have you planned your Halloween costume and makeup look for this year's fright night or still looking for ideas? In case you haven't figured it out yet, here's a Harry Potter inspired Halloween look for a little inspiration!
Related: 10 Easy Halloween Makeup Looks to Try This Year
Rocking this Slytherin look above is my dear friend Rachel! These pictures are from a Harry Potter themed Zumba party last weekend (PS: she is a kickass Zumba instructor!) I absolutely LOVED her sassy Slytherin look and thought of sharing it on the blog in case you also wanted to try it out this Halloween!
The best thing about choosing this Harry Potter inspired Halloween look is that you can turn it up (with tattoos and accessories) or tone it down as much as you want, and people will still know exactly what you are!
And if Slytherin happens to be one of your fave Harry Potter houses, this one is a great way to show off your Hogwarts house pride! It's sure to be an instant hit and you'll have a lot of fun getting into the character (just like Rachel did!)
Even if you're not a Harry Potter fan, this fun Halloween look is still worth recreating — allow the sparkle and shine of the magical world of wizarding to influence your spooky spirit this year.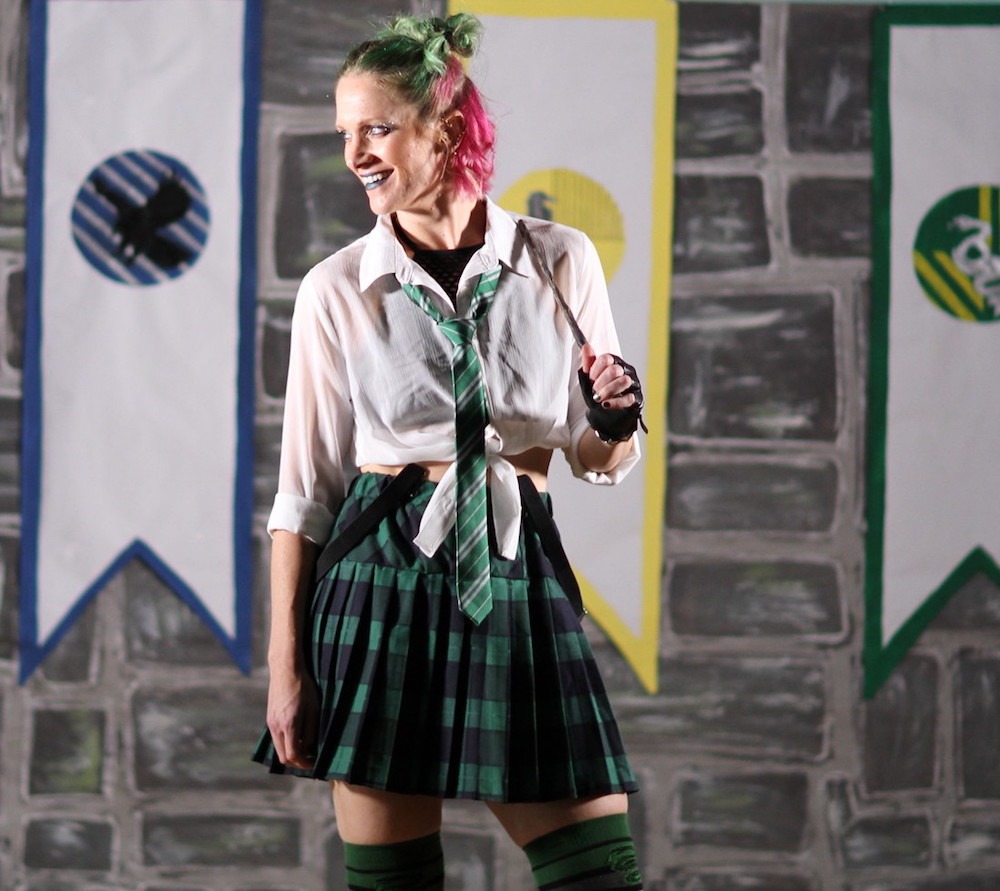 So, let's get into the details of the Slytherin Halloween costume and makeup look. Even though it seems quite elaborate and time consuming, this look is actually fairly easy to replicate! Here's a full list of what Rachel used…some of these things you might have already, like black shoes or a white shirt.
Costume 
Slytherin skinny tie (or this green tie featuring the House of Slytherin Crest)
Slytherin Knee High Socks (or these over-the-knee socks)
Harry Potter snake-shaped temporary tattoos
Slytherin Hi-Top Sneakers (or any plain black shoes)
Slytherin Cardigan (optional)
Makeup and Hair 
NYX Slide On Eye Pencil in Tropical Green
Rimmel Stay Matte Liquid Lip Color in Pitch Black
NYX Cosmic Metals Lip Cream in Out of This World (green)
Maybelline The Falsies Waterproof Mascara (or your favorite mascara)
Joico Color Intensity Color Butter in Green
This is not a makeup-focused look so you can add more (like green and silver eyeshadow) or keep it minimal, it's totally up to you! The overall makeup is pretty simple. Let the killer lipstick play the main role! Apply black lipstick first and top it off with the green one.
A good foundation or concealer and 1-2 coats of mascara is enough to complete the look. For your nails, use a black nail polish and you're all set! As for your hair, you can use a temporary hair color or use some cosplay wigs (green) like Rachel did or feel free to skip that step altogether.
Hope you have fun recreating this Slytherin Halloween costume!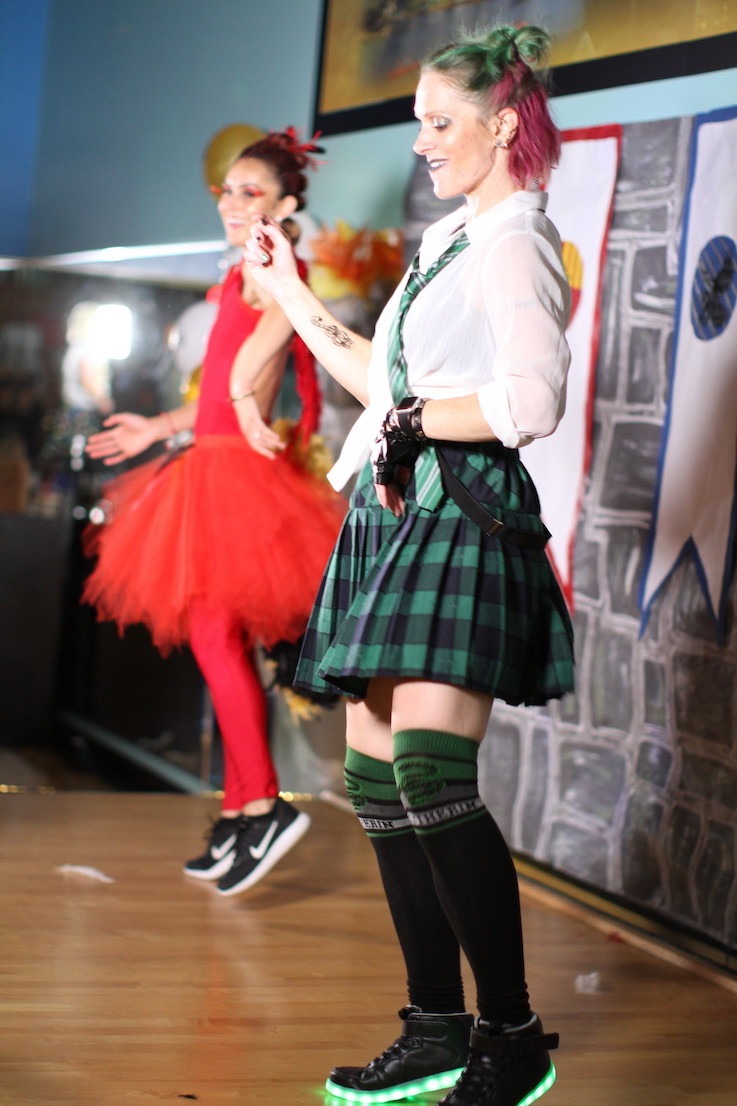 Photos credit: Romeo Sanidad
This post contains some affiliate links.