Sponsored post Dark circles have long been the bane of my existence. Even though I try to do the 'right' thing for my eyes, like getting 8 hours of sleep (almost) every night, my eyes still look tired with those pesky dark circles staring back at me in the mirror. The struggle is real people!
Truth is, the skin around our eyes is much thinner and more delicate than the rest of our face, causing it to be the first to show signs of stress, aging and fatigue.
And I know I'm not the only one plagued with this problem. Whether hereditary or caused by lack of sleep or stress, dark circles are one of the biggest beauty woes. Chances are you've probably Googled "how to get rid of dark circles under eyes" on more than one occasion…I know I have!
Not sure if I inherited those dark circles (thanks, Mom) or it's probably something to do with me staring at the computer screen (or iPhone) all day, I know I need all the help I can get!
Enter the NEW Olay Eyes Brightening Eye Cream with Vitamin C that is specifically designed to visibly reduce dark circles and hydrate to smooth fine lines & wrinkles over time.
This new Olay eye cream combines the power of Vitamin C and Vitamin B3 (niacinamide) – both shown to improve brightness and discoloration over time, as well as Vitamin B5 (panthenol) and Vitamin E for a healthy dose of hydration.
That's not all it can do though! Olay also included a light-reflecting complex in the formula to amp up its brightening power and instantly illuminate the skin…perfect for when you need to fake a full night's sleep!
Texture wise, the Olay Brightening Eye Cream has a silky lightweight formula that absorbs right away. It's not at all greasy or tacky and instantly makes my under-eye area look and feel smoother and brighter.
I love how this eye cream is so hydrating without a heavy feel and totally feels like a treat for my tired eyes! Not to mention, after I dab it on in the morning, my concealer glides on like a dream, and stays that way all day.
In fact, I love the formula so much that I started slathering it all over my face for some extra TLC, not just my eyes. (I had to stop doing that though, for the sake of making the jar last longer!)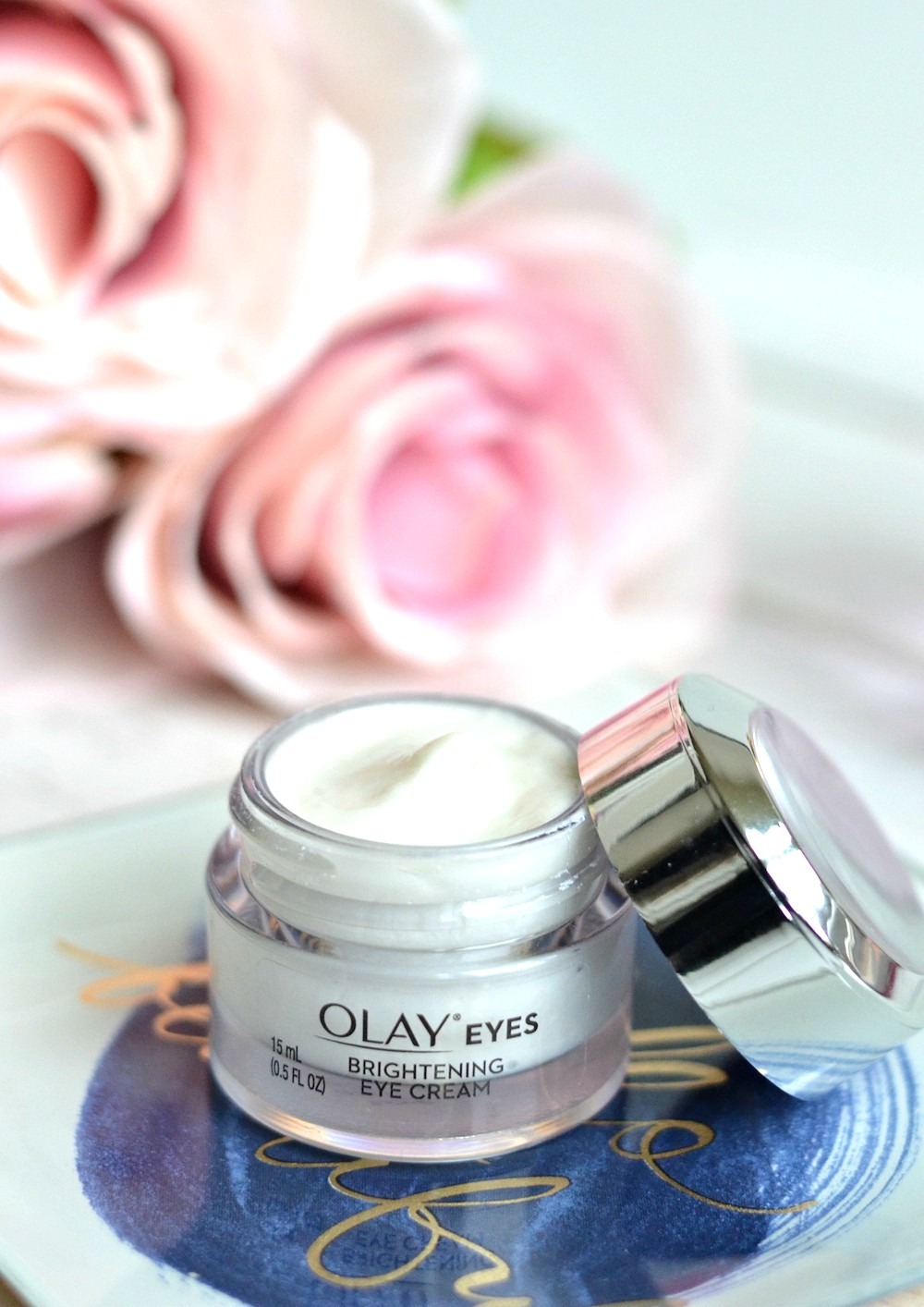 I have been using the Olay Brightening Eye Cream twice a day consistently for the last 3 weeks and already see a difference! There's definite improvement in the brightness and dryness of my under eye area…it looks much smoother and the fines lines around my eyes have become more subtle.
This Olay eye cream has also helped diminish my dark circles, making me look more refreshed and well-rested. I seriously thought I was bound to look tired for the rest of my life but thanks to Olay Brightening Eye Cream, I'm looking forward to get rid of my under-eye problems once and for all!
Bottom Line
If you too have been grappling with dark circles under eyes, eye strongly suggest you try the new Olay Brightening Eye Cream. It gives an instant brightening boost (without being sparkly) AND a mega dose of moisture.
Enriched with potent antioxidants like vitamin C and brightening pigments, this multi-tasking eye wonder tackles not just dark circles but also smooths fine lines over time. With Olay Brightening Eye Cream, you can hide you're tired, not your eyes!
Olay Brightening Eye Cream is available for purchase at CVS here.
This content is sponsored by Olay. All thoughts and opinions are my own.