Press sample Red lipstick has been, and will always be a beauty staple. But did you know that your favorite red lipstick may contain ground-up insect parts?
Yes. Really! If the lipstick says "carmine" on the label, it means that the brilliant red is the result of pulverized Cochineal, a tiny insect that's been collected for its dye for centuries. Apart from the "ick" factor, the insects may have been exposed to agricultural chemicals (herbicides and pesticides), which then find their way into your lipstick. Ingredients matter because we actually swallow micro particles of the lipstick we wear every day!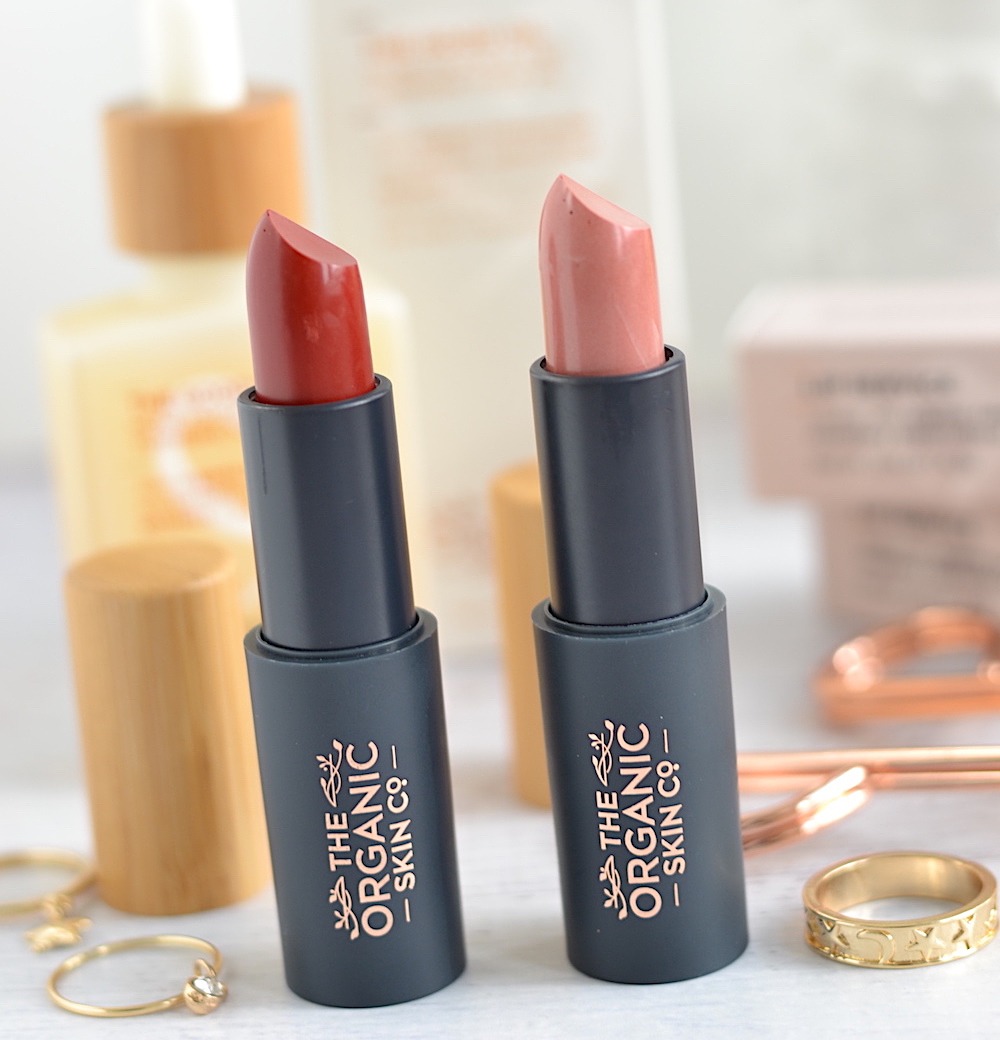 Enter The Organic Skin Co Lip Service Lipsticks that are 100% natural and free of parabens, nanos, bismuth oxychloride, gluten, talc and other nasty stuff commonly found in many lipsticks (which you can't help but swallow!)
Truly vegan and cruelty-free, the Organic Skin Co lipsticks are packed with nourishing organic oils and carnauba wax along with extracts of calendula and rosemary, which moisturize lips and combat dryness to prevent chapping in winter weather. The lipstick range has 12 shades, available in matte, shimmer and sheer finish.
INGREDIENTS: Ricinus communis (castor) seed oil*, caprylic/capric triglyceride, oriza sativa (rice bran) wax, copernicia certifera (carnauba) wax, helianthus annuus (sunflower) seed oil, rosmarinus officinalis (rosemary)supercritical extract, simmondsia chinensis (jojoba) seed oil*, punica granatum (pomegranate) supercritical extract, calendula officinalis (calendula) supercritical extract*.
* Organic ingredient
The Organic Skin Co. lipstick in Ruby Red has become my new favorite red lipstick. I was hooked on this beautiful red hue after just one swipe! I love the creamy, satin formula that quickly dries down to a moisturizing semi-matte finish. And despite being all-natural, it's fairly long-lasting.
Most of the other natural lipsticks I've tried before feel moisturizing but do not stay put and that's where this lipstick really stands out. Of course, it's not super long-wearing like a regular matte liquid lipstick but definitely has an impressive longevity. Not to mention, it's loaded with all-natural good stuff!
With the Organic Skin Co lipsticks, you'll never have to choose between good-for-your-skin ingredients and color payoff! If you're trying to green your beauty routine this year, these all-natural lipsticks will be your new natural makeup must-haves!
And here's another great reason to give these organic lipsticks a try – they are currently on sale at 50% off for only $17.25 each (for a limited time!) at theorganicskinco.com
I have also been trying The Organic Skin Co. Good Oil which is a lux combination of 5 pure organic oils – jojoba, almond, apricot, sunflower, and honeysuckle to help soften, rejuvenate and repair skin.
It also contains Calendula extract that's super good for your skin, thanks to its antioxidant and antiseptic properties. Plus, anti-inflammatory Turmeric extract provides an extra boost for your skin, helping to minimize irritations including blemishes.
INGREDIENTS
Simmondsia chinensis (jojoba) seed oil*, caprylic/capric triglyceride, helianthus annuus (sunflower) seed oil*, prunus dulcis (almond) seed oil, prunus armeniaca (apricot) seed oil, calendula officinalis (calendula) flower supercritical extract*, curcuma longa (turmeric) root supercritical extract*, helianthus annuus (sunflower) seed oil*, rosmarinus officinalis (rosemary) supercritical extract, lonicera caprifolium (honeysuckle) flower extract.
* Organic ingredient
This Honeysuckle and Turmeric Face Oil is such a nourishing treat for dry skin! It's very lightweight, absorbs quickly and not greasy at all. It provides a healthy dose of hydration while adding a beautiful dewy radiance to my skin. Not to mention, it smells divine!
Although it's a face oil, I like to slather it on my legs and arms as well, especially right after shaving…it really minimizes any irritation or dryness and makes my skin feel super soft! This face oil is also currently at sale for $31.50 here.