Inspired by professional paint brushes, the new Urban Decay 24/7 Inks Liquid Eyeliner is a water + smudge resistant eyeliner with up to 24-hour wear.
Ergonomically designed with a precision grip and an ultra-sharp tip, this liquid eyeliner puts you in control and comes in a 'flow-through' pen component with either a felt tip or brush tip.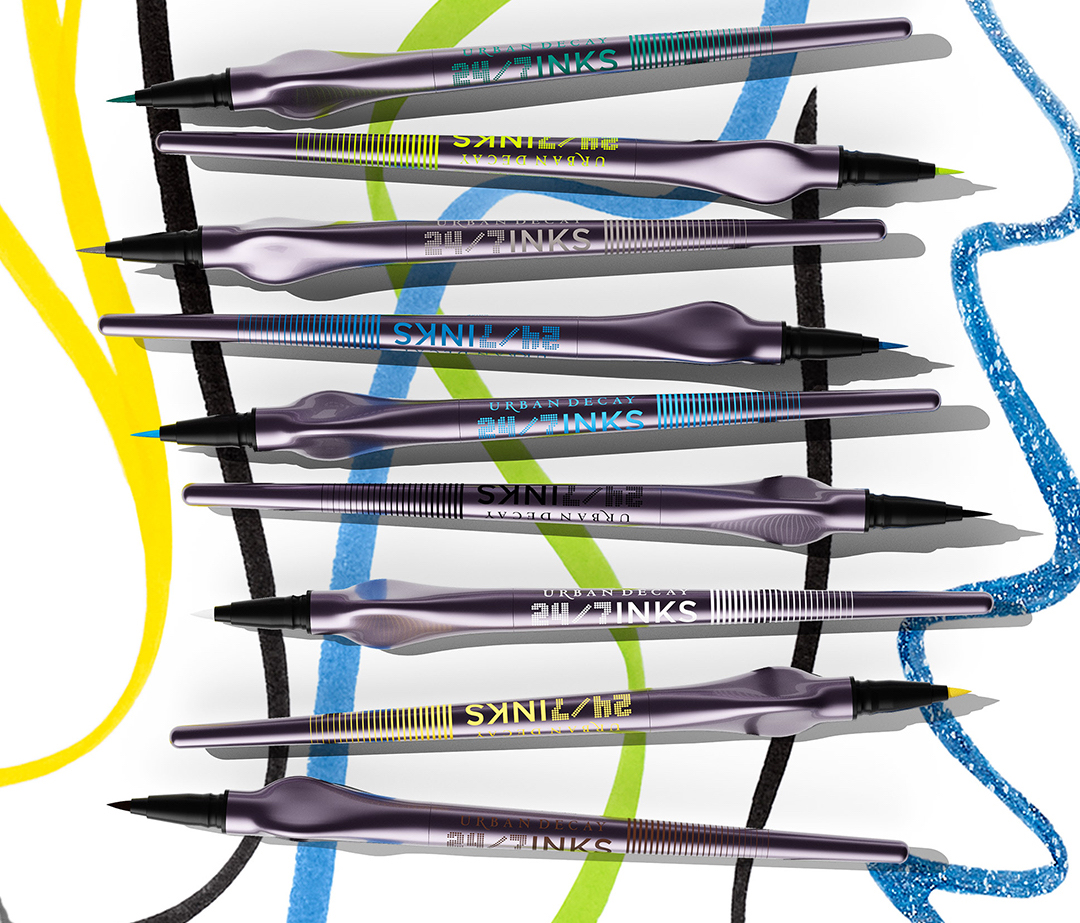 Urban Decay 24/7 Inks Liquid Eyeliner is available in 9 vivid and intense shades from a classic black and brown to bright yellow, blue and lime green. Whether you want to create an everyday natural look, fierce cat eye wings or intricate graphic liner looks, it's easy to let your creativity flow with these colorful liquid liners!
Urban Decay 24/7 Inks Liquid Eyeliner Shades
Zero (matte black, brush tip)
Whiskey (matte dark brown, brush tip)
Hi-Energy (blue shimmer, brush tip)
Binge (matte sky blue, brush tip)
Deep End (deep teal shimmer, brush tip)
Oil Slick (gunmetal shimmer, brush tip)
Mucho Mucho (matte yellow, felt tip)
Ozone (matte white, felt tip)
Freak (matte lime green, felt tip)
I'm not typically a fan of liquid liners, and prefer retractable eyeliner pencils because I find those much easier to use/apply and draw a thin line. With a liquid eyeliner, somehow I always I end up messing up the line (at least on one side!) and have to redo it. But that's not the case with this Urban Decay eyeliner!
I got the shade Hi-Energy (blue shimmer) To be honest, it was this beautiful blue shade that lured me into buying the eyeliner!
Urban Decay 24/7 Inks Liquid Eyeliner Review
I love how this liquid eyeliner is so easy to apply! The ergonomic design makes it easier to hold steady and the ultra-fine tip glides on smoothly to draw thin or thick lines without skipping or dragging. So, it gets two thumbs up from me in terms of easy application.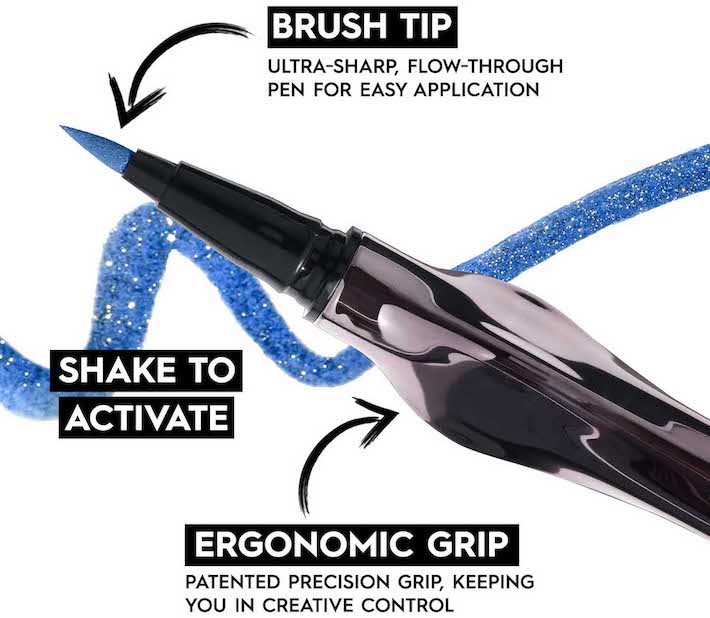 Urban Decay recommends shaking the eyeliner pen before applying to saturate the brush or felt tip. The formula is also highly pigmented with a great color payoff. The blue shade is so pretty and always gets me compliments whenever I wear it!
Check out my Instagram reel to see this eyeliner in action…
View this post on Instagram
Now let's talk about the longevity! I didn't find this eyeliner formula to be smudge-resistant or super long-wearing, as it claims to be. It smudges a little bit if I happen to touch my eyes by mistake. And even when there's no smudging, my liner doesn't look as crisp and vibrant by the end of the day.
The color seems to lose a bit of its intensity and fade a little through the day. I'm not sure if it's just this blue shade that doesn't stay put or all the other shades are like that??
This is actually very surprising because all the Urban Decay products I've ever used are very long-lasting so I was hoping the same from this eyeliner. But sadly, this one didn't pass the all day-wear test.
Overall, I really like this eyeliner when it comes to color range and ease of application but it lacks staying-power and doesn't live up to its long-wearing claim. Considering the $26 price tag, that is disappointing!
Available at Ulta Beauty, Sephora and urbandecay.com
Have you tried the Urban Decay 24/7 Inks liquid Eyeliner? What do you think?