Dove has launched its first-ever aluminum-free deodorant, called Dove 0% Aluminum Deodorant.
With 0% aluminum and 0% alcohol, the new Dove aluminum-free deodorant not only promises to provide 24 hour odor protection, but is also enriched with Dove's ¼ moisturizers so your underarms are left soft and smooth.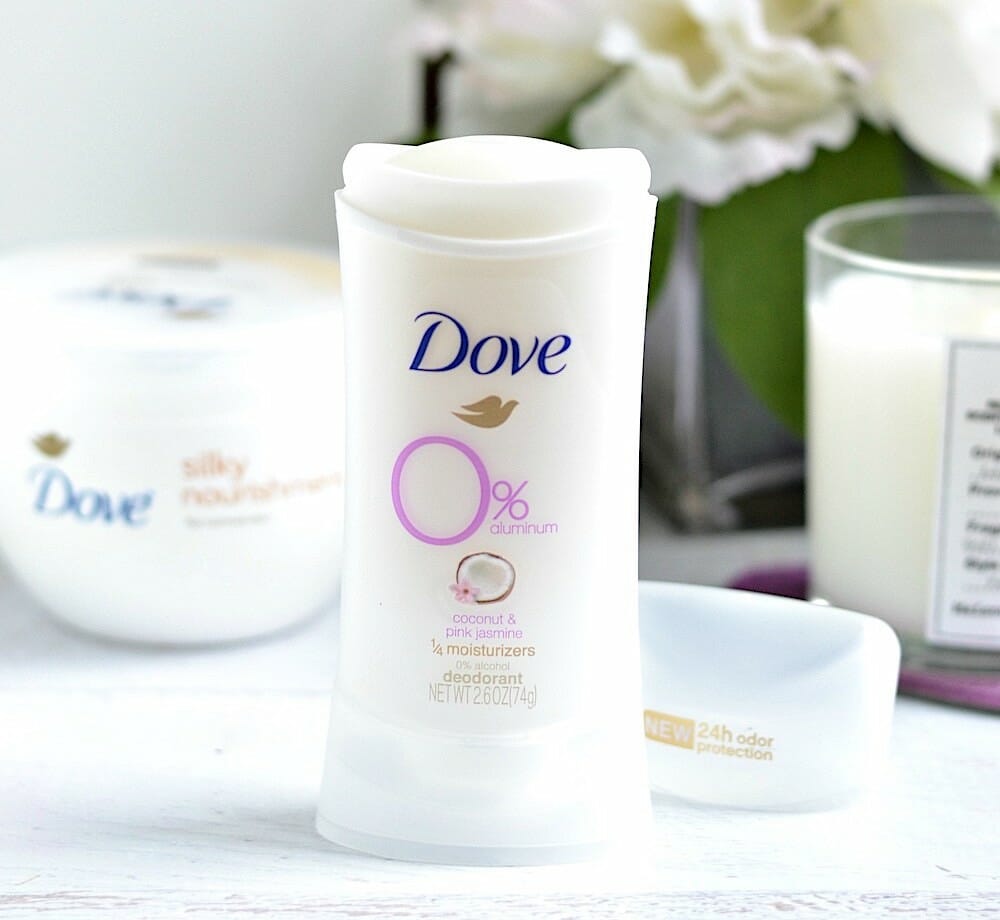 Dove aluminum-free deodorant comes in four different fresh scents: Blue Fig & Orange Blossom, Coconut & Pink Jasmine, Cucumber & Green Tea and Pomegranate & Lemon Verbana so you've got a variety of options to choose from.
I'll just start off by saying that I am not a heavy sweater. I don't sweat a lot, as in, there's not much wetness, but if I go without a deodorant, I can definitely smell the difference by mid-day. And that's why Dove Advanced Care Antiperspirant Deodorant has been my trusty sweat-buster for years!
I have tried quite a few natural, aluminum-free deodorants like those from Lavanila, Lavilin and a couple of others I picked up from Whole Foods. But none of them have been effective enough to make me switch from Dove's original deodorant.
As much as I would like to go completely aluminum-free with my deodorant (according to some studies, aluminum-based antiperspirant deodorants may increase the risk for breast cancer), I haven't been able to find an aluminum free option that can keep me stink-free all day. Not to mention, all the natural aluminum-free options I tried were at least double the price!
So, when I heard that Dove has introduced a new aluminum-free deodorant, I grabbed it as soon as I spotted it at my local Target! I got the Dove 0% Aluminum Deodorant in Coconut and Pink Jasmine scent.
Just as the name suggests – Dove 0% Aluminum Deodorant is a deodorant, not an antiperspirant. Deodorant and antiperspirant aren't the same thing. Antiperspirants use aluminum as an active ingredient to control sweat, perfect if you want to avoid underarm wetness. Deodorants, on the other hand, simply neutralize or curb the smell of body odor caused by sweat. As I mentioned above, wetness is not an issue for me so I don't really need an antiperspirant anyways!
What I really like about Dove aluminum-free deodorant is that it's also free of alcohol and contains moisturizing ingredients like glycerin and shea butter, so I can use it right after shaving and never have to worry about any irritation or discomfort. In fact, it leaves my underarm skin feeling soft and moisturized.
I also like that the creamy formula goes on clear and doesn't leave any white marks on my clothes. So far so good, but the real question is – Does it really keep body odor at bay throughout the day, without any reapplication?
I would say it does hold up quite well, but by early evening its deodorizing effect starts wearing off and I have slight B.O. That said, it's still nowhere near as bad as what I've whiffed with some other aluminum-free deodorants!
I also put Dove aluminum-free deodorant to the ultimate test in my hour-long Zumba class. As always, I was super sweaty after an intense workout but I didn't smell any worse compared to when I use the original Dove deodorant. Go figure!
Bottom Line
Overall, I am not super impressed with the new Dove aluminum-free deodorant but it didn't disappoint either. It doesn't last as long as the original Dove deodorant (which contains aluminum) but it definitely works better than any other aluminum-free deodorant I've tried so far.
If you're also looking to go aluminum-free with your deodorant, Dove 0% Aluminum Deodorant is a really nice option to start with. It has a kind-on-skin formula free of any alcohol or baking soda, which means NO irritation even when applied to freshly shaved pits. And if you don't mind reapplying once or twice, it might even work for you to keep B.O. away until the end of the day!
Dove 0% Aluminum Deodorant ($6) is available for purchase at Walmart.com and Target