Affiliate links Vitamin C needs no introduction in the world of skincare! It is one of the most well-researched, proven and powerful ingredients.
Vitamin C is an antioxidant superstar for your skin that does it all— stimulates collagen production, improves uneven skin tone & texture, fades dark spots, hyperpigmentation and acne scars while also protecting skin against harmful free radicals (generated from sun exposure, pollution or smoking) which can lead to premature aging.
In short, this anti-aging power player can do all kinds of wonderful things to brighten and firm your skin at virtually any age, whether you are 25 or 50!
As you know, there's no shortage of vitamin C serums in the market and they don't always come cheap. So, how to choose the best affordable vitamin C serum that gives you the best bang for your buck?
How to Choose the Best Vitamin C Serum
One of the most important things to look for when choosing a vitamin C serum is that the product is packaged in an opaque or dark-colored bottle or tube to keep Vitamin C stable (that's because pure Vitamin C oxidizes very easily when exposed to light and air)
Also, watch the color of your vitamin C serum. It should be very light – almost clear. If it starts to darken or turn brown/yellowish, that means it has degraded/oxidized and should not be used. To prevent that, it's important to store vitamin C serum in a cool, dark area (even better if you keep it in the fridge) and close the lid tightly immediately after use.
Personally, I like to use a Vitamin C serum that contains pure L-ascorbic acid (Vitamin C in its most efficient form) between a concentration of 10-20%. If you are new to Vitamin C, it's best to start with a 10-15% concentration and then gradually move up to 20%.
There is a great deal of evidence showing that combining Vitamin C with other potent antioxidants like Ferulic acid and vitamin E help stabilize pure Vitamin C and increase its efficacy. So, a well-formulated serum should also contain these beneficial ingredients that work synergistically with vitamin C to enhance its antioxidant power.
Also, did you know that a good Vitamin C serum (with pure ascorbic acid) has to be formulated at the right pH to work?! Vitamin C serum needs to be between a pH range of 2.5-3.5 in order to be most effective and absorb well into your skin. All of the serums listed below meet this criteria!
Nowadays, there are plenty of Vitamin C serums formulated with Vitamin C derivatives like — Tetrahexyldecyl Ascorbate, Sodium Ascorbyl Phosphate, 3-O-ethyl ascorbic acid, Magnesium Ascorbyl Phosphate, Ascorbyl Palmitate — but not all of them are equal in terms of stability and absorption rate. These derivative forms are usually more stable (don't oxidize as easily) and promise to provide great results, but there hasn't been enough research yet to support and prove their effectiveness as much as pure ascorbic acid. That said, these Vitamin C derivates can be a better option for those with sensitive skin type (more on that at the end of this article)
Pro tip: It's best to use Vitamin C serum under your sunscreen every morning. Vitamin C boosts the UV protection of your sunscreen making it more effective. But remember, Vitamin C serum is NOT a substitute for sunscreen…it just helps skin better withstand sun exposure.
Best Affordable Vitamin C Serums 
In this post, I have listed some of the most effective and affordable Vitamin C serums that really work. All of these serums have a cosmetically elegant, lightweight texture that's suitable for all skin types. Not to mention, they are all formulated at the correct ph for best absorption.
1. Timeless Skincare 20% Vitamin C + E Ferulic Acid Serum ($17.40)
This is one of the most popular Vitamin C serums and for good reason! With a 20% concentration of pure L-ascorbic acid, it gives your skin a healthy dose of Vitamin C plus the formula is enhanced with potent antioxidants Ferulic Acid and Vitamin E. It comes in an airless pump bottle which helps to keep it stable! I love its weightless water-like texture that absorbs quickly and transparently into the skin.
Suitable for all skin types, the formula doesn't have a sticky or tacky feel and layers easily under SPF in the morning. Check out my Instagram reels to see the serum texture! Timeless also has a 10% Vitamin C+E Ferulic Acid Serum which is a better option for Vitamin C beginners and those with sensitive skin.
2. Geek & Gorgeous C Glow Serum ($14)
This affordable yet powerful Vitamin C serum is extremely popular in Europe and now it's available in the USA! Formulated with 15% pure Vitamin C (Ascorbic Acid) + Ferulic Acid + Vitamin E, it has a super light, water-like weightless liquid formula that absorbs very fast.
The formula is free of any fragrance or essential oils and is created fresh in small batches every week. Suitable for all skin types, it's also vegan and cruelty-free.
3. Neutrogena Rapid Tone Repair Vitamin C Serum Capsules ($20)
Packed with a potent dose of 20% pure Vitamin C (L-ascorbic acid), this brightening serum comes in biodegradable single-use capsules to preserve the freshness of Vitamin C. The formula also contains antioxidant-rich Rubus Idaeus (Raspberry) Leaf Extract and Vitamin E.
It has a silky, lightweight formula that applies smoothly and absorbs quickly. No tacky, greasy or sticky feel! You can see my full review here. Oil-free and non-comedogenic (won't clog pores), this serum is also free of fragrance, preservatives or alcohol and is suitable for all skin types. Also available at Walmart.com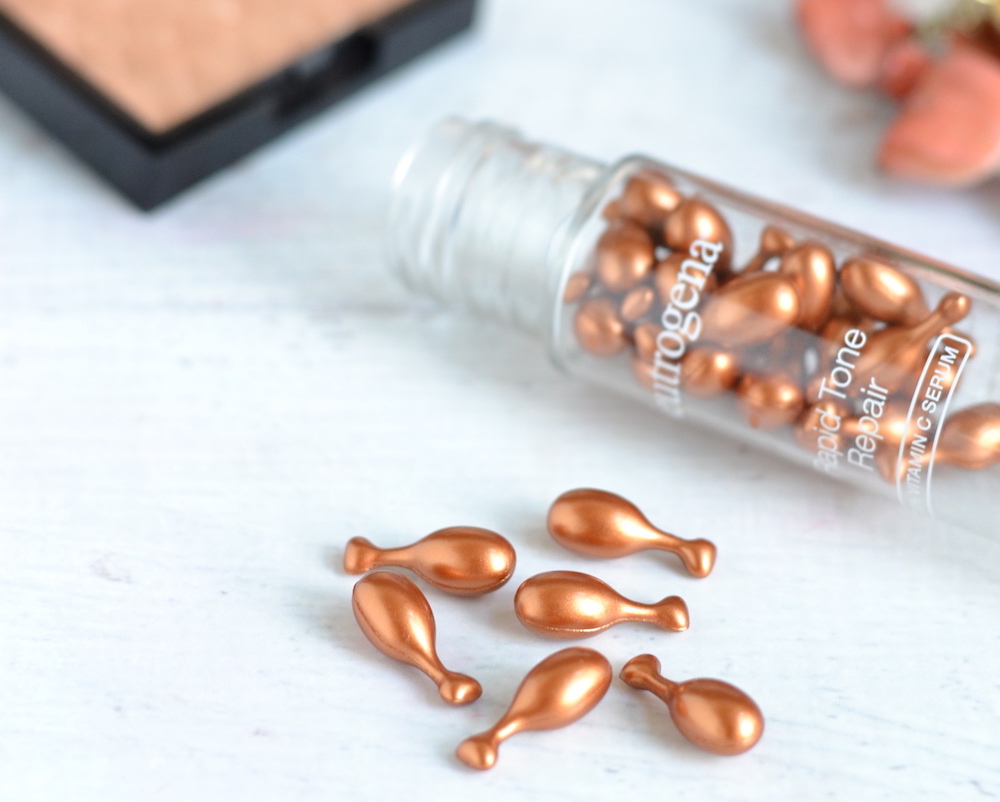 4. Dr. Brenner Vitamin C Serum with Vit. E, Ferulic & Hyaluronic Acid ($19)
Formulated with 20% pure L-Ascorbic Acid, this is a high-strength Vitamin C serum that also contain antioxidants Ferulic Acid, Vitamin E and hydrating Hyaluronic acid. In fact, this serum has the same ingredients list as the cult-favorite SkinCeuticals CE Ferulic Serum, but with a higher concentration of Vitamin C.
Yes, it's a great dupe for the wildly popular SkinCeuticals serum (which retails for $182) at a fraction of the price and definitely worth trying out! The lightweight, non-greasy formula absorbs quickly but has a slightly sticky finish. This serum is best suitable for dry and normal skin (not recommended for those with acne-prone skin) Also, it's made in U.S.A. and cruelty-free. Also available at Walmart.com
5. By Wishtrend Pure Vitamin C 15% With Ferulic Acid Serum ($25)
If you lean more on the oily to combination skin types, this serum will be right up to your alley thanks to its lightweight watery texture that absorbs almost instantly leaving no tackiness or residue.
Aside from 15% pure L-Ascorbic Acid, this serum also features 0.5% Ferulic Acid and vitamin E to maximize the antioxidant effects of vitamin C. Plus it contains a few oil-controlling ingredients and Niacinamide that also helps improve dull, uneven skin tone. The formula is free of oil, silicones, artificial fragrance and is also cruelty-free.
6. Maelove The Glow Maker Antioxidant Serum ($32.95)
Although a bit over $25, this is a great option that's worth the hype! This serum features Vitamin C (15% L-ascorbic acid), Vitamin E and Ferulic Acid for superb antioxidant protection, plus Hyaluronic Acid for long-lasting hydration. In addition, it also contains more good stuff like aloe and grape seed extract for extra nourishment.
It has a lightweight formula with a water-like consistency that absorbs quickly and is also hydrating without being greasy. The formula is oil-free, cruelty-free, vegan and made in the USA. It's only available at their website maelove.com
7. Skin Deva 20% Viatmin C+ E + Ferulic Acid Serum ($20)
This high-potency serum is formulated with 20% pure Vitamin C (L-ascorbic acid) plus 0.5% Ferulic Acid and 1% Vitamin E. With a lightweight watery texture, it absorbs quickly and sets to a natural finish that isn't greasy, shiny or sticky. The fragrance-free formula is made in the USA and cruelty-free. Also available at Walmart.com
So, these are the best affordable Vitamin C serums that will give you brighter, smoother skin and help fade hyperpigmentation — without a hefty price tag! If you've been paying $182 for SkinCeuticals C E Ferulic Serum, you owe it to yourself to try these budget-friendly (yet hard-working) options!
Vitamin C Serums For Sensitive Skin
If you have sensitive, redness-prone skin, the serums listed above might not be the best option for you because of their low pH and high pure acid content. For sensitive skin, I would recommend trying out one of these drugstore vitamin C serums below — these are more gentle, yet effective and either contain a lower concentration of Vitamin C or a different form of Vitamin C (as I mentioned above)
Timeless 10% Vitamin C+E Ferulic Acid Serum ($21.95)
Vanicream Vitamin C Face Serum ($18.99)
Naturium Vitamin C Complex Serum ($19)
Bubble Day Dream Vitamin C + Niacinamide Tone & Texture Serum ($17)
Pixi Vitamin-C CapsuleCare Serum Capsules ($24)
Shop this post…