PR sample L'Oreal Infallible Fresh Wear Foundation is the newest addition to the brand's Infallible makeup line. This new foundation promises to be their most lightweight, breathable long-wearing formula.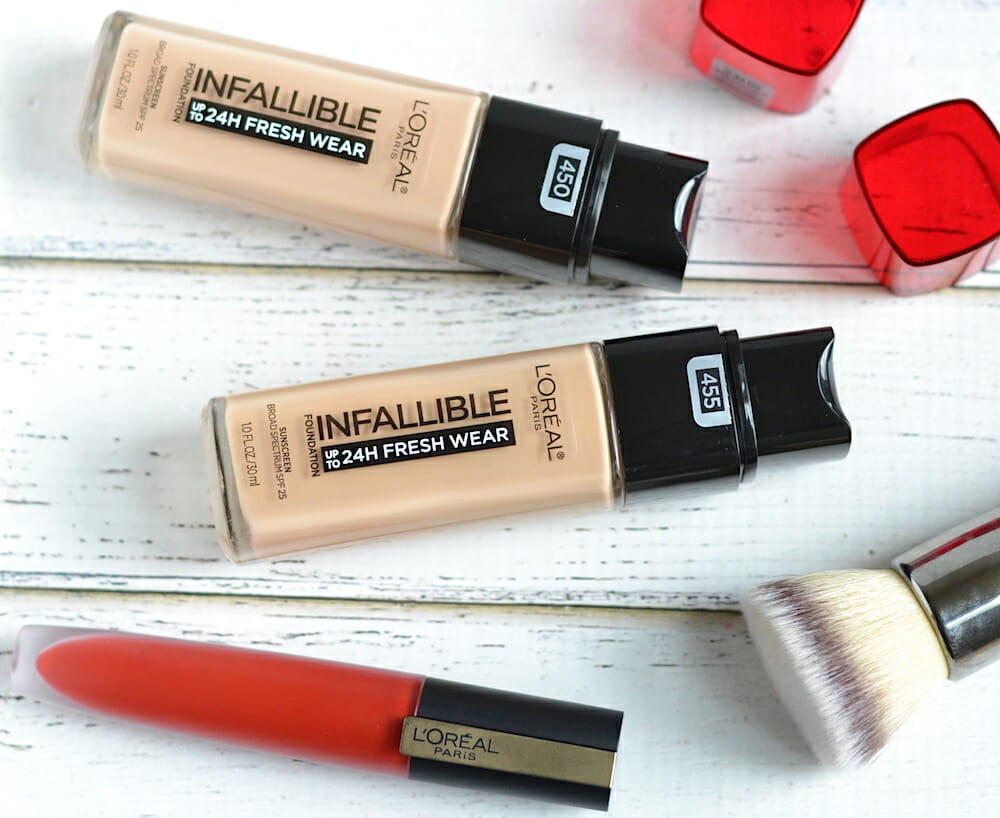 Product Description
Be Unstoppable. Introducing our breakthrough long wear foundation with breathable-skin technology. Up to 24HR Fresh Wear Foundation provides medium-to-full buildable coverage that lasts all day and allows the skin to breathe.
The formula's three oil absorbers resist sweat, water, and transfer. The ultra-thin liquid goes on smoothly to give a fresh, healthy-looking complexion that lasts. Color stays true and blends in evenly, so your makeup looks fresh all day. Non-comedogenic and formulated with SPF, this foundation is suitable for all skin types. In 30 shades for every skin tone.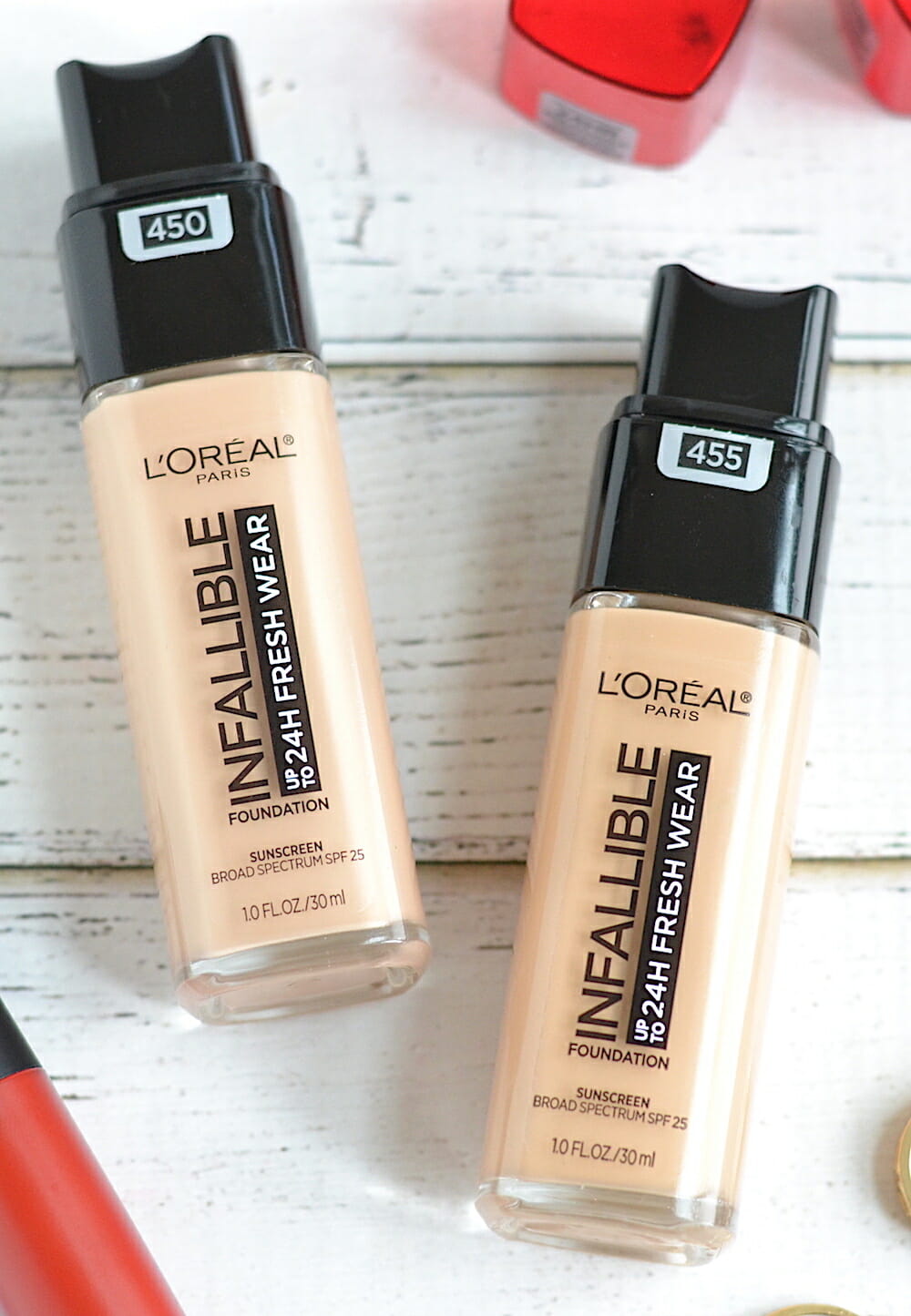 L'Oreal Infallible Fresh Wear Foundation comes in a glass bottle with a pump dispenser, which I always find better than squeeze tube packaging! The foundation is said to be waterproof, sweat-resistant and transfer-resistant.
It's available in 30 shades, which gives you plenty of options to choose from. Even better, L'Oreal has made it easy to find your perfect shade with this useful Shade Finder at Ulta Beauty's website.
I have 3 shades Natural Rose (440), Rose Beige (450) and 455 (Natural Buff). I've been wearing the shade 455 (Natural Buff) which is for light-medium skin, neutral with peach undertones. It's a nearly perfect match for my skin tone!
L'Oreal Infallible Fresh Wear Foundation has a thin, liquidy formula that is indeed very lightweight. It goes on smoothly and sets fairly quickly with a natural-looking soft matte finish. And true to its claims, it really has a breathable, barely-there feel on the skin.
Considering how thin and super lightweight the texture is, I was pleasantly surprised by the medium to full coverage this foundation provides. It covers almost all my imperfections and all I need is one little pump! The formula is easily buildable and never feels heavy or cakey.
With its oil-absorbing formula and matte finish, the L'Oreal Infallible Fresh Wear Foundation is geared more towards oily skin. Since my skin is on the drier side (especially during winter), I make sure to use a hydrating primer before applying this foundation and it gives me an evenly smooth finish (and doesn't emphasize any dry patches I tend to have)
L'Oral Infallible Fresh Wear Foundation also goes the distance in terms of staying power. I have worn this foundation for almost 10 hours at least twice and it was still going strong with only minor fading around my nose. With my dry skin, I don't even use any setting powder. This is definitely one of the best long-wearing drugstore foundations I've ever tried!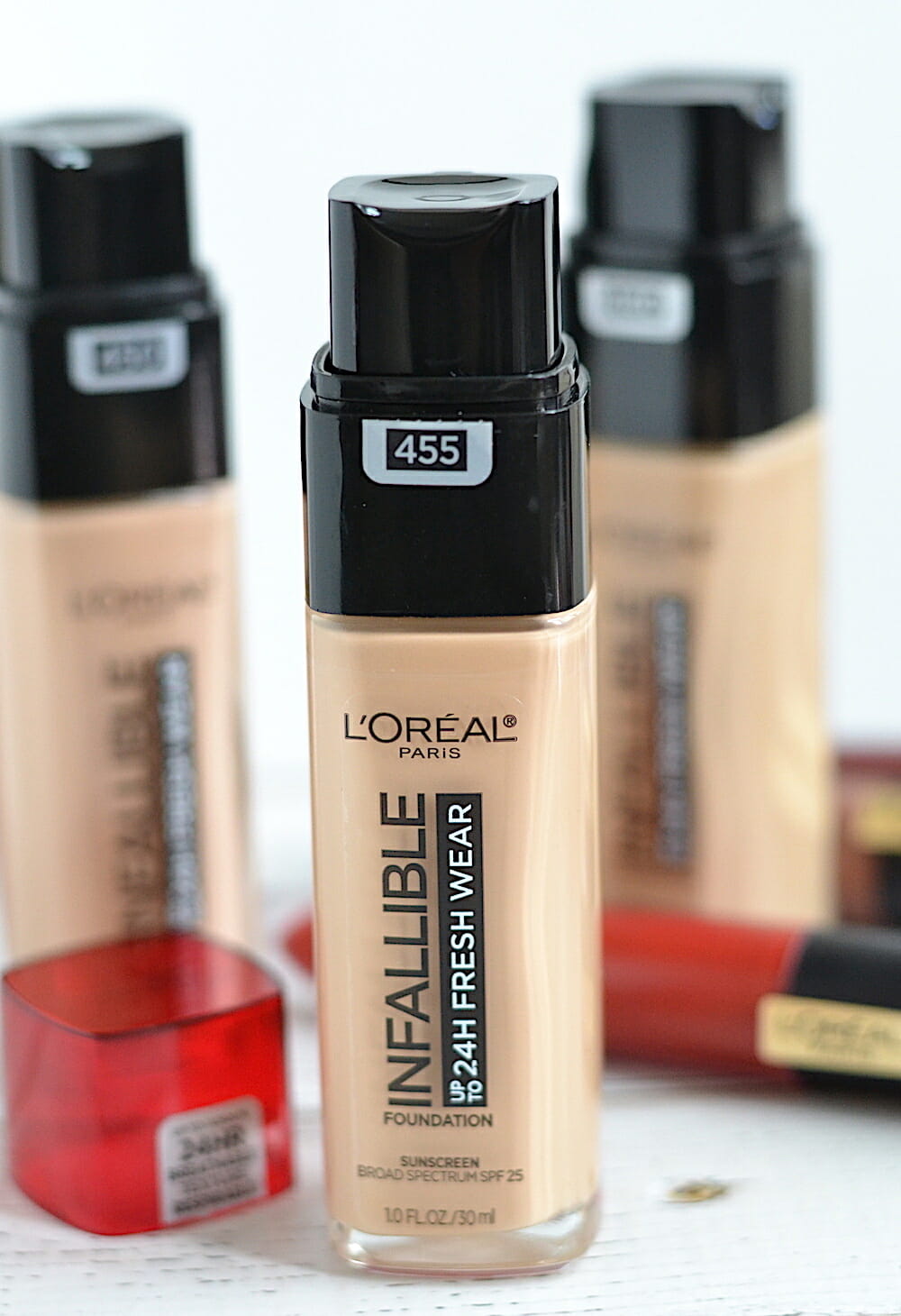 There's only one thing about this foundation I do not like! It has a fairly strong scent that lingers around for a couple of minutes before fading away. It doesn't bother me but can be an annoyance for those of you sensitive to fragrance in cosmetics.
I also noticed that the ingredient label for this foundation has alcohol listed among the first five ingredients and that's not a good thing as it can trigger skin irritation and/or dryness. Although it's not a total deal breaker for me, I would have loved this foundation more if it were not for the alcohol!
Here are the swatches:
Bottom Line
With its super lightweight texture and medium-to-full coverage that stays put all day, L'Oreal Infallible Fresh Wear Foundation really does what it says! It has a natural matte finish that's waterproof and is also formulated with SPF 25, all under $15! Not to mention, it comes in a really good range of shades for fair to deep skin tones.
The only drawback is the inclusion of alcohol which can be potentially problematic for skin with long-term use.
L'Oreal Infallible Fresh Wear Foundation ($11.99) is available for purchase at Ulta Beauty, Walmart, Target and Amazon.com