When it comes to choosing a foundation, I am all about good coverage but not without a dose of hydration. Thanks to my dry skin (and makeup addiction of course!), I can't resist trying out a new hydrating foundation especially if it comes with an affordable price tag.
Case in point: Makeup Revolution Conceal & Hydrate Foundation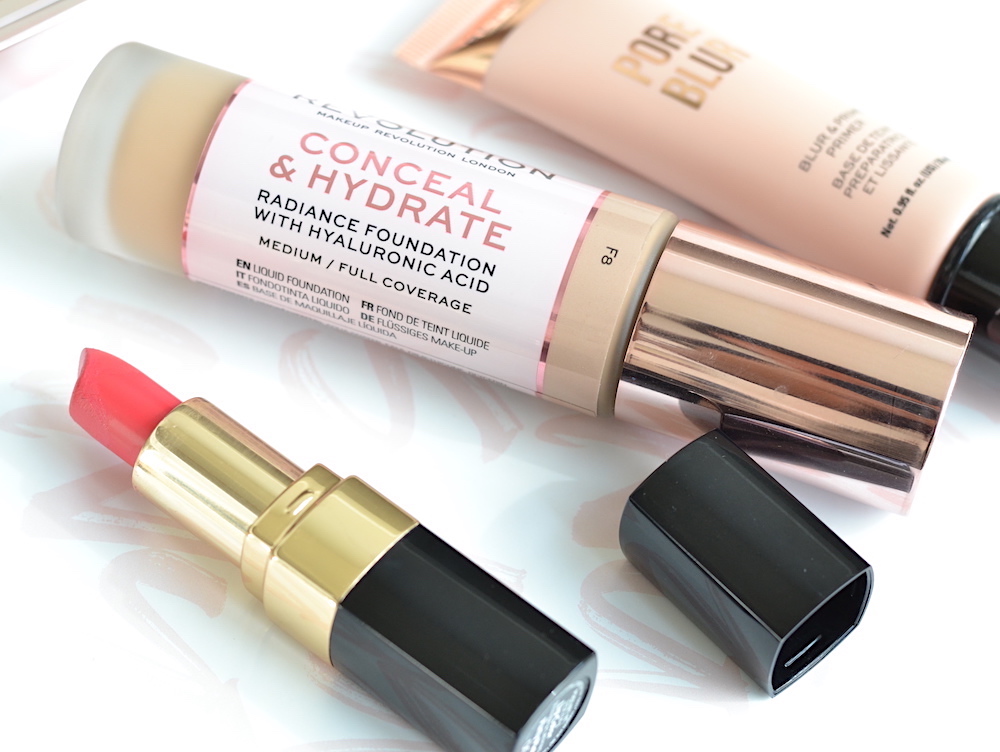 Product Description
Thirsty for a sheer texture & a more hydrating foundation formula? Conceal & Hydrate Foundation has a 50-shade range infused with hyaluronic acid to hydrate the complexion, provide a plumping effect and create a smoother, satin glow finish to the skin.
Makeup Revolution Conceal and Hydrate Foundation has been specially formulated to suit every skin type and tone, but is particularly beneficial for dry skin. With hyaluronic acid, it offers all-day-long radiance and glow without settling into fine lines or clinging to dry patches. 
Ulta exclusive. Cruelty Free.
Going by the description of this foundation, I was hoping to have found another amazing addition to my list of the best drugstore foundations for dry skin. And I am happy to report that I did!
Makeup Revolution Conceal and Hydrate Foundation comes in a 0.7 oz glass bottle with a pump applicator. Texture wise, this is probably the most creamy drugstore foundation I've tried so far. But don't get me wrong! Sure, it's very creamy and hydrating but doesn't feel too thick, heavy or greasy.
Makeup Revolution suggests using your fingertips to blend for a light, radiant finish and that's what I've been doing. The formula blends out easily and sets to a natural satin finish with subtle dewiness (and it doesn't turn shiny or overly dewy through the day.)
When I used this foundation for the first time, I was amazed at how pigmented it is and a little goes a really long way! Seriously, all I need is one pump for a flawless finish. If full-coverage is not your thing though, you can always use a small amount with a damp beauty sponge for a more natural look.
Whether it be my acne scars, dark spots or redness, this foundation provides almost full coverage for all my problem areas without looking cakey or heavy. Another plus? It doesn't flake around or adhere to the dry patches on my face.
This hydrating foundation also excels in the longevity department. It lasts all day even though I don't set with powder and there's no caking or settling.
Fenty Hydrating Foundation Dupe?
As you can tell, the Conceal & Hydrate Foundation has been a fabulous find for me but what makes it even more fantastic is the fact that it's actually a great dupe for the new Fenty Hydrating Longwear Foundation that I reviewed recently.
Yes, I found this foundation very similar to the Fenty Hydrating Longwear Foundation in terms of coverage (medium-to-full), finish (satin), formula (hydrating & long-wearing) and even the shade range (50 shades!)
Both the foundations have been infused with Hyaluronic Acid to provide hydration and keep skin feeling smooth & comfortable all day. Perfect for dry skin, both of these have a natural satin finish that's not shiny or greasy. Also, you get long lasting full-coverage from both foundations.
Texture-wise, the two are similar but I found the Conceal & Hydrate Foundation slightly more creamy and hydrating than the Fenty foundation. It's definitely not a big difference, but just something I felt! And as I said before, both apply smoothly without being greasy or heavy.
The only thing I love more about Fenty Hydrating Foundation is its lovely fragrance…it's such a nice, soft scent! (I know, I know fragrance is not a good thing in skincare or makeup but this one is just divine!)
To conclude, Makeup Revolution Conceal and Hydrate Foundation ($12) is a really good dupe for Fenty Hydrating Longwear Foundation ($35). So if you don't feel like splurging on the Fenty foundation, this is an amazing affordable alternative!
Bottom line
If you are looking for a full-coverage drugstore foundation with a hydrating formula and serious staying power, Makeup Revolution Conceal & Hydrate Foundation is a must-try. It's sure to please with its excellent coverage, smooth satin finish and longevity…definitely a keeper for dry skin! Available at Ulta Beauty for $12.