Affiliate links No matter your skin type, a moisturizer is undoubtedly the most crucial part of any skincare routine. Whether your skin is super oily or Sahara-desert-dry, you need a daily moisturizer to keep it healthy and happy.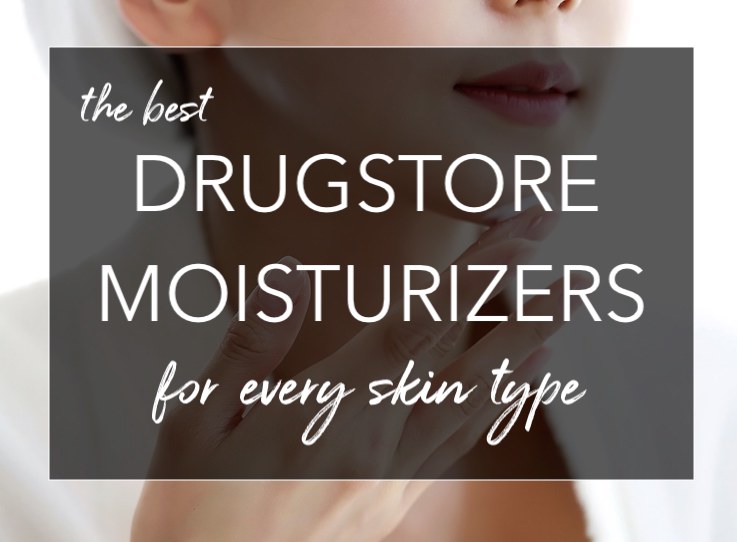 While there's no shortage of fancy moisturizers in the market with their fair share of bells and whistles, you really don't need to drop a ton of cash for a healthy dose of hydration.
Related: The Best Drugstore Moisturizers With SPF For Every Skin Type
There are a lot of budget friendly options at the drugstore that are affordable and incredibly effective! Packed with potent ingredients, these hardworking hydrators not only nourish and soothe skin but can also brighten up your complexion! They pack a smoothing and moisturizing (but not greasy) punch and provide long-lasting hydration without clogging pores.
Ahead, check out the best drugstore moisturizers (there's one for every skin type) that give you the best bang-for-your-buck!
Best Drugstore Moisturizers For Oily Skin
Versed Skincare Dew Point Moisturizing Gel-Cream ($14.99)
Perfect for oily to combination skin, this super light gel-cream with a jelly-like texture hydrates without feeling greasy or tacky and won't clog pores. It contains hydrating hyaluronic acid, jojoba oil and aloe leaf juice along with squalane and green tea that provide a surge of protective antioxidants to soothe inflammation and fight damaging free radicals. Vegan, fragrance-free and cruelty-free.
CeraVe PM Facial Moisturizing Lotion ($12.38)
This ultra-lightweight night cream with soothing Niacinamide (the ultimate multi-tasker), hydrating hyaluronic acid and 3 essential ceramides pampers and soothes your skin as you sleep. The oil-free formula leaves no sticky or oily residue behind and is also fragrance free. It's truly one of the best drugstore moisturizers for oily skin!
Best Drugstore Moisturizers For Combination Skin
Olay Total Effects Whip Moisturizer ($11.28)
With a wonderfully light whipped texture that hydrates without any heaviness, this is a fabulous find for combination skin! The oil-free (and shine-free) formula that feels light-as-air harnesses the power of anti-aging Niacinamide paired with Vitamin C and E plus green tea. Not only does it nourish and brighten but also helps reduce the appearance of fine lines and large pores over time.
Bliss What a Melon Water Jelly Hydrator for Combination Skin ($20)
Perfect for combination skin, this pink gel feels weightless like water as you massage it in and leaves skin smooth and perfectly primed for makeup. Formula-wise, this moisturizer combines antioxidant-rich watermelon, cucumber, and passion flower fruit extracts along with sodium hyaluronate and willow bark extract. Cruelty-free and vegan.
e.l.f. Holy Hydration! Face Cream Fragrance-Free ($11.99)
Packed with tried-and-true ingredients like Niacinamide, peptides, squalane and hyaluronic acid, this fragrance-free cream provides perfectly balanced hydration for normal to combination/oily skin. It has a lightweight whipped texture that just melts in for instantly smoother skin, without a greasy after-feel! Vegan, paraben-free and cruelty-free.
For Normal to Combination/Dry Skin
Bliss Bright Idea Vitamin C + Tri-Peptide Collagen Protecting & Brightening Moisturizer ($21.99)
Ditch dull skin with this vegan, high-tech moisturizer that contains the most effective, non-irritating form of vitamin C (3-O-Ethyl Ascorbic Acid) and a tri-peptide that work synergistically to brighten, plump and protect from free radical damage. The luxurious yet lightweight formula seeps in quickly for soft, supple skin with a dewy glow! Cruelty-free and vegan.
Olay Regenerist Retinol 24 Night Moisturizer Fragrance Free ($28.94)
This hardworking hero kicks ass in the anti-aging and hydration department, thanks to an A-plus combination of Retinol, skin-smoothing Niacinamide and peptides. It delivers a bounty of benefits (with virtually no irritation!) like reducing fine lines, improving uneven skin tone/texture and minimizing large pores. With an airy-yet-creamy texture, it seals in moisture with a smooth non-greasy finish.
Derma E Vitamin C Renewing Moisturizer ($18)
This radiance-boosting moisturizer has a Vitamin C rich formula that stimulates collagen while brightening up uneven skin tone and texture. It also contains probiotics and antioxidant-rich plant extracts which work in harmony with Vitamin C for clearer & smoother skin. 100% vegan and cruelty-free.
Differin Restorative Night Moisturizer ($10.99)
Formulated with Hyaluronic acid, skin-soothing allantoin and licorice extract plus ceramides, this moisturizer hydrates deeply and visibly improves skin texture. It has a lightweight, creamy lotion formula that's fragrance-free and also great for sensitive skin.
Best Drugstore Moisturizers For Dry Skin
E.L.F. Cannabis Sativa Happy Hydration Cream ($11.99)
This luxuriously creamy moisturizer is formulated with hemp-derived cannabis sativa seed oil (super high in omega fatty acids), Niacinamide, Vitamin B5 and Hyaluronic Acid that soothes and nourishes while improving skin tone/texture. Cruelty-free and vegan.
Neutrogena Bright Boost Gel Cream ($16.50)
Infused with skin-brightening Neoglucosamine plus exfoliating AHA, PHA and Mandelic Acid to resurface gently, this gel-cream reduces dullness, dark spots and fine lines for a smoother, radiant complexion. The hydrating formula sinks into skin quickly without a heavy or tacky feel and leaves skin looking slightly dewy.
Olay Regenerist Whip Moisturizer ($20)
With a luxuriously light and airy texture, this moisturizer packs a deeply hydrating punch while fighting fine lines and wrinkles. Plus, it perfectly preps skin for makeup with a velvety smooth matte, shine-free finish! Also available in a fragrance-free version.
Acure Resurfacing Dewy All Day Moisturizer ($19)
This lightweight moisturizer will bring dry, lackluster skin back to life adding a dewy glow, thanks to a cocktail of exfoliating AHA's (glycolic and lactic acid) Plus, it also contains antioxidant-rich true unicorn root, hemp seed oil, rose quartz and highlighter peptide. Vegan and cruelty-free.
For Sensitive Skin
Cetaphil Redness Relieving Night Moisturizer ($7.42)
Specially designed for sensitive skin, this lightweight moisturizer has a gentle and soothing formula to reduce the appearance of redness overnight. Formulated with ceramides, antioxidants, shea butter and licorice extract, it hydrates without a heavy feel and improves skin texture. Even if you don't have redness-prone skin, this is a great moisturizer that's fragrance-free and won't clog pores.
The Inkey List Turmeric Face Moisturizer ($12.99)
With the potent antioxidant properties of turmeric combined with 1% vitamin E, squalane and oat kernel oil, this lightweight cream soothes dry skin while helping to improve uneven skin tone/dullness for a brighter complexion. It also helps reduce redness and calm irritation for sensitive skin. Fragrance-free and cruelty-free. (I know Inkey List is not a drugstore brand but it's super affordable!)
Cetaphil Rich Hydrating Night Cream with Hyaluronic Acid ($11.70)
Dry, parched skin doesn't stand a chance against this silky soufflé textured cream that feels super hydrating and soothing. Formulated with Hyaluronic Acid and a Pro-Vitamin Complex plus Olive Extract, it strengthens skin's natural moisture barrier to protect from dryness. Although designed for dry to very dry skin, this gentle fragrance-free cream is a great option for anyone struggling with winter dryness and also sensitive skin.
Shop this post…