Affiliate links Of all the skincare woes, acne has to be the hardest to deal with. And choosing the right makeup for acne-prone skin can be just as hard!
Finding makeup that won't irritate your skin or clog your pores and trigger breakouts might feel like a struggle, especially if you are looking for affordable options at the drugstore.
While shopping for makeup for acne-prone skin, avoid thick or solid makeup products like stick foundations or concealers, and even stick blush or highlighter. The waxes and thickeners that help keep these products in a solid or semi-solid form tend to clog pores and could trigger breakouts.
You should also watch out for coconut oil or glycine soja (soybean) oil in the ingredient list of your makeup because both of these can cause acne flare-ups. If you have oily and acne prone skin, cream foundations with emollient ingredients should also be on your "avoid" list.
Also, stay away from makeup that's highly fragranced or contains a high amount of alcohol (listed among the first 5-7 ingredients on an ingredient label) as it will dry or irritate skin long term.
For this post, I did some research on the ingredients that can clog pores and potentially cause acne. Some examples of ingredients that should be a no-go for acne-prone skin: waxes, petrolatum, shea butter, cocoa butter, mineral oil, stearic acid, palmitic acid, potassium chloride, ethylhexyl palmitate, isopropyl myristate and hexyl laurate.

Best Drugstore Makeup For Acne-Prone Skin
Keep reading for the ultimate round up of the best drugstore makeup for acne-prone skin, including foundations, tinted moisturizers, primers, concealers and setting powders that won't clog pores and let your skin breathe with a lightweight feel.
These acne-friendly affordable makeup picks not only provide shine-free, natural coverage without being drying or irritating but they also do not contain any pore-clogging ingredients (I have done all the hard work for you so you don't have to dive into the full ingredient lists and look at each ingredient one by one!)
Best Drugstore Foundations For Acne-Prone Skin
1. Wet 'n Wild Photo Focus Foundation ($7)
With a lightweight fluid texture, this is a fabulous fragrance-free foundation for normal to combination/oily skin. You get great medium coverage with a natural matte finish that doesn't crease or fade and is also flashback proof.
2. Catrice HD Liquid Coverage Foundation ($11)
Great for oily skin, this mattifying foundation feels light yet offers great medium coverage with a natural looking finish. Oil-free, cruelty-free and vegan.
3. CoverGirl TruBlend Matte Made Foundation ($9)
This Covergirl foundation has a comfortable matte finish formula that isn't drying or cakey and works well for almost any skin type. You get buildable medium coverage that's long-lasting and doesn't accentuate pores or dry patches.
4. NYX Can't Stop Won't Stop Foundation ($10.49)
This is a fabulous drugstore foundation for oily skin that keeps skin shine-free for several hours! Lightweight and super pigmented, it's a medium-to-full coverage formula with long-lasting matte finish. The oil-absorbent formula can feel a bit drying so it's best to prep skin with primer first. Also, fragrance-free and waterproof.
5. Makeup Revolution Conceal & Define Satin Matte Powder Foundation ($11)
Infused with hyaluronic acid and Cannabis Sativa, this velvety pressed-powder foundation provides light to medium coverage with a satin matte finish.
6. L'Oreal Paris Infallible 24HR Fresh Wear Foundation SPF 25 ($11.50)
With an oil-absorbing formula and natural matte finish, this L'Oreal foundation is best suitable for combination to oily skin. It's very lightweight but provides buildable medium-to-full coverage that stays put.
7. Milani Conceal and Perfect 2-in-1 Foundation and Concealer($9)
With excellent coverage and longevity, this foundation is intensely pigmented but still looks natural with a matte finish that's suitable for all skin types. It's fragrance-free and water-resistant yet easy to remove.
8. NYX Cosmetics Total Control Drop Foundation ($12)
From sheer to full, this buildable liquid foundation lets you customize your coverage by adjusting the number of drops (it's highly pigmented so you won't need much!) It has a long-wearing satin matte finish that works well for all skin types and is also fragrance free.
9. ColourPop Pretty Fresh Foundation ($16)
If you have normal to dry yet acne-prone skin like mine, this oil-free hydrating foundation is a great option. Infused with coconut water and hyaluronic acid, it offers buildable medium coverage with a slightly dewy finish (which can be toned down with some powder). It's also fragrance-free.
The ColourPop Pretty Fresh Hyaluronic Acid Tinted Moisturizer (oil-free) is also good for all skin types except for very oily skin.
10. NYX Bare With Me Tinted Skin Veil ($12.97)
This is another good option for those with normal to combination/dry skin types. Infused with aloe and cucumber extracts for lightweight hydration, it provides sheer to light coverage with satin finish for a fresh faced look. The non-comedogenic formula is also fragrance-free.


Best Drugstore Concealers For Acne-Prone Skin
1. CoverGirl Trublend Undercover Concealer ($7.89)
Whether it be acne scars or dark spots, this fragrance-free matte finish concealer provides nearly full coverage and holds up really well throughout the day.
2. Revlon PhotoReady Candid Antioxidant Concealer ($7)
This fragrance-free concealer provides great medium coverage with a soft, demi-matte finish that looks natural. It wears well without fading and also contains pollution-fighting antioxidants.
3. e.l.f. Cosmetics Hydrating Camo Concealer ($6)
This is a lightweight yet hydrating and creamy concealer that gives you great coverage with a natural satin finish and won't settle into fine lines or creases. It's not thick or greasy so works well for all skin types.
4. Maybelline Superstay Full Coverage Concealer ($8.39)
This fragrance-free concealer is creamy but not overly emollient, providing just enough slip to work with. You get lasting full coverage for dark circles, redness and blemishes with a soft satin finish that works for most skin types and doesn't look cakey.


Best Drugstore Primers For Acne-Prone Skin
1. Maybelline FaceStudio Master Prime Blur + Pore Minimize Primer ($7.79)
This super-lightweight gel primer smooths skin's texture and blurs the appearance of pores for even makeup application. This one is actually a great dupe for the Smashbox Photo Finish Primer!
2. Makeup Revolution Mattify Primer ($8)
This clear gel primer has a silky, oil-free formula that mattifies and preps skin to create a smooth canvas for makeup. Great for oily skin! If you have dry skin like me, I recommend the Makeup Revolution Pore Blur Primer that smooths and blurs pores without being overly matte.
3. Catrice Prime and Fine Poreless Blur Primer ($8)
This primer has a light mousse-like texture that gives an instant soft-focus effect with a smoothing, pore-minimizing matte finish.
4. NYX Bare With Me Hydrating Jelly Primer ($17)
Infused with aloe and cucumber extracts, this bouncy jelly primer lightly hydrates while helping makeup adhere better to skin for longer wear time. Fragrance-free.


Setting Powders
1. CoverGirl Clean Fresh Pressed Powder ($9)
This talc-free powder has a silky smooth texture that meshes well with skin and does a great job of setting makeup. It's formulated with aloe vera powder and tapioca to control shine and make skin look smoother.
2. Makeup Revolution Conceal & Fix Setting Powder ($11)
This talc-free finely milled powder does a great job setting your makeup in place and also controls excess oil/shine. It's water resistant, flashback-proof and gives your makeup some serious staying power. Available in 10 different shades. It can be a bit messy packaging-wise but great product!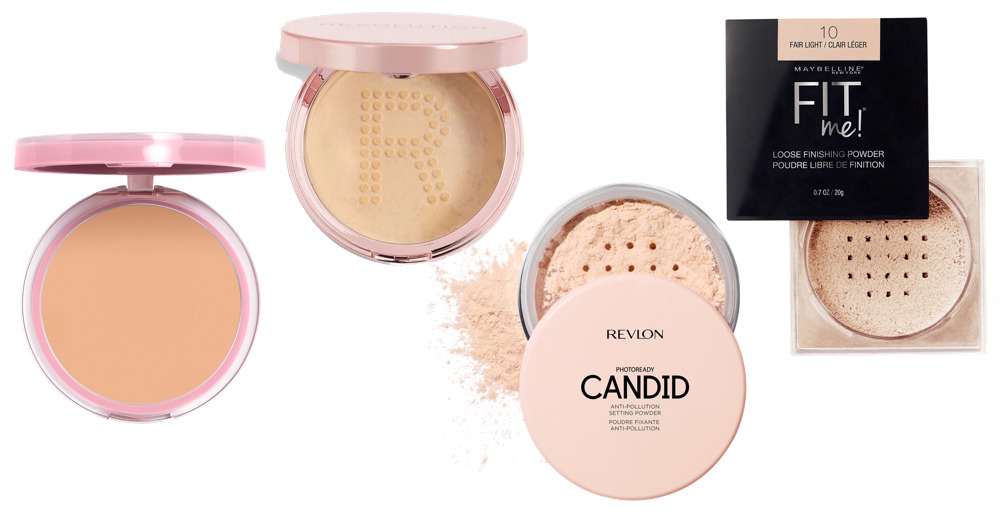 3. Revlon PhotoReady Candid Anti-Pollution Setting Powder($9.99)
This sheer, fragrance-free loose powder has a silky texture that meshes beautifully with skin. It tempers shine with a matte finish and diffuses the look of pores without being drying.
4. Maybelline Fit Me! Loose Finishing Powder ($5.33)
This mineral-based powder helps absorb shine without feeling drying and sets makeup with just a hint of color. Available in 8 sheer shades for a wide range of skin tones.


For the blush and bronzer category, there are too many to list here, but generally speaking, powder formulas are typically the best options for acne-prone skin.
Makeup Revolution Blusher Reloaded ($7)
Essence The Blush ($2.99)
Milani Cheek Kiss Blush ($9.99)
Wet n Wild Color Icon Bronzer ($3.99)
Maybelline City Bronzer ($7.99)
L'Oreal Paris True Match Lumi Bronze It ($11)
Hope you find this guide to the best drugstore makeup for acne-prone skin useful! Do you see any of your drugstore makeup favorites in the list? Share your thoughts and suggestions in the comments below!
Pin This For Later!