PR samples L'Oreal Paris Le Liner Signature Eyeliner is one of the new drugstore makeup launches that released this summer. It's a waterproof pencil eyeliner that promises smudge-resistant and fade-resistant high impact color with ink-like intensity. Since this is a twist-up mechanical pencil, there's no need to sharpen this eyeliner.
The new L'Oreal Le Liner Signature Eyeliner comes in 6 shades: Noir Cashmere (black), Brown Denim ( deep brown), Taupe Grey Tweed (gray brown), Blue Jersey (deep blue), Gold Velvet (yellow-gold) and Violet Wool (plum-purple).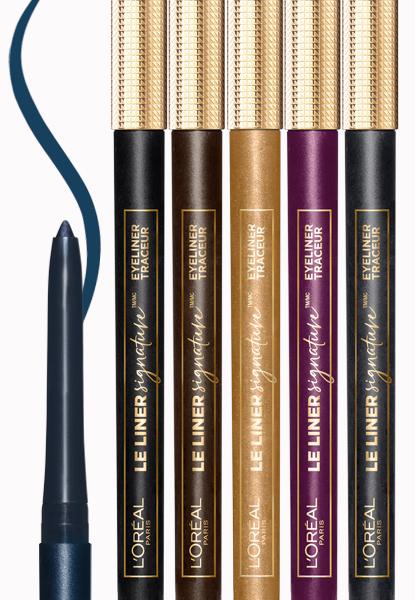 L'Oreal Le Liner Signature Eyeliner Review and Swatches
These eyeliners have a creamy soft formula that glides on easily, no tugging or dragging. It applies smoothly along the lash line with a good color payoff in a single swipe. The formula is well-pigmented but I have to build up the color with a couple more swipes to get rich matte opacity. The black shade is the most intense in terms of pigmentation.
Once set, the color lasts all day without any smudging or fading and stays put even through sweat, heat and humidity. I need a good oil-based makeup remover to get the color off at the end of the day.
Since the formula is waterproof, I also tried the black and brown shades on my waterline and happy to report that they hold up impressively well!
Although not all day, I get a good 6-7 hours wear time on my waterline. But the best part is that the color doesn't smear or bleed so I don't have to worry about messy racoon eyes after a few hours (which happens with many pencil eyeliners I've tried)
Now let's take a look at the swatches of the L'Oreal Le Liner Signature Eyeliners. My favorites are Blue Jersey and Violet Wool (such a vibrant shade!)
Bottom Line
Overall, I think L'Oreal Paris Le Liner Signature Eyeliners are good but not super impressive.
These easy-glide eyeliners have a smooth and tug-free application with a creamy texture. Although well-pigmented, they don't have an ink-like intense color payoff as claimed but the formula is long-lasting and stays put without smudging or smearing (even along the waterline!) So, if you tend to battle a case of raccoon eyes by mid-day, this eyeliner is definitely worth trying out!
L'Oreal Le Liner Signature Eyeliner is available for purchase at Amazon.com, Ulta Beauty, Walmart, CVS and Target for $10 each.