PR samples L'Oreal Colour Riche Les Nus Intense Lipstick is a new collection of intense and flattering nude lipsticks that promise to be non-drying and smudge-proof. Available in 12 diverse shades for different skin tones, the lipstick range includes soft peaches, pinks and berry tones.
Related: NEW L'Oreal Brilliant Signature Shiny Lip Stains
Description
L'Oreal Colour Riche Les Nus Intense Lipstick. Intense, flattering nudes with comfortable wear and color that lasts all day. Part of the House of Audacity – go bold with vivid nude color and a formula that's soft, creamy, and smooth. Express yourself and your attitude with a variety of shades that are non-drying and leave your lips feeling soft.
Richly-pigmented color in just one swipe. Lipstick is smudge-proof and doesn't feather. The silhouette bullet shape allows you to line the lips, and the curvatures allow you to cushion the lips with luxurious color.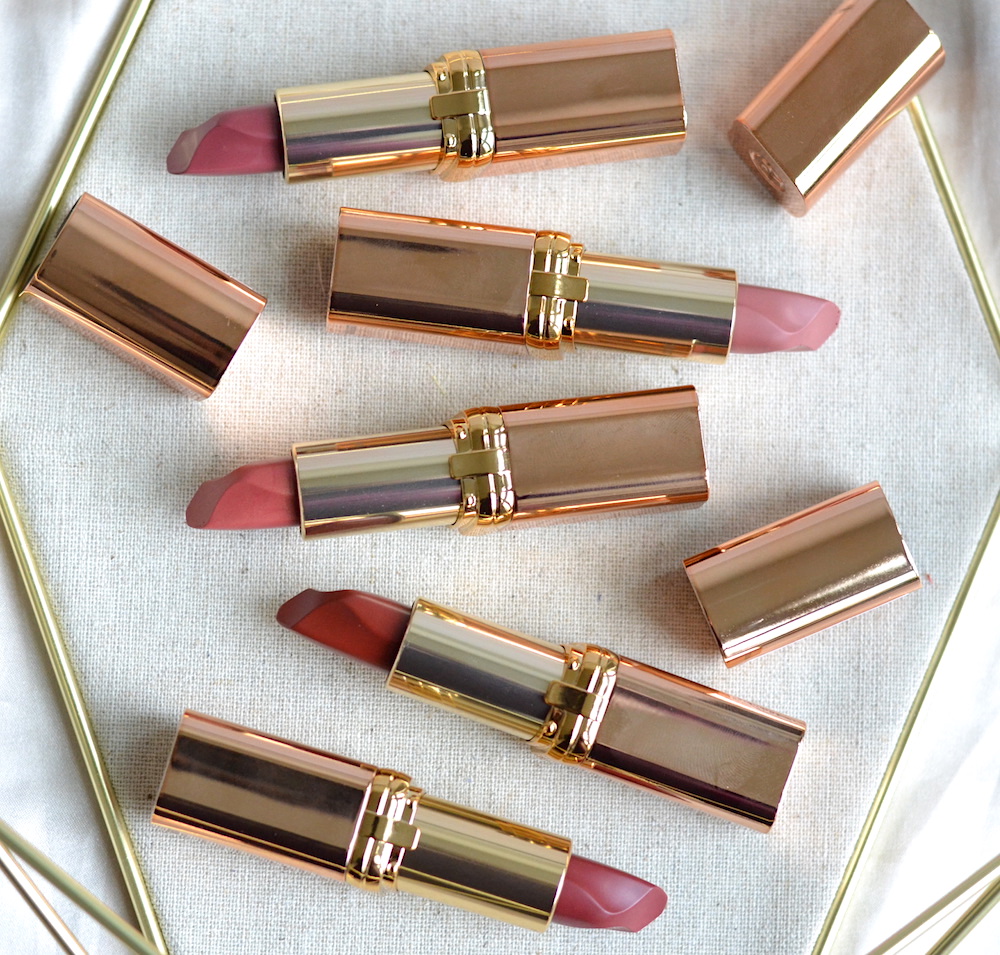 I tried out 5 colors of the new L'Oreal Colour Riche Les Nus Intense Lipstick – 173 Nu Impertinent, 176 Nu Irreverent, 177 Nu Authentique, 179 Nu Decadent and 182 Nu Extreme
Texture-wise, this lipstick is very creamy with a silky, lightweight feel on the lips. It has a unique bullet shape that looks so luxe and helps define lips easily. The formula glides on smoothly and wears comfortably with a lightly hydrating feel. It doesn't dry out my lips in the slightest (even during these cold winter months!)
L'Oreal Colour Riche Les Nus Intense Lipstick is also well-pigmented with a beautiful satin finish. It has good color payoff in one swipe but I need 2-3 coats to get rich and vibrant, full-coverage color. The formula is easily buildable for more opaque coverage. Also, the lipstick has a soft fruity scent but thankfully it doesn't linger on.
Given how creamy the formula is, this lipstick is not smudge-proof (as claimed) or transfer-proof. While the color doesn't hold up all day, it's fairly long-lasting. It stays put through coffee breaks but I definitely need to re-apply after lunchtime!
All the shades are beautiful but my top favorites are 177 Nu Authentique (mauvy rose) and 179 Nu Decadent (deep rosy nude) that instantly make me look more put together. I think both these shades are universally flattering and will suit almost all skin tones! Here are the swatches:
176 Nu Irreverent is a warm peachy-pink that's just perfect for spring! 182 Nu Extreme is a deep pinky-brown (great for darker skin tones) and 173 Nu Impertinent is a dusty pink nude that would look lovely on fair to light complexions.
Bottom Line
If you love nude lipstick shades, the L'Oreal Colour Riche Les Nus Intense Lipstick collection is totally worth trying out. From their pretty rose gold packaging to creamy smooth richly-pigmented formula that wears comfortably through the day, these lipsticks have a luxe feel at an affordable price point…under $6!
Available at Ulta Beauty, Target, Walmart and Amazon.com for only $5.99 each.