Affiliate links What's the single best thing you can do for your skin everyday? Wear sunscreen with SPF 30 or higher, of course! With summer almost here and outdoor activities ramping up, it's time to get more serious about SPF and amp up your sunscreen game!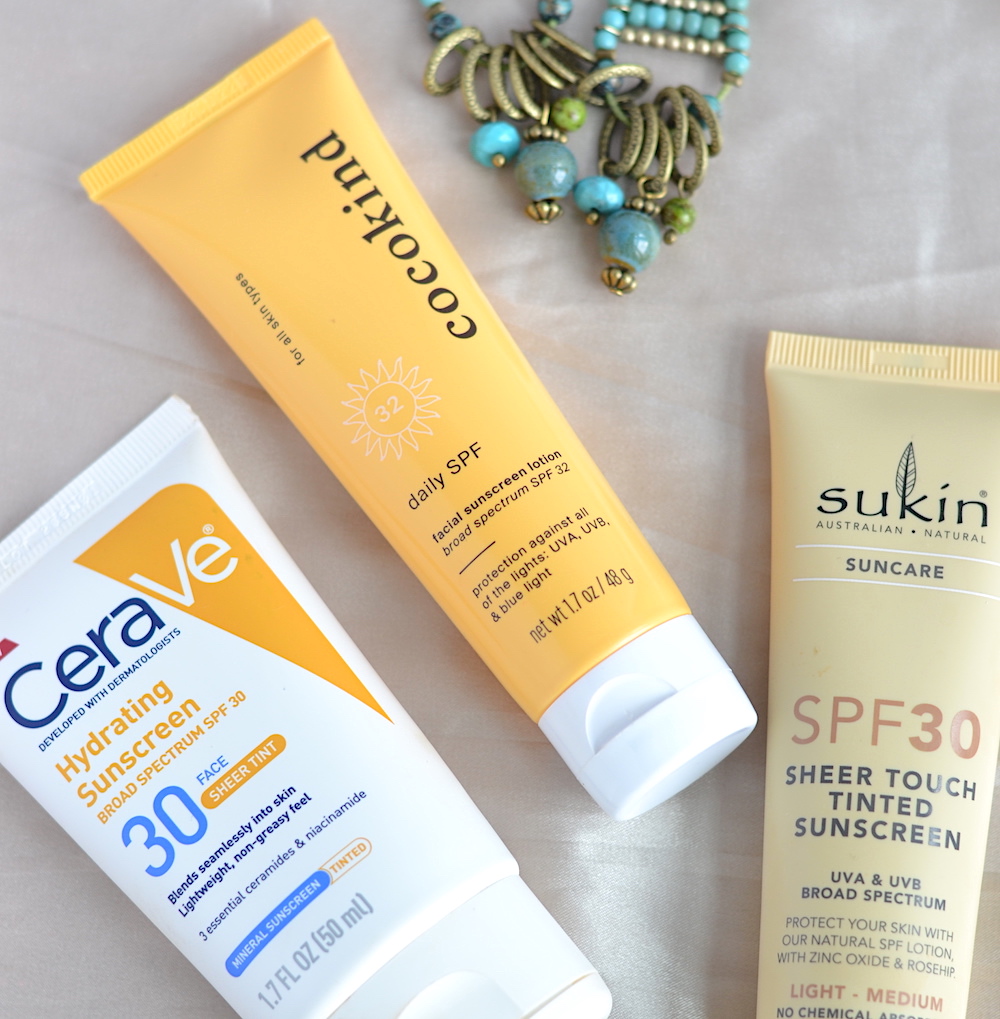 I have always used mineral sunscreens (with zinc oxide and titanium dioxide as active ingredients) that work by reflecting the harmful UV rays away from the skin's surface and provide broad-spectrum sun protection. By contrast, chemical sunscreen filters work by absorbing the sun's rays through chemical reactions. Mineral blockers like zinc oxide also protect against against HEV, high-energy visible light, a.k.a. blue light—a growing concern that stems from increased screen time.
Even though mineral sunscreen actives are gentle and better for sensitive skin and the oceans (reef-safe), there's one pervasive drawback — that dreaded white cast — that can look especially obvious on dark skin tones.
Does this sound like your main gripe too with mineral SPF? The good news is that the latest generation of mineral sunscreens use micronized technology so they are becoming more cosmetically elegant than ever and won't leave you with a tacky white cast.
Finding an affordable sunscreen is the key to making sure you maintain good SPF habits year-round, especially given how many bottles you'll blow through for adequate protection. That's why I've put together this guide to the best drugstore mineral sunscreens that are gentle, lightweight (never greasy or goopy) and easy-to-blend without a white cast and won't clog your pores!
Keep reading for the best drugstore mineral sunscreens, and why I chose them.
Note: I've included both tinted and non-tinted options below, but if you're looking for a wider range of shades and coverage levels, check out my mineral tinted sunscreen guide here.
Best Drugstore Mineral Sunscreens 2022

Sukin Sheer Touch Tinted Mineral Sunscreen SPF 30 ($19)
Despite a high percentage of zinc oxide (21.5%), this mineral sunscreen is truly sheer without any white cast and leaves virtually no trace on the skin! Great for ALL skin types, it's super lightweight, doesn't feel thick or greasy/tacky and wears nicely under makeup without pilling.
The formula is slightly hydrating but not enough for dry skin types, so I make sure to use a moisturizer before this sunscreen. If you have combination to oily skin, you will love its natural shine-free finish and might not even need to moisturize first!
It's available in un-tinted and two tinted options (Light/Medium tint and Medium/Dark tint) that work for several skin tones. Not to mention, it contains skin-loving ingredients like antioxidant-rich blend of rosehip oil, green tea and cucumber and is certified cruelty-free, paraben-free, vegan and reef safe. My full review and swatches here
Cerave Hydrating Mineral Sunscreen Sheer Tint SPF 30 ($14)
Formulated with 10% zinc oxide and 5.5% titanium dioxide, CeraVe tinted sunscreen protects and moisturizes while providing sheer coverage with a healthy glow. It smooths and evens out skin tone like a tinted moisturizer while still allowing natural skin to shine through.
The formula is hydrating without being heavy or greasy and leaves skin supple and dewy (so this definitely replaces a moisturizer for me!) It's very wearable on its own but also layers easily under makeup. On my light-medium skin tone, the sheer tint blends seamlessly. According to CeraVe, it's a universally flattering tint that's intended to work on all skin tones (see photos here)
Plus, it also treats skin to hydrating ingredients like Ceramides, Hyaluronic acid and soothing Niacinamide. Perfect for normal to dry and sensitive skin types.
MyChelle Tinted Sun Shield Liquid SPF 50 ($17.99)
Mineral and matte! If you have combination to oily (even acne-prone!) skin, this is a fantastic mineral sunscreen for you! The oil-free formula is super lightweight and glides on smoothly leaving a non-sticky, soft matte finish that looks so natural and skin-like! And since the formula is tinted, there's NO white case despite being 20% zinc oxide formulation.
Even better, this sunscreen is available in 3 shades light, light/medium and medium/dark. The light/medium shade works well for me and blends quite easily!
There's also a new Dark shade on the brand's website. For a tinted sunscreen, the coverage is pretty good and evens out skin tone beautifully with sheer to light coverage. And the coverage holds up very well throughout the day without looking greasy or accentuating dry patches.
I think this would be a fantastic no-fuss, tinted moisturizer for oily and acne-prone skin! Not to mention, it's free of fragrance-free, silicones, parabens, and also reef-safe and cruelty free. Also available at Ulta Beauty
Olay Regenerist Mineral Sunscreen Hydrating Moisturizer SPF 30 ($27)
Powered by 17.5% zinc oxide, this lightweight mineral sunscreen absorbs quickly and rubs in completely clear on all skin tones without leaving a white cast (even on darker skin!) It feels just like a great moisturizer and doesn't leave any greasy residue or tackiness, just a soft dewy finish.
The fragrance-free formula also packs in moisture-boosting glycerin and vitamin E to provide long-lasting hydration. Plus, it contains Niacinamide (vitamin B3) and peptides for anti-aging benefits. Made without parabens, phthalates, silicones, mineral oil or synthetic dyes. Also available at Amazon.com
Cocokind Daily SPF Facial Sunscreen Lotion SPF 32 ($24.99)
This lightweight, mineral sunscreen uses non-nano zinc oxide (21%) to defend skin against sun damage. It also contains phytoplankton and micro algae which act as antioxidants to protect skin against environmental stressors like pollution and blue light.
The fragrance-free formula smooths onto skin without any greasiness and dries down to a soft dewy finish. This sunscreen might take a few extra seconds to blend in completely, but it does!
Depending on the season, I layer it on top of a moisturizer or use it in place of one, since this sunscreen is quite hydrating as well (that's probably because of argan oil, glycerin, vitamin E and shea butter in the formula) but it doesn't feel heavy or sticky. This is a great option for normal to dry skin types. Not to mention, it's reef-safe, cruelty free and paraben free.
Bliss Block Star Invisible Daily Sunscreen SPF 30 ($20)
True to its name, this sheer mineral sunscreen (11.5% zinc oxide and 4.1% titanium dioxide) has an invisible finish with zero white cast or chalkiness. Its lightweight, silky texture with a subtle tint blends in effortlessly and helps blur imperfections like a primer (there's no coverage though!) Once blended out, it has a smooth, semi-matte finish that plays perfectly with makeup sans pilling!
Suitable for all skin types, this sunscreen is also boosted with an antioxidant blend of blueberry, acai, green tea extract and rosehip oil to provide an extra layer of protection from environmental stressors. Non-comedogenic, cruelty-free and vegan. This is my current favorite drugstore sunscreen!
Everyday Humans Rose From Above Mineral Sunscreen Base SPF 35 ($25)
This tinted mineral sunscreen (with 15.7% zinc oxide) is formulated with good-for-skin ingredients like upcycled rose oil, squalane, ceramides and hyaluronic acid to hydrate and keep skin barrier healthy while yucca root extract and bisabolol soothe skin and fight inflammation.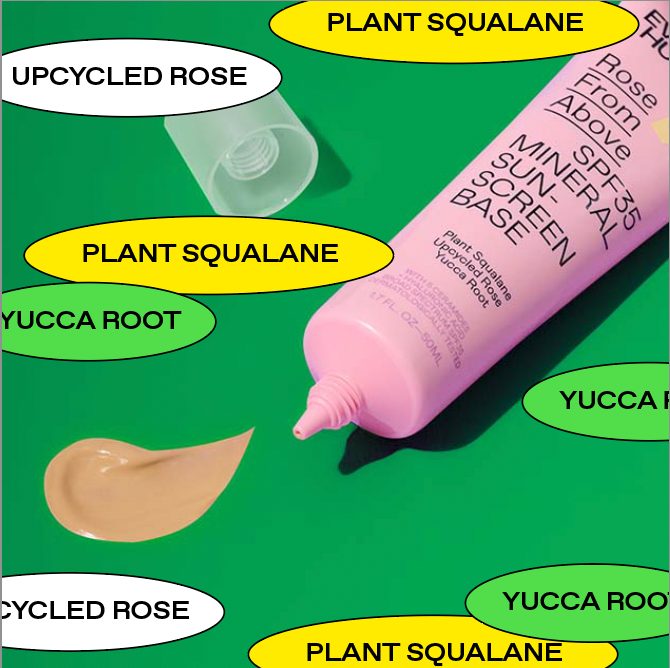 It's lightweight with a blendable medium-beige tint (best for light to medium and olive skin tones) that evens out your complexion. It leaves a smooth semi-matte finish that is also hydrating and works well as a primer under makeup. The formula is best for normal to dry and combination skin types. Fragrance-free, silicone-free and cruelty-free.
Versed Guards Up Daily Mineral Sunscreen SPF 35 (21.99)
This mineral sunscreen has an oil-free, creamy formula that's lightly hydrating and absorbs quickly with a natural finish—not too dewy, not too matte. And there's absolutely no white cast! It has a hint of peachy tint that blends into skin easily for most skin tones (except for darker skin)
This sunscreen would be best for combination to oily skin. It's not a great option for dry skin types unless you moisturize your skin really well…otherwise it tends to cling to drier areas, doesn't apply evenly and might pill under makeup too.
Along with 15.2% zinc oxide, the formula contains moisturizing moringa seed extract, sea fennel extract plus beneficial antioxidants to help skin deal with free radicals and other environmental aggressors. Also, it's vegan, cruelty-free and fragrance-free.
Think Everyday Face Sunscreen SPF 30+ Naturally Tinted ($13)
Top Rated on EWG's Skin Deep with a "1" rating since 2010, this mineral sunscreen formulated with 20% Zinc Oxide (non-nano) is a great choice for your intense outdoor days (think beach days, hiking, running etc) when you know you'll be in the sun for a while.
It's water-resistant for up to 80 minutes and the fragrance-free formula is also enriched with Vitamin C and E, aloe, glycerin and jojoba oil to moisturize. The finish is slightly dewy, with a sheer tint that would work best for light to medium skin tones.
Derma E Scar Cream Sun Protectant SPF 35 ($19)
Although designed as a scar cream to reduce the appearance of scars, this is also a great mineral sunscreen for sensitive skin! In addition to its mineral active (11.7% zinc oxide), the formula contains a high concentration of skin-soothing Allantoin (it's the first ingredient in the list) and moisturizing Panthenol that work together to reduce redness and smooth skin texture.
It's lightweight and non-greasy with a natural finish but since the product has plenty of silicones, it feels like a pore-blurring primer (which I appreciate as someone with large pores!) It doesn't leave a white case on fair/light to medium skin tones, but can be slightly whitening for
darker skin.100% vegan and cruelty-free.
La Roche-Posay Anthelios 50 Mineral Ultra-Light Sunscreen Fluid SPF 50 ($33)
An oldie but good one, and another winner for combination to oily skin types! This one has a lightweight, thin fluid texture that's easy to apply, fast absorbing and leaves a satin matte finish without any white cast (thanks to its sheer tint!)
Along with mineral actives Titanium Dioxide 6% and Zinc Oxide 5%, this oil-free sunscreen also contains antioxidants and is water resistant as well (up to 40 minutes). It's fragrance-free, paraben-free and non-comedogenic (won't clog pores).
So, these are the best drugstore mineral sunscreens that you'll actually look forward to applying! Do yourself a favor and stock up on these formulas ASAP, cuz remember: You need to be wearing sunscreen every damn day, so why not make it an excellent (and affordable!) one?
Have you tried any of these? Do you have a favorite mineral sunscreen that's not on this list…would love to hear from you in the comments below!
Shop this post…