PR sample Urban Decay Vice Plumping Shine Balm is a new hydrating, vegan glossy balm infused with hyaluronic acid for fuller, plumper lips. Available in 9 sheer shades, it promises to be long-lasting with a high-shine finish.
Product Description
It feels like a weightless lip color balm and looks like a lip gloss—Vice glides on to plump and moisturize lips with hyaluronic acid. Your lips will look and feel fuller with all-day hydration. Swipe it on for sheer, buildable color and super-glossy shine. Vice Plumping Shine Balm is long-lasting and feels silky smooth and clean, never sticky or tacky.
Our vegan formula is infused with nourishing and protective ingredients like shea butter and passion fruit oil. Use the clear Coconut Water shade for everyday hydration and shine.
Texture-wise, this is a lip gloss but with a hydrating formula that feels like a lip balm. It goes on smoothly, isn't too thick or sticky/tacky and feels very comfortable to wear. It has a mild minty cooling sensation but thankfully doesn't tingle or sting on lips, like other plumping glosses I've tried.
It doesn't really provide a noticeable 'plumping effect' but does make my lips look full and glossy smooth. To be honest, plumping glosses have never been my thing mainly because I don't like the tingling/stinging (which is essentially a form of irritation) at all. So, I am loving this product! But if you enjoy the plumping effect, this might be a bit disappointing factor.
True to its claims, Urban Decay Vice Plumping Shine Balm formula is quite hydrating (without being heavy) and I can feel the moisturizing benefits for a while even after the product has worn off. I also like its flocked applicator brush. It picks up a good amount of product and applies it easily.
As for the color payoff, it's sheer but buildable with a glossy shine. The gloss isn't very long-lasting as expected but I don't mind re-applying since the formula feels so comfortable with a lot of good-for-your-lips ingredients.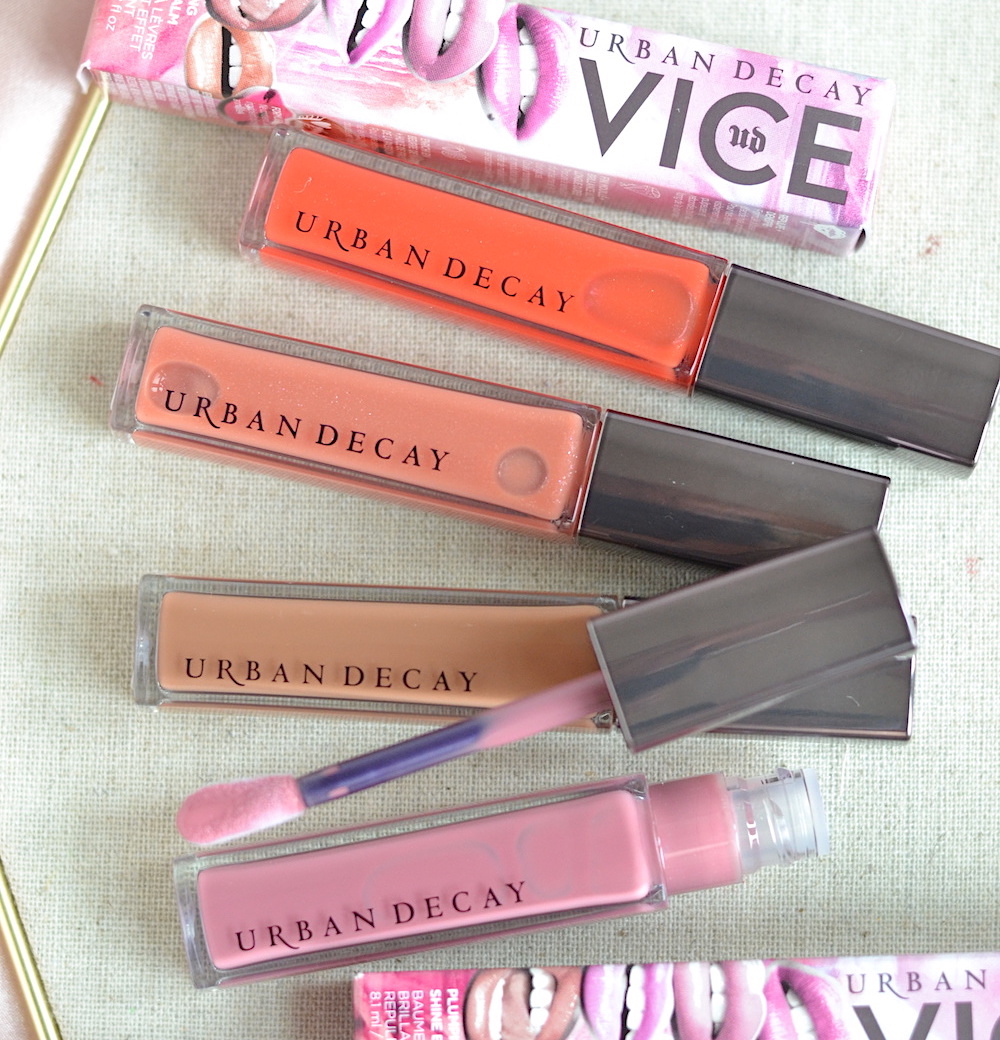 Urban Decay Vice Plumping Shine Balm comes in 9 shades:
👄 Coconut Water – Clear
👄 My Dude– Watermelon coral with gold sparkle
👄 Los Feliz – Soft baby pink
👄 Wilshire – Holographic lavender-pink sparkle
👄 Crusin'- Mauve nude pink
👄 Runyon – Nude latte
👄 Extra – Neon pink fuchsia
👄 Name Drop – Shimmering peach rose
👄 Secret Menu – Warm peach nude
I am loving all the 4 shades I have but my current favorites for summer are Name Drop (shimmering peach rose) and My Dude (Watermelon coral with subtle gold shimmer) Here are swatches of all the shades from Urban Decay…
These are beautiful on their own but also great to layer on top of a matte lipstick for a glossy look plus hydration! Here are the lip swatches:
Bottom Line
Color me impressed with the new Urban Decay Vice Plumping Shine Balm! Infused with hyaluronic acid and shea butter, the silky-smooth formula feels so moisturizing on the lips and provides sheer color + shine with long-lasting hydration. There's not much plumping action (nor the annoying sting!) but it does make lips look fuller with a glossy shine. Can't go wrong with that!
Available at UrbanDecay.com, SEPHORA online and in-store, Ulta Beauty, Nordstrom and Macy's for $20 each.