PR samples This winter, the INKEY List has launched two new ingredient solutions to keep skin hydrated and healthy – Hyaluronic Acid Cleanser and Omega Water Cream.
As much as we love cozying up with a warm beverage and donning our cutest sweaters, the arrival of cold temperatures can do a number on our skin. With winter comes dryness, and if you have naturally dry skin like me, it can feel even worse!
However, incorporating gentle, hydrating skincare products into your daily routine can help minimize flaking, tightness and dry patches to keep your skin feeling soft and comfortable. That's where these two new products from the INKEY List come in!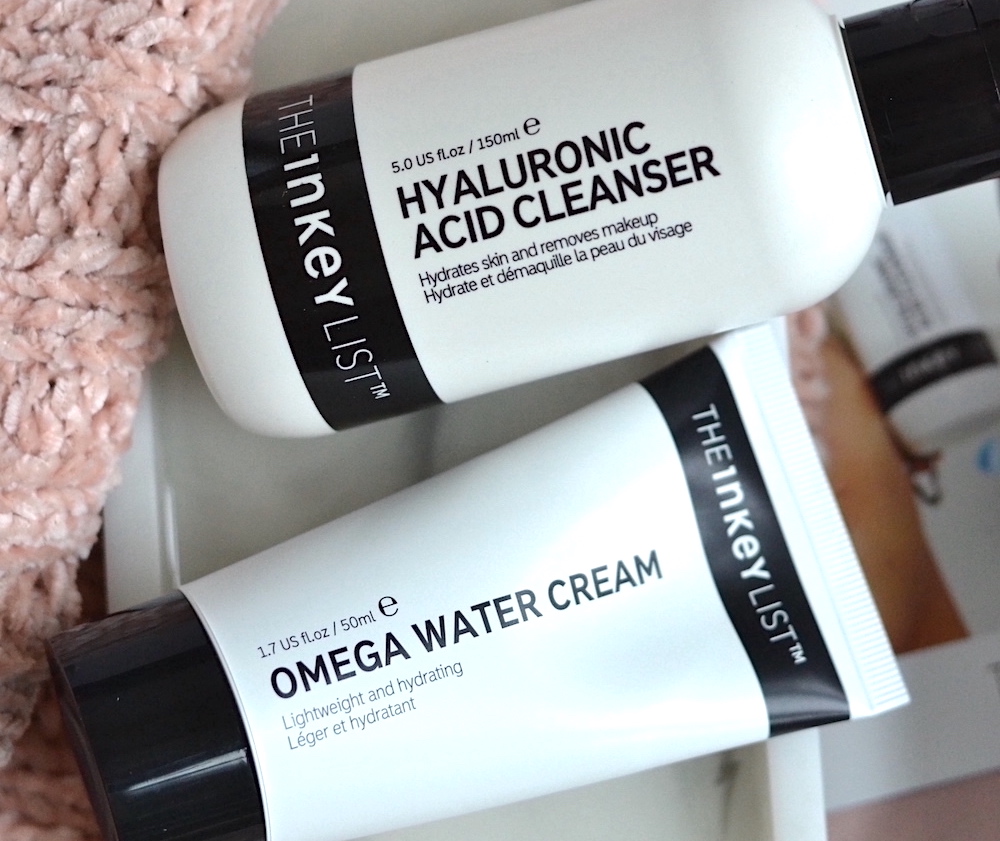 Now let's get down to the nitty-gritty of each product….both under $10!
The INKEY List Omega Water Cream ($9.99)
This is a lightweight, water-based gel moisturizer that hydrates skin without oiliness and supports a healthy skin barrier. It's suitable for all skin types, including oily and acne-prone skin.
This oil-free moisturizer combines an Omega fatty acid complex, Glycerin, Betaine and Niacinamide that work together to optimize long-lasting hydration, balance oil levels, and maintain an even skin tone. It can be used in your AM and PM routine.
KEY INGREDIENTS:
Omega Fatty Acid Complex – Contain Omega 3, 6 and 9 to help reduce TEWL (trans epidermal water loss) and keep essential moisture locked in. Also helps to improve skin elasticity and firmness.
5% Niacinamide – Also known as Vitamin B3, it helps to control excess oil, even out skin tone, and reduce redness
5% Glycerin – A humectant which helps to pull in moisture into the skin without clogging pores.
3% Betaine – Derived from sugar beet, it reduces moisture loss and works to rebalance skin's hydration.
I am loving the lightweight, silky texture of this moisturizer and the fact that it contains a good amount of Niacinamide (which helps improve uneven skin tone and texture over time!)
How do I use it? In the morning, I start with my favorite Hyaluronic Acid serum and then use the Omega Water Cream followed by SPF (and then makeup if I'm going out!)
The Omega Water Cream formula is nicely hydrating with a slightly dewy finish, doesn't pill and layers easily under makeup and SPF. When I'm using it at night though, I like to apply a thicker cream after this moisturizer for an additional hydration boost (as my skin gets really dry in the winter!)
Overall, I think the INKEY List Omega Water Cream is a great and affordable everyday moisturizer that would work well for all skin types, thanks to its super light texture and soothing fragrance-free formula. Available at Sephora for $9.99
The INKEY List Hyaluronic Acid Cleanser ($9.99)
This is a deeply hydrating cleanser with a lightly foaming formula designed for daily use to remove makeup and SPF. The unique formula contains 1% Hyaluronic Acid complex and 1% Inulin compound that continues to hydrate after use, supporting skin-barrier health and optimizing skin-pH levels.
Great for all skin types (especially dryer skin), it's also fragrance-free.
KEY INGREDIENTS:
1% Hyaluronic Acid Complex – Clinically proven to improve hydration levels in skin for up to 48 hours, even after it has been washed off
1% Inulin Compound (PolyFructol Plus) – An extract from the chicory root plant that's known for its ability to increase hydration levels within the skin. A natural prebiotic, inulin is also famed for helping to maintain a healthy microbiome so that skin retains essential moisture.
2% Betaine – Extracted from sugar beet, it helps to support skin's hydration levels and protects against environmental stressors and dehydration.
This cleanser has a creamy texture that forms a light lather. It is very gentle and does a good job of dissolving dirt and impurities, without leaving my skin feeling dry or tight. I like to use this as my morning cleanser as the first step in my skincare routine.
However, for removing makeup, I did not find this cleanser effective enough to get the job done in one go. So if I am wearing makeup, I use a cleansing balm first and then follow up with this cleanser as the second step. Available at Sephora for $9.99
Shop this post….