PR samples Lottie London has launched another edition of the Vampire Diaries makeup collection for Halloween! After the popularity of last year's Lottie London x Vampire Diaries collaboration, the brand has just released a newly revamped makeup collection called 'Love Sucks' – inspired by the supernatural teen drama series.
The latest Lottie London x Vampire Diaries makeup collection includes all new spooky essentials for a ghoulishly glamorous look, just in time for Halloween.
This exciting new makeup collection is the the ultimate Halloween treat for all Vampire Diaries fans! And even if you are not a TVD fan, this fun makeup collection with edgy-meets-glam aesthetics is perfect for those glam & spooky Halloween looks🩸🧛🏼❤️‍🔥
Let's take a look…
Lottie London x Vampire Diaries pH Lip & Cheek Stick ($6.98)
This color-changing stick is jet black in the tube but reacts with the pH of your skin to transform into a unique shade of pink, adding an instant flush of color to your cheeks and lips with a creamy dewy finish. With a sheer-to-buildable formula, it blends easily and is hydrating too. It works perfectly well for your Halloween costume party as well as everyday looks.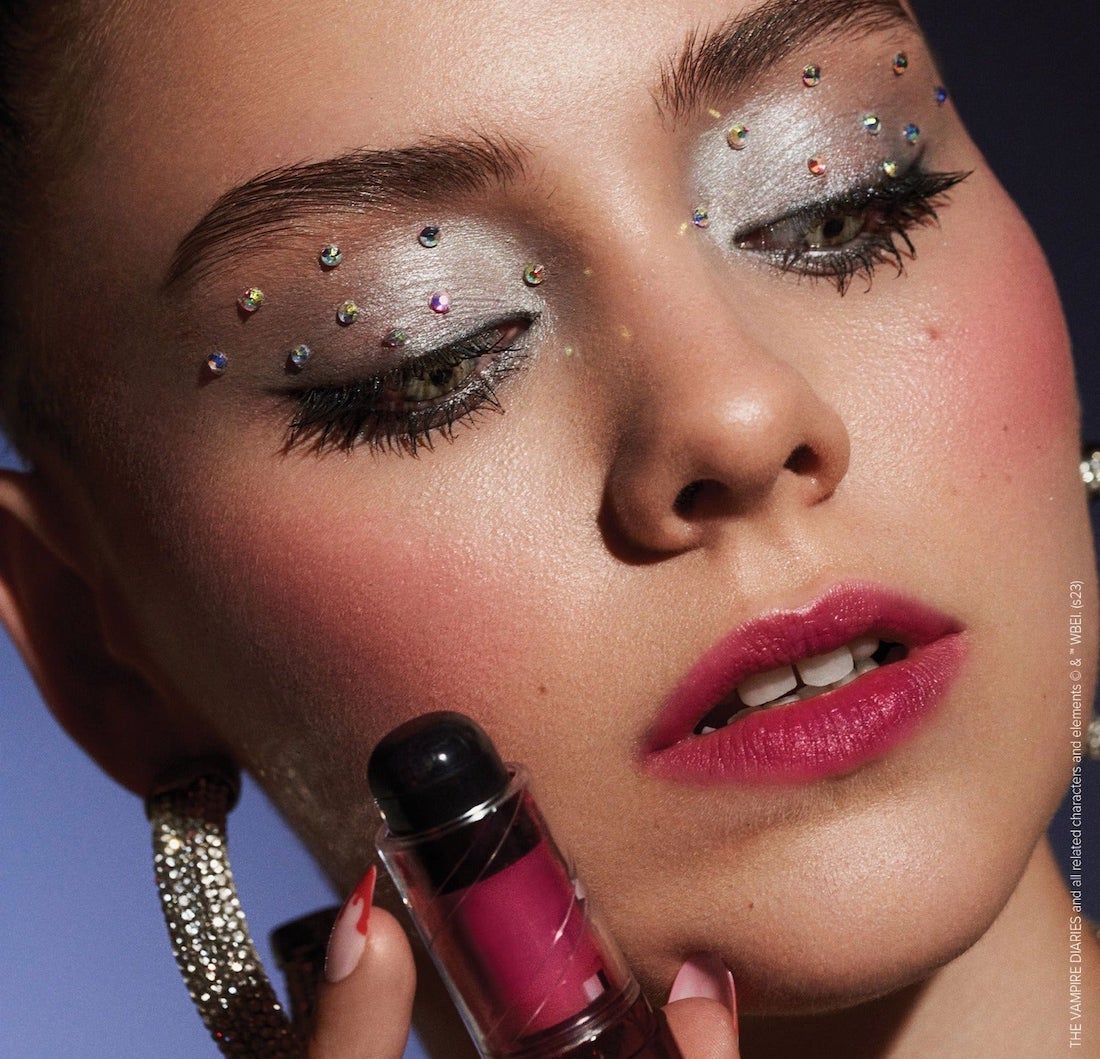 Lottie London x Vampire Diaries All Over Highlighter – Vampire Skin ($14)
This gel to powder ultra-fine shimmer highlighter comes in a beautiful Rose Gold shade. The formula is buildable from subtle shimmer to vampire sparkle and looks like a diamond veil on your skin. It can be used on your entire face and body to get that vampire glow​!
Lottie London x Vampire Diaries Blood Drip Lip Tint ($6.98)
Infused with jojoba and argan oil, this lip tint gives you the moisturizing feel of a lip oil with the shine of a lip gloss. The hydrating formula lightly tints the lips with a sheer glossy finish. It comes in a tube that looks like a blood sample (very Halloween-y) and there are two shades – Bitten and Witches. The former is a deep red and the latter, a dark purple.
Lottie London x Vampire Diaries Eyeshadow Palettes ($14)
#teamDamon or #TeamStefan?​ Settling the bloodiest battle ever, between the two iconic vampire brothers! ​Team Damon palette comes with bolder and more intense colors like red, black and blue while the Team Stefan palette features a lighter shade range including pink, emerald and lilac for a softer, warmer look.
These must-have halloween palettes contain a mix of buttery mattes, foil like metallics and high impact glitter shades with a highly pigmented formula that blends easily. Mix and match to create your spooky season, vampish-inspired looks. Here are the swatches…
Lottie London x Vampire Diaries Star Stamp Liner Duo ($7.99)
Easy to use and intensely black, this ​dual-ended liner features a felt tip eyeliner on one end and a star stamp on the other. Simply place the star shaped stamp on your eye or wherever desired for a star-studded look with long-lasting color!
The stars are shining this halloween…
Lottie London x Vampire Diaries Nail Sticker Kit ($7.99)
These easy-peasy halloween nail stickers make your at-home spooky manis a breeze. Just stick and go! With fun elements like coffins, moons and daggers, you get over 200 nail art stickers to spookify your natural nails.
No drying time, no soak off and up to 7 days wear – salon perfect manicure in seconds!
Lottie London x Vampire Diaries Stay Press'd Press on False Nails ($6.98)
Trick or Treat yourself to salon-style manicure!​ These flawless claws are quick and easy to apply using vegan nail glue (included) while offering a long-lasting hold and deliver the look of a salon perfect manicure in minutes!
These almond-shaped press-on nails (30 in each pack) come in two new and trendy designs Drip Drip and Deadly with a gel finish. Drip Drip has a white base with a red blood-dripping design, and Deadly is a black shade with a red aura in the middle.
Lottie London Vampire Diaries makeup collection is perfect for spooky season and will inject a dose of glamour into your Halloween look! In fact, some of the products in this Vampire Diaries collection like the eyeshadow palettes, highlighter, ph color-changing lipstick and black eyeliner can also come in handy for your creative makeup looks beyond October 31st.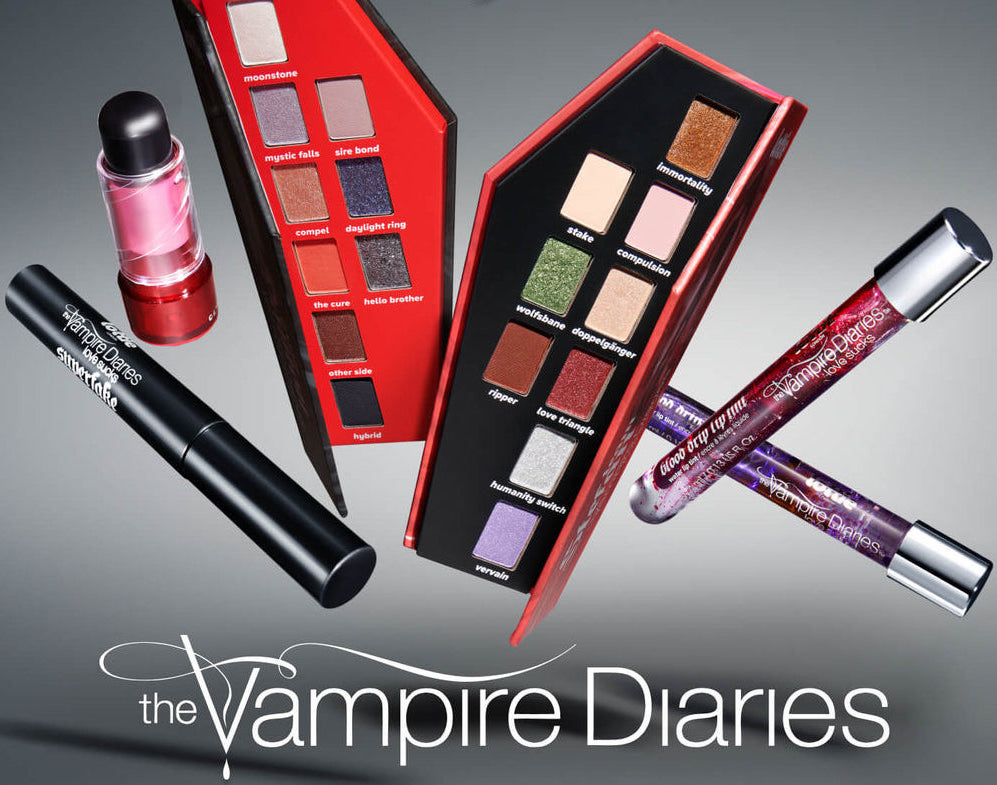 All images via Lottie London
Lottie London Vampire Diaries makeup collection is available for purchase at lottielondon.com, Walmart and CVS.
Shop this post…


What's your favorite item from this limited-edition makeup collection? Let me know in the comments below!
View this post on Instagram