We are already aware of the importance of Sunscreen lotions/creams in our skincare regimen.Sunscreen is the most significant anti-aging product to prevent your skin from the damaging UVA and UVB rays from the sun that cause wrinkles,dark spots, dullness and other signs of aging. And keep in mind that the sunscreen can only effectively protect you from harmful UV rays if you slather it on at least 20-30 minutes before heading out.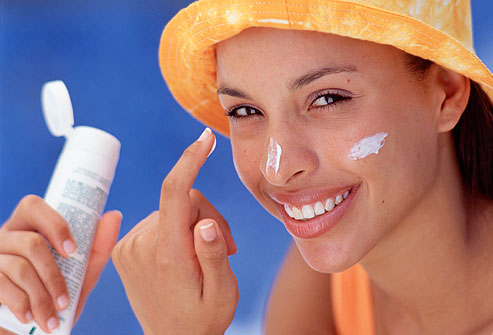 That said, we sure need to remember to apply sunscreen everyday but that's not usually the only product in our vanity bag……right?? Have you ever wondered if the sunscreen should go first before other makeup or should it be the last one to go on your face, neck and bare skin? If yes, then check out this informative and very interesting article to answer this question. I just found it today while researching whether to apply my antioxidant facial serum before sunscreen or after and got tons of other useful information too. In case you are wondering if I actually found the answer to my original question then yes I did and the answer is – it's best to apply your antioxidant cream or serum at bedtime rather than during the day to have the maximum benefit from the antioxidant ingredients.
Ok, so here's the link to the article by Neal Schultz, M.D. from DermTv.com. Hope you find it useful.
http://www.dermtv.com/questions/why-applying-sunscreen-first-provides-best-protection-from-sun