PR samples Ogee Luxury Organics is a clean beauty brand that creates high-performance, certified organic makeup and skincare products.
Ogee prides itself on offering products that use only certified organic and natural ingredients, are gluten free, vegan, GMO free, and cruelty free. Their uncompromising standards mean all the products are free from harsh chemicals, parabens, synthetic fragrances, phthalates, dyes or petrochemicals and made in the USA using 100% recycled paperboard.
Now that I've introduced the brand, let's take a look at some of their product collections….
Ogee Luxury Organics Crystal Contour Collection ($112)
The ultimate trio to achieve glowing-from-within skin! These glow enhancing Sculpted Face Sticks provide sheer color with subtle shimmer to accentuate your natural features. The lightweight, creamy formula is easily buildable, blendable and is infused with a hydrating blend of essential fatty acids and oils.
The Crystal Contour Collection includes three crystal-inspired shades to bronze, blush, and highlight
Sculpted Face Stick (Copper) – $42 value. Radiant Cocoa to use as a buildable bronzer for a natural kissed-by-the-sun glow and along contours of face.
Sculpted Face Stick (Rose Quartz) – $42 value. A creamy Rose Blush to use on the apples of cheeks and lips.
Sculpted Face Stick (Opal) – $42 value. A Starlight White highlighter to use on cheekbones, eyes and cupid's bow.
I tried the Rose Quartz shade on my lips and was pleasantly surprised to find it nicely moisturizing. It's not super hydrating but emollient enough to be used as a lip color!
These creamy face sticks are so quick & easy-to-apply and blend! Apply one stroke for a sheer finish, or multiple for a more lustrous look. Not to mention, these look so luxe and are also convenient to carry around and apply for on-the-go glow (with or without a mirror!)
There are 2 other shades of the Sculpted Face Sticks – Carnelian (Luminous Coral) and Amber (Sun Kissed Bronze). These retail for $42 each.
Carnelian is one of my favorites! It can be used as a golden blush or a champagne highlighter. Here are swatches of all the shades below…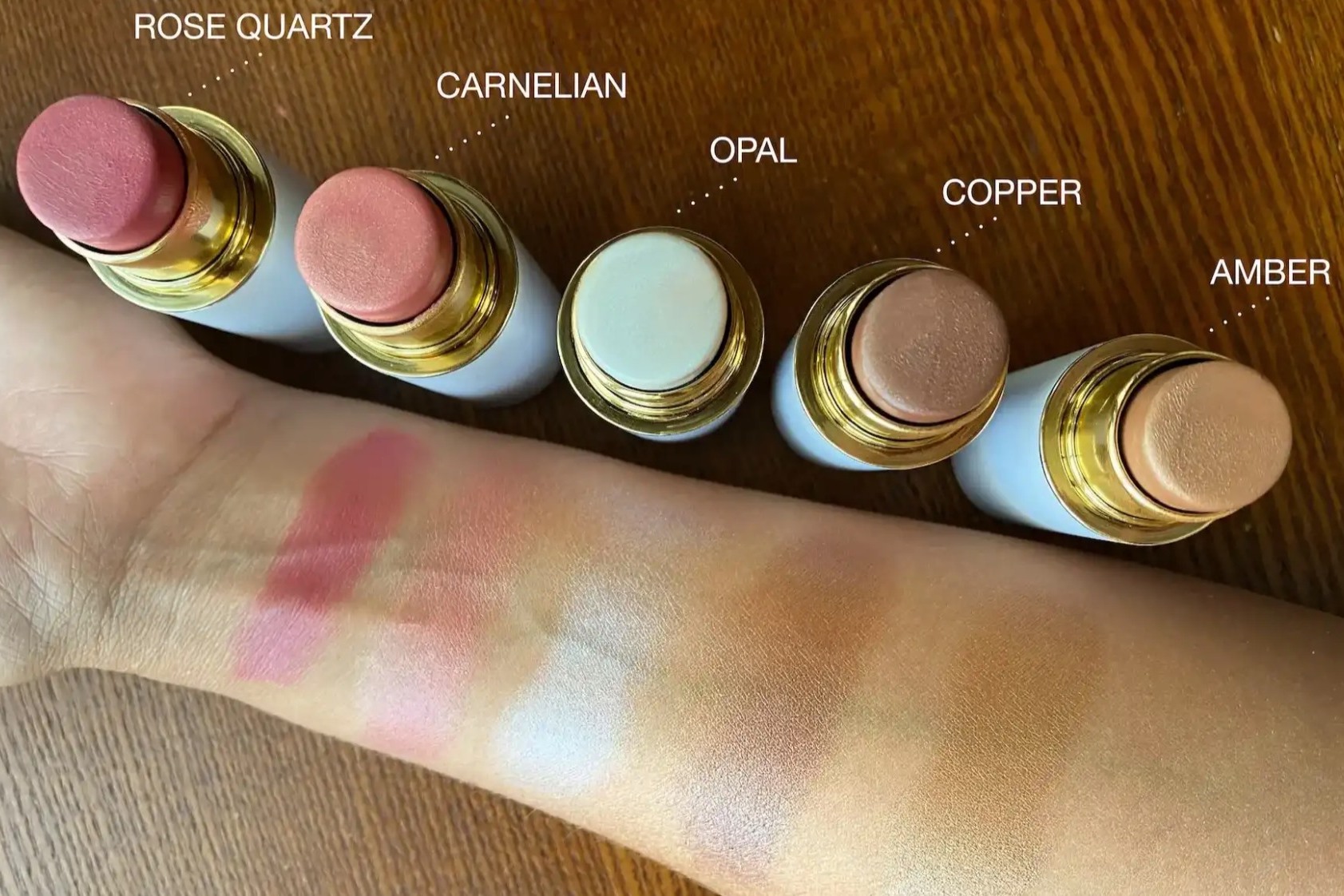 Ogee Luxury Organics Tinted Lip Sets 4pc ($90)
This lip set comes with 4 floral-inspired Tinted Lip Oils designed to add color and moisture. These conditioning lip colors are a silky, solid blend of organic cold-pressed jojoba oil and butters that melt instantly onto lips to moisturize and nourish.
They also contain a refreshing infusion of organic peppermint essential oil (that imparts a minty flavor), hyaluronic acid and natural plumping ingredients.
These luxurious lip colors have a lightweight, smooth balmy texture that feels so hydrating on the lips. The formula glides on easily with a good color payoff and glossy shine. The color is buildable and can be layered easily for a more opaque look.
These are quite moisturizing and comfortable to wear but not long-lasting and need to be re-applied more frequently, but I don't mind much since the formula has a lot of good-for-your-lips ingredients!
The Darling Lip set comes with 4 beautiful shades
Camellia: Classic Pink
Gardenia: Auburn Nude
Linnea: Shimmery Peach
Magnolia: White Pink
There are two other Tinted Lip Sets each with 4 tinted lip oils designed to suit every style —the Daring set has four darker, sultry shades from a red plum to burgundy wine whereas the Blossom set has nude shades from a dusty rose to sheer blush, perfect for no-makeup makeup look. These gift sets come beautifully packaged in a gift box with a white satin ribbon.
Ogee Luxury Organics Dew Kit ($156) $211 value
This specially curated kit comes with Ogee's ultimate essentials for easy, everyday grab and glow! It includes a bundle of versatile skincare and makeup products to achieve radiant, dewy skin.
Jojoba Glow Face Oil ($64 value) This 100% natural and certified organic face oil instantly soothes, nourishes and helps restore healthy, glowing skin. Rich in antioxidants, it reduces redness and inflammation while smoothing and hydrating skin. Jojoba oil's non-comedogenic properties make it suitable for all skin types, including dry, sensitive, combination, and even acne-prone.
Sculpted Face Stick in Amber ($42 value) A sun-kissed bronze face tint that can be used on cheekbones as a buildable bronzer with its honey-golden glow, on high points of the face as a luminous golden highlighter, and/or on eyelids as a brightening shadow.
Luminous Botanical Face Mist ($49 value) The perfect refresher! This face mist is a moisture-boosting essence infused with Rose and Chamomile extracts that nourishes the skin. It can be used anytime through the day to boost hydration or as a a dewy setting spray over makeup.
Tinted Sculpted Lip Oil in Rosalia ($26 value) A dusty rose-pink shade, with soft mauve undertones. Rosalia is perfect for casual wear on the lips, or for a natural rosy-blush on the cheeks.
OGEE Organic Cotton Beauty Bag ($30 value) A bundle-exclusive, this white cotton bag is pretty and practical! It's the perfect size for storing your beauty essentials.
And right now, if you purchase this Dew Kit, you'll receive a FREE Carnelian Sculpted Face Stick that's $42 value! (offer is valid for all orders worth $150 or more)
Mother's day is right around the corner and these gorgeous gift sets from Ogee Luxury Organics would make the perfect gift to treat your mom and make her feel special!