I've never tried press-on nails before so when I received the Broadway imPress Press-On Manicure in my Infleunster Holiday Voxbox, I was pretty excited about it! I apologize it took me so long to write a review but here it is….
"Introducing imPress Press-On Manicure by Broadway Nails, the revolutionary way to apply polish! Featuring advanced nail technology, you can get a salon-perfect manicure in seconds – simply peel off, press on, and you're done. There's no drying, a killer shine and a manicure that lasts up to a week! And, imPress is so easy to remove, you can change it up to match your mood as often as you want. Check out all 36 colors and patterns, including trendy brights, classic darks and animal prints. With imPress, your nails will always be your best accessory."
The imPress Press-On Manicure kit comes in a plastic container shaped just like a nail polish bottle and contains 24 nails in 12 different sizes. I really like the packaging as it's not only cute but also quite functional and keeps the press-on nails secured nicely. You can even throw it in your purse and don't have to worry about spilling.

I received my imPress nails in the style Space Cadet that has a pattern of black pebbles on white with golden glitters in between. I really like it!
Before applying the press-on nails, make sure to remove any nail polish and then cleanse your nails using the enclosed prep pad. Next, find the correct size for each of your nails and line them up in finger order. And then apply by peeling off the plastic film and pressing down firmly on your natural nails, leaving thumb nails for last.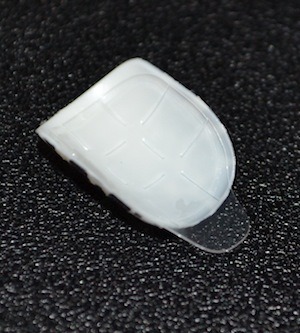 What I like :
The application is super easy and fast without any drying time. The press-on nails fit instantly without any issues.
Each press-on nail comes with its own adhesive so there is no need for a glue (and thus no mess!)
Pretty designs! I can't imagine recreating something like this on my own so these press-on styles are perfect for nail-art novices like me to easily glam up their nails. They have a great selection of designs (36) from neutral everyday colors to glam patterns so you can easily find something for your taste.
Do not feel bulky or uncomfortable over my natural nails
Removal is very easy without any damage to the real nails. Just apply a bit of nail polish remover around the edges, wait a minute and then peel off from the sides.
Cheap and easily available at drugstores/mass market retailers.
What I didn't like :
The press-on nails for the ring and middle fingers were not a perfect size/match for me and looked too big/wide and obviously fake. I have small fingers so the length of the nails was also a bit too long for me.
A couple of  press-on nails fell-off on day 2 so I had to take off the rest of them, which was really disappointing since they are supposed to last for a week.  I think these may last longer if you do not use your hands as actively throughout the day.
Overall, count me ImPressed with this manicure kit! I would not recommend these for everyday use (especially if you are a busy mom like me!) but the kit is absolutely worth trying for a fun night out or a special occasion to dress up your nails without an expensive salon visit!
Broadway imPress Press-On Manicure retails for $5.99 for colors and $7.99 for patterns, and is available at CVS, Rite Aid,  KMart, Walgreens, Walmart and more. Do check out their website impressmanicure.com to get a $1 off  coupon and see all the different styles.They also have an Impress try-on app on the website that you can use to try on all the nail designs virtually and see if it goes well with your skintone.