Being a skincare junkie, I love trying out luxurious, expert formulations to pamper my skin!  Recently, I got an opportunity to test out an exclusive skincare kit from Lumene that was also being given away at the Lumene Rejuvenation Lounge at Sundance film festival 2012. This Lumene skincare kit includes deluxe samples of products from the Vitamin C+ line with Arctic Cloudberry and more.
 Radiant Touch Moisturizing Cream Cleanser with Arctic Cloudberry
 Radiant Touch Moisturizing Toner with Arctic Cloudberry
 Pure Radiance Day Cream SPF 15
 Time Freeze Firming Day Cream
 Sensitive Touch Cleaning Wipes with Soothing Arctic Linen Seed
If I had to pick one, my favorite product from the above kit would be the Radiant Touch moisturizing cream cleanser. It's a rich, foaming cream cleanser with a gentle formula that  removes all impurities and makeup thoroughly – just the way I like for my dry skin!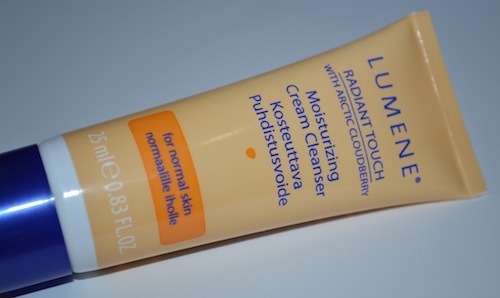 Another product that I absolutely loved is the Sensitive Touch cleansing wipes. The gentle formula (fragrance and alcohol-free) in these soft wipes leaves skin clean and pleasantly fresh without any irritation or stinging around eyes and is suitable for sensitive skin.
I really liked the Radiant Touch moisturizing toner too that detoxifies and refreshes skin perfectly with an alcohol-free formula.
Next, the kit includes samples of two day creams from Lumene's Vitamin C+ and Time Freeze lines. Although I loved the silky texture and feel of the Pure Radiance Day Cream SPF 15, the chemical sunscreen based-formula stings a little around the sensitive eye area. As I have mentioned before, I prefer physical suncreens for my sensitive skin, this SPF moisturizer did not work out for me. As for the Time Freeze Firming Day Cream, the jar packaging and lack of SPF in an anti-aging day cream is disappointing. I have been using this one at night though and love the luxuriously moisturizing formula that perks up dull, tired skin.  Also, I would like to mention that none of the above products had a strong fragrance which is always a plus for sensitive skin like mine!
Overall, I enjoyed trying the Lumene Arctic Nature Skincare kit! I would highly recommend the Radiant Touch cream cleanser and Sensitive Touch cleansing wipes. You can find Lumene skincare products at your local CVS pharmacy, Walgreens and Drugstore.com.
Disclosure: This review features a sample product provided by PR for consideration only and reflects my honest opinion as always!