I am not the one retouching my makeup every few hours so it would be great to find a lipstick that stays put for 14 hours. In fact, I haven't yet found any lippie that lasts even 8 hours on my lips but in my quest for the perfect all-day-long-wearing lipstick, I picked up the new  Maybelline Super Stay 14 hr Lipstick that promises an " ultra-lightweight formula that stays fresh, light, and comfortable and Super rich color that lasts for 14 hours"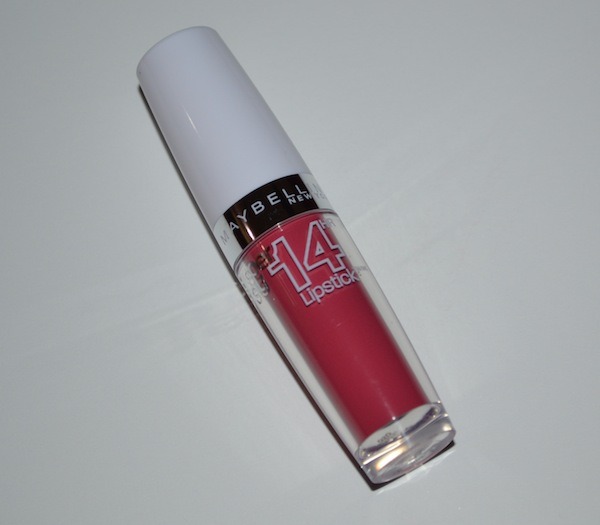 The shade I bought is called Eternal rose which is a lovely rosy-pink that would look flattering on most skin tones. When first applied, the lipstick  has a smooth glide on lips with a slightly creamy  feel but after about an hour of wear, my lips start craving for more moisture. So, the formula is not very forgiving especially if your lips are dry, flaky already and adding a layer of lip balm prior to application is highly recommended.
The lipstick looks kind of semi-matte in the tube but applies with a satiny finish. The pigmentation is excellent and the color looks pretty vibrant in just a couple of coats!  Now, one thing that I really didn't like is the strong fruity/candy-like smell that lingers around for a little while. Although nothing intolerable, the scent is not appealing at all.
And finally, the big question – does it last for 14 hours as claimed? Sadly, the answer is a big NO. Although it certainly doesn't make it to the 14hr mark, I get about 4-5 hours of wear (which is not too bad for someone like me whose average lipstick-wear time is only just about 2 hours and that's without eating or drinking).This lipstick doesn't budge through drinking and lasts fairly well through meal time. It leaves behind a nice stain as it wears off but I really feel the need the add a lipgloss to avoid my lips looking too dry.
Overall, I feel that this is a nice lipstick but the formula is not impressive enough to make me go back for more shades. It feels a bit uncomfortable and drying on lips after a couple of hours (just like majority of the long-wearing lippies) and I am not a fan of the strong scent/flavor. The wear time is definitely much better than an average lipstick so if you are looking for an affordable long-wearing lipstick, it's worth a try for sure!