I have a love-hate relationship with my hair. Some days it's my crowning glory, and others it's the bane of my existence. One thing is certain though: when it comes to haircare, the more moisturizing, the better if you ask me!
I have wavy-curly hair that's thick, full and long, but very dry, damaged and frizzy (thanks to frequent coloring and heat-styling!) Basically, high maintenance hair that needs a lot of TLC. So, I love hydrating haircare products that nourish, smooth and improve manageability without weighing down my strands.
Here's my haircare routine and 6 holy grail products that I absolutely swear by to keep my hair healthy, soft and bouncy.
Shea Moisture Daily Hydration Shampoo ($17.99) – It's sulfate-free, hydrating and lathers well. Leaves my hair thoroughly clean and soft, not dry or stripped! I wash my hair twice a week and this jumbo size bottle from Costco will last me a really long time! Also available at Amazon.com
Kerastase Discipline Oleo-Relax Mask ($62) – My HG hair mask that's incredibly smoothing & hydrating and works wonders to restore smoothness and shine, and also smells divine! It adds a mega dose of moisture to my my curly, crazy poofy hair (without weighing them down) and leaves them silky-soft! All it needs is 3-4 minutes to work its magic. I like to use it once a week. You can read my detailed review here.
Pantene Miracle Rescue Intense Rescue Shots ($7, pack of 3 treatments) – This is my favorite drugstore deep conditioner. Packaged in compact tubes, the nourishing formula provides a healthy dose of hydration without any greasy residue or build up.
One tube has the perfect amount for my thick, long (waist length) hair and I use it with a generous hand. Not to mention, these are very affordable and the ampoules are so convenient for travel. My full review here.
Gisou Honey Infused Hair Oil ($46) – This luxe oil gives my dry, unruly tresses a much-needed moisture + shine boost while minimizing frizz. I use it on towel-dried hair as a leave-in treatment but it can also be used on dry hair for a finishing touch of silkiness and shine. And a little goes a long way!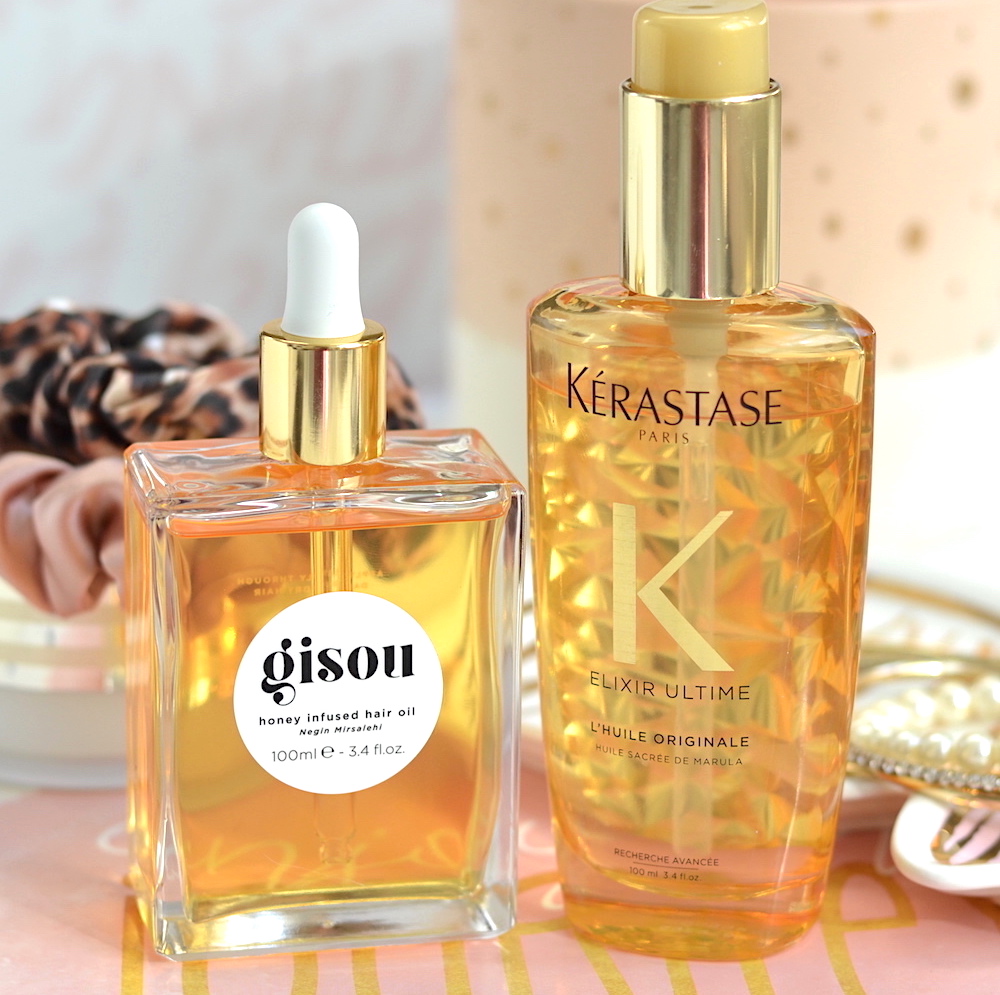 Kerastase Elixir Ultime Oil Serum ($24) – I love this smoothing serum-oil as much as Gisou and alternate between the two products! It's a bit lighter in consistency than Gisou and less expensive too. I did a full comparison post Gisou Vs Kerastase if you want to check out all the details!
Olaplex Hair Perfector No.3 ($28) – This concentrated treatment works really well to bring my dull, damaged hair back to life. After years of chemical color treatments and heat damage, my hair needs all the pampering! I put this on damp hair and leave it on for about 1 hour before rinsing it off. My hair feels softer, my curls are more defined (look a lot less crazy!!) and so much more easier to style!
I try to use it twice a month at least. I don't like the long waiting time (with wet hair) to get all the repairing and strengthening benefits but the results with regular use makes this worth the effort! If your hair isn't in bad condition, you don't necessarily need this. However, if your hair is damaged or compromised, I would 100% recommend this to you.
So, this is the haircare routine for my dry, damaged hair! Any of these hydrating haircare heroes your favorite too?
Shop this post…