L'Oreal is the latest brand to jump on the BB bandwagon and its new Youth Code BB Cream Illuminator SPF 15 promises to be a multi-action cream that evens skin tone while instantly boosting luminosity. I had a sample packet of this BB cream good enough for 2-3 uses so thought of doing a quick review.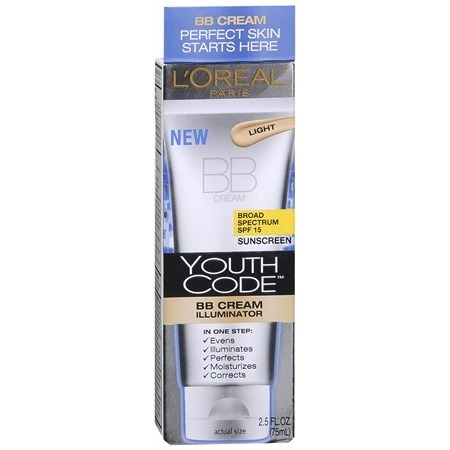 Here's what L'Oreal has to say about the product :
Perfect Skin Starts Here. In One Step :
Evens
Illuminates
Perfects
Moisturizes
Corrects
Experience 5 complexion-perfecting benefits in a single step. Youth Code BB Cream Illuminator provides a hint of luminosity and sheer tint, while promoting a more even tone, perfecting skin texture, moisturizing and protecting with SPF 15. Luxurious texture with a non-greasy feel blends easily into skin. Available in 2 luminous shades (Light & Medium).
To begin with, the formula has a nice, creamy texture – not too thick/rich but moisturizes well (although not enough for my dry skin to skip moisturizer). I tried the medium shade and it matches my skin tone almost perfectly. It blends really well and evens out my complexion nicely making it look fresh and smoother but the coverage is on sheer side. I prefer at least medium coverage to conceal acne scars and dark spots to some extent and this product doesn't offer enough coverage for any of those problem areas.
The finish is slightly dewy, which is always a plus for my dry skin, but I don't see any illuminating/luminous effect as the name suggests. Also, the fragrance is nice but a little too strong, it lingers around for about an hour or so. As for the SPF 15, it's too low so you'd have to use a separate sunscreen underneath to protect skin against UV rays.
Overall, L'Oreal Youth Code BB Cream Illuminator is a decent product but performs more like a natural looking tinted moisturizer for a little complexion correction. It's not for somebody who needs more heavy-duty coverage. The cream is formulated for all skin types and I think it would work well except for those with very oily skin. It's available only in two shades – light and medium for $17.99 at drugstores. In my opinion, that's a bit pricey for what the product offers so you might want to wait for a sale if you are interested in trying it out.
Have you tried L'Oreal Youth Code BB Cream Illuminator? What do you think…..yay or nay?