Maybelline Color Whisper Lipsticks are a new launch from the brand for Spring 2013. With 20 different shades to choose, ranging from nude beige to bright pinks and plum, there is a good chance you'll find at least one that catches your eye! I picked up two – Pin Up Peach and Some Like it Taupe.
As per Maybelline, the Color Whisper lispsticks are "Pure color pigments suspended in a weightless gel. No heavy waxes or oils. Soft, sexy gel-color. Just a kiss of shine. "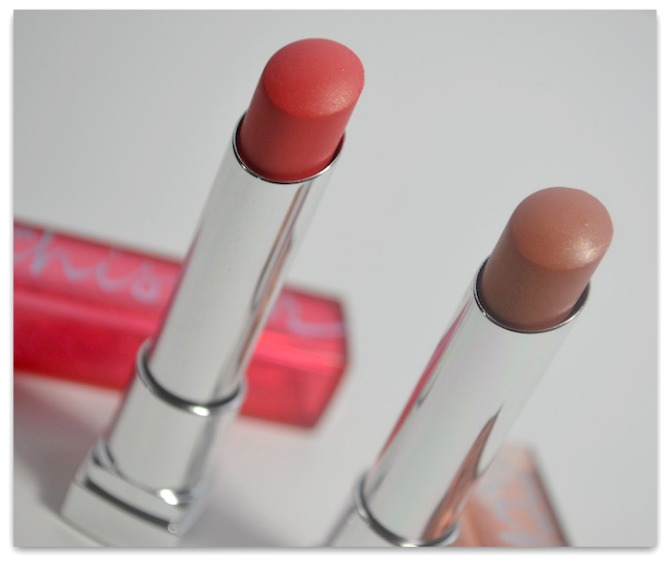 The Color Whisper lipsticks have a super smooth balm-like texture that glides effortlessly on the lips! And I agree with Maybelline's "weightless' claim as these lippies have a very comfortable, barely there feel on the lips. The formula is also quite hydrating (although a bit less than my favorite Revlon Colorburst Lip Butters) and keeps lips feeling smooth & soft throughout the wear. And I like that there is no icky scent or flavor. The shades, when first applied, go on sheer but can be easily layered to build up the color intensity as you like. The wear time is just average with about 1.5 – 2 hours (that's without eating or drinking) which is usual with this kind of sheer balm-like lippies.
Pin Up Peach is a soft pinky-peach shade that is just so easy to wear and pretty! I think it would look good on most skintones. It gives off just the right amount of pigment in a couple of swipes but the color is buildable for more pop!
Some Like it Taupe is the darkest of the nude shades from the collection but it's too sheer for me, adding only subtle color with a nice sheen.
Overall, color me impressed with Maybelline Color Whisper Lipsticks! Not only do these lippies have a buttery smooth, lightweight formula that does a good job of keeping dry lips comfortably hydrated but they also add a lovely tint of color with a glossy finish. If you were not a fan of the slightly heavy feel of Revlon Lip butters, you'll def enjoy the much lighter Color Whisper lipsticks! I'll probably go back for a couple more darker shades in the range like Cherry on Top and Mad for Magenta!
Availability – $7.49 each at Target, Ulta and all major drugstores.
Have you tried Maybelline Color Whisper Lipsticks? Any favorite shades?