If you have been reading this blog for a while, you know Zumba is my go-to class! I love it not only for the fitness benefits but also because it always always lifts up my mood, even if I am feeling crappy for some reason (thanks to our fantabulous Zumba instructor Holly and my other Zumba buddies!) It's the perfect form of exercise for a lazybones like me to 'get moving' and have a lot of fun in the process!
Ok, enough about my Zumba addiction. Now let's talk skincare….shall we? Like it or not, along with an awesome workout can come a few unwanted side effects – sweat, dirt, and germs can get trapped in the skin causing oiliness and pimples. And those annoying breakouts are the last thing you want to be worrying about while working up a sweat at the gym. The truth is your pores will get clogged if you don't take proper care of your skin before and after working out.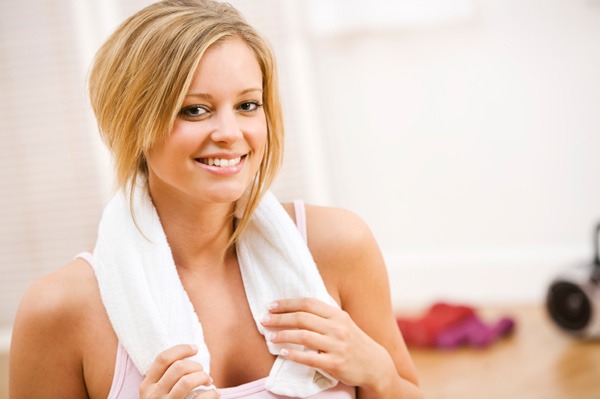 Here are my skincare tips to keep your skin healthy & happy before, during and after exercise :
1. Prior to working out, make sure to wash your face with a gentle sulfate-free facial cleanser (like this one) especially if you are wearing a foundation or even a tinted moisturizer. Allowing makeup to sit on your skin while you sweat is a veritable invitation for pimples so your best bet is to skip the makeup (but should you really feel the need to wear foundation, opt for mineral-based powders as they are more breathable). If you're going to workout outdoors, lather on a lightweight oil-free sunscreen before you hit the trail for all over skin protection!
2. Be sure to wear sweat absorbing, breathable clothing while working out to avoid any skin irritations and do a quick change once you're done. The more time you spend in your sweaty gym clothes, the higher are the chances your skin will trap dirt and oil that can lead to back/chest acne.
3. Wear your hair back off your face in a high ponytail or bun or at least pulled back with a band. If possible, don't put any leave-in products on your hair before working out as they can migrate onto your skin and cause breakouts.
4. Since you lose so much water from perspiration, it's crucial that you stay hydrated to prevent any workout-induced skin issues. Getting plenty of liquids during and after exercise helps prevent dehydration that can show up on your skin, especially around the eyes. And that's why it's also important to apply a light moisturizer as it helps retain the water in the skin while working out.
5. Exercising or not, you should always avoid touching your face to prevent blemishes and clogged pores. Be especially aware of this when you're working out and keep your hands off your skin as this spreads bacteria and highly increase the chances of acne flare-ups. Just use your towel (blotting, not wiping) instead to wipe excess sweat.
6. Keep a small pack of pre-moistened facial cleansing wipes (like these) in your gym bag or car so that you can quickly wipe off the pore-clogging sebum and dirt from your face and neck, before hitting the shower at home. This step is especially recommended for oily or acne-prone skin types to keep those nasty breakouts under control.
7. Obviously, taking a good shower after a workout is the best option to get rid of any trapped dirt and germs. But if you squeezed a workout during your lunch hour or before the evening PTA meeting and there's no time to shower, make sure to at least wash your face thoroughly with a non-drying cleanser (preferably sulfate-free) to remove oil, toxins and sweat. Once you've got the situation all cleared up, it's important to follow up with a soothing and nourishing moisturizer for your skin type or if it's still daylight and your skin will be exposed to the sun, be sure to apply a moisturizer with sunscreen.
What are your favorite post-workout skin care tips?