If you love spending time outdoors during the dog days of summer like I do, you already know it should always involve lathering up on SPF all over to protect your skin against sun damage. But are you safely protecting the overlooked areas where SPF can't be applied?
Did you know that skin cancer is extremely common on the scalp since it usually gets hit with direct sun exposure so the chances of sunburn are really high. And that's why wearing a high protective UPF hat is crucial during the summer months to keep your scalp protected from the harmful UV rays. This is where Wallaroo Hat Company comes in!
Wallaroo hats offer a variety of  styles and colors for women, men and children with a choice of a wide brim (some up to 5") for shade and to effectively protect your face and neck. Their hat fabrics are tested by the Australian Radiation Protection Agency and provide an Ultraviolet Protection Factor of 50+, protecting the sensitive skin on the scalp from 97.5% of the sun's harmful rays. (The Skin Cancer Foundation recommends a hat with a UPF of 30 or higher for optimal protection to prevent UV rays from passing through the fabric)
I was given the opportunity to try one of Wallaroo's hats. I chose the style Breton (in turquoise)….I told you I have been obsessed with the color lately!
From Wallaroo :
Put on the Breton hat and you will suddenly have an uncontrollable urge to grab your canvas shopping bag and stroll on down to the farmer's market. The contrasting poly-ribbon braid is a punch of color, set off with a natural wooden-beaded leather tie. 4″ brim. Customize the fit with the interior adjustable drawstring. 100% poly-ribbon. Handwash cold. $38.00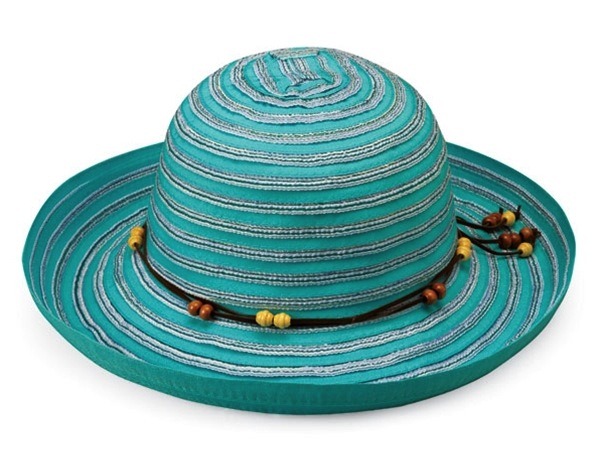 Fashionable and flattering, this shady Breton hat bespeaks casual sophistication! Take it with you anywhere – whether on vacation, at a party, shopping or golfing and it will complete your outfit with style and elegance. I love the 4″ wide brim of the hat that covers the face generously for ample sun protection while the lightweight fabric keeps you cool and comfortable!
The trim which features wooden beads elevates the design from simple to delightful. And it's easy to customize your fit with the interior adjustable drawstring – keep it snug or loosen up, your choice! Another feature that I really like is that the Wallaroo hats are packable. You can easily fold and pack it away and the hat will hold its shape. Throw it in your bag and you'll be ready for some fun in the sun! And you don't have to worry about the cleaning part either as these hats are made from hand washable fabric. Breton style is available in 7 different colors….here it is in Chocolate.
Wallaroo hats makes it easy to keep it stylish while enjoying the outdoors! You'll find a great selection of hats for women, men and kids on their website. The women's line of hats has 25 styles to choose from so whatever the look you are going for, chances are pretty good you'll find something chic and fashionable!