Let me introduce you today to my new favorite all-natural lip glosses – the Beeswax Lip Glosses from Savannah Bee Company! Not only are these glosses free of any of the "Dirty Dozen" chemicals commonly found in cosmetics, but they are also never tested on animals and packaged in unique, environmentally-sound materials.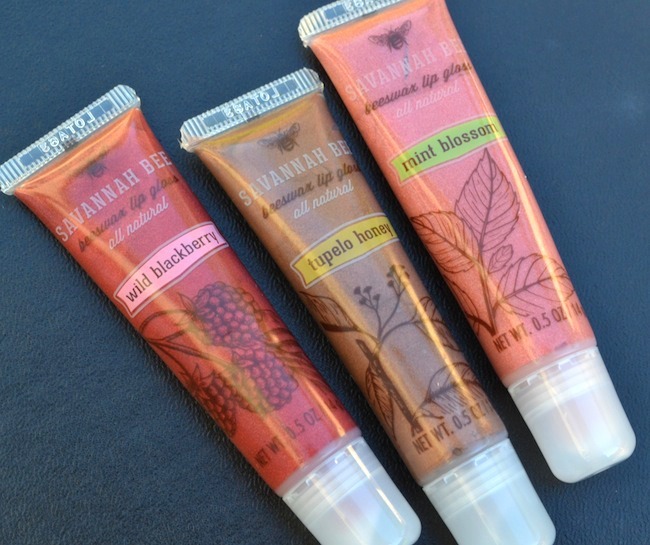 Product Description :
Bee Kissed with our new, all-natural Beeswax Lip Gloss. Beeswax naturally hydrates and protects for softer, healthier lips. Choose from these colorful and intoxicating bouquets: Mint Blossom, Wild Blackberry, and Tupelo Honey.
Savannah Bee Beeswax Lip Gloss contains no parabens, no petroleum derived ingredients, and is never tested on animals. Gluten free.
And here is the short & sweet ingredient list :
Ingredients: Ricinus Communis (Castor) Oil, Cera Alba (Beeswax), Copernicia cerifra (Carnauba) wax, Butyrospermum Parkii (Shea) Butter, Theobroma cacoa (Cocoa) Butter, Blackberry flavor oil, Tocopherol, Mica,Titanium Dioxide, Iron Oxide
Packed with a healthy dose of nourishing ingredients like shea butter, beeswax and cocoa butter, the Savannah Bee Beeswax Lip Glosses have an ultra hydrating, creamy formula that isn't tacky or sticky at all! Whether worn alone or on top of your favorite lipstick, this lipgloss keeps your lips soft, supple and well-moisturized throughout the wear (and even after it's long gone!) And the fact that the formula is completely gluten-free, makes me a happy bee!
Savannah Bee Beeswax Lip Glosses are available in three varieties – Mint Blossom, Wild Blackberry, and Tupelo Honey. All the shades are beautiful with slight shimmer and add a naturally pretty flush of color to lips! And the scent/flavor of each of these is just as delicious!
Mint Blossom is a soft, shimmery pink with a minty flavor (my favorite!)
Wild Blackberry is a sheer red shimmer with a sweet, blackberry flavor
Tupelo Honey is a rich, shimmery chocolate brown with a sweet, honey flavor (this one is the most pigmented)
Here are the swatches :
Bottom Line
Savannah Bee Company Beeswax Lip Glosses are deliciously glossy with a 100% natural (and gluten-free!) formula that treats lips to a conditioning blend of natural butters & waxes for ultra-hydration, without any of the stickiness or thickness of traditional lip glosses. And the price ($7 each) makes this one an all-out natural beauty bargain…..these will be a staple in my makeup bag! Available at savannahbee.com