Affiliate links Fall is officially here and a great way to herald in the new season is by switching up your perfume. No summer-to-fall wardrobe is complete without a warm & opulent, well fitting fragrance. Today I have a roundup of some of the newest, hottest fragrances for fall, ranging from striking florals to deliciously spicy or woodsy.
These sultry scents – with touches of white woods, sweet florals, amber, musk or a splash of sweet & juicy fruits – will have you warm up to the sweater weather in no time! Think of this post like a shopping wish list, guiding you through the best new fall fragrances you're definitely going to want to try out this season.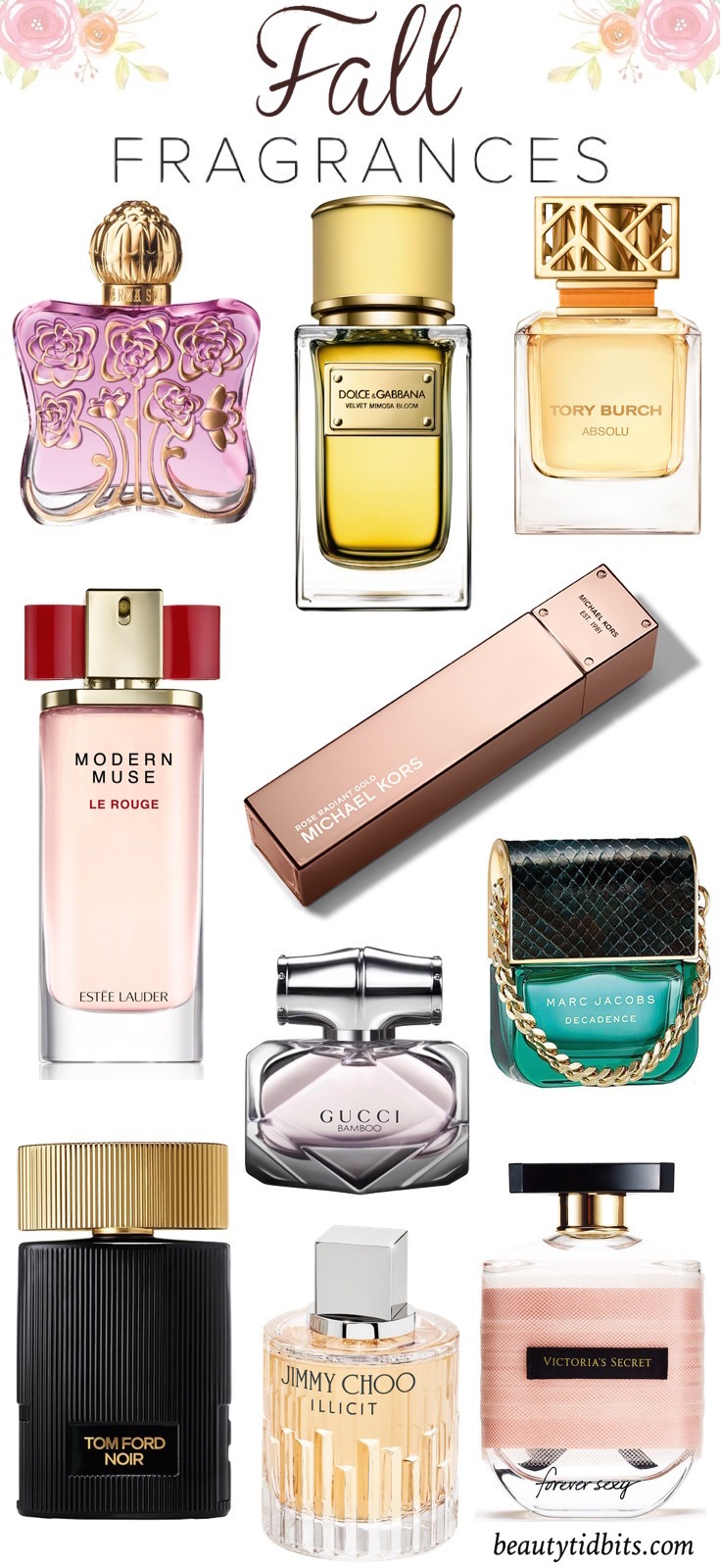 Here are the latest fragrances that hit all the right notes!
Anna Sui Romantica – Housed in a fetching bottle, this is a sweet floral with a dreamy, romantic vibe that's perfectly charming! It has a sparkling citrusy floral cocktail of orange blossoms, rose, jasmine petals, water lily in the heart for an instant pick-me-up and then it wears down to a smooth sandalwood and musky aroma that's perfect for a relaxing fall afternoon.
Dolce & Gabbana Velvet Mimosa Bloom – This fragrance with a stunning gold-plated bottle is the perfect combination of sexy and chic! Dominated by the sweet blend of mimosa blossoms, bergamot, mandarin and neroli oil, this fresh fragrance reminds us of a warm Mediterranean spring. Then heliotrope and musky notes work together to grant a cozy, warm feel in the drydown.
Tory Burch Absolu – Featuring a super-chic glass bottle with a signature gold fretwork top, this warm floral has notes of fresh tuberose, pink pepper, and pure rose – grounded in earthy vetiver and sandalwood for an alluring blend that's sexy and sophisticated.
Estee Lauder Modern Muse Le Rouge – With all the quintessential ingredients needed to make a fragrance sexy, like rose and amber, this is a deliciously inviting fragrance that also features saffron, raspberry and vanilla. It starts sweet and then develops into a warm, spicy scent with an exotic touch that's perfect for fall weather!
Michael Kors Rose Radiant Gold – This delicate, warm fragrance has sparkly spice notes that blend with rich florals and soft musk for a naughty and nice, ethereal scent! I love the tiare and vanilla notes that sweetens the blend while the overall feel is feminine and floral with a hint of soft spice. And the shiny rose gold bottle is oh-so-swanky!
Marc Jacobs Decadence – Oh Marc Jacobs, you know the way to our hearts and noses…not to mention wallets! This sultry fragrance is a lush mix of Italian plum, saffron, jasmine, rose, amber and papyrus woods….just what you need for a glamorous night out! But let's be real, it's stunning bottle shaped like a Marc Jacobs handbag with gold chain and tassel is reason enough to buy this stunner!
Gucci Bamboo – I love florals with sandalwood and this one strikes an addictive balance of deliciously sweet and seductive! It opens with sparkling top notes of Italian bergamot, orange blossom and ylang ylang but is totally fall-appropriate with a warm base of tahitian vanilla, sandalwood and amber. If you're looking for a sensual, woodsy floral that's not too sweet, here's your winner.
Tom Ford Noir Pour Femme – Leave it to Tom Ford to create a scent that's floral (rose, jasmine) without being too stuffy sweet or girly! This is a luxuriously rich, floral oriental with the perfect balance of sweet and spicy. The ginger extract adds the spicy touch while Indian Kulfi accord (a frozen dessert made with cream, rose, mango, cardamom, saffron and pistachio) and sandalwood lends it that exotic, creamy character. It's very alluring and perfect for everyday wear. Plus it has major staying power!
Jimmy Choo Illicit – With top notes of ginger and bitter orange, rose and jasmine at the heart, and finished with base notes of honey, amber and sandalwood, this is a bold and seductively sweet floriental that smells like a spiced candy… perfect for those who enjoy juicy gourmand scents!
Victoria's Secret Forever Sexy Eau de Parfum – Inspired by Victoria Secret's seductive lingerie, this is a warm and sultry fragrance with an exclusive blend of belladonna orange, solar gardenia and golden amber. It's not too strong or overly sweet and the amber really stands out so if you love woodsy/amber scents, this one is for you. The orange notes gives it that flirty feel and the bottle is so cute too!
What's your favorite fall fragrance? Which of these new perfumes are you most excited to try?
Shop this post…