Affiliate links UPDATED January 2021 Serums and creams that promise to turn back the clock come in hundreds of formulations, and finding the right one can get tricky (not to mention pricey!) However, there's one ingredient that's truly an anti-aging superstar…
Yep, we're talking about RETINOL…the power player of skincare!
Backed by decades of research, retinol is every dermatologist's favorite wrinkle smoother…because it really works!
Anti-Aging Benefits of Retinol
Retinol helps reduce fine lines and wrinkles, fades dark spots and hyper-pigmentation, makes large pores look smaller, brightens dull/sun damaged skin AND also treats acne. Simply put, retinol is a skincare superhero for all skin types and concerns!
This power comes at a price though. Retinol can have some annoying side effects like dryness, flaking, redness, irritation etc, especially when you are just starting with it in your routine.
But that should not scare you off. Irritation is not a given for everyone who uses retinol, and the potential side effects are pretty easy to control.
If you start at a low dose (say 0.25 percent retinol), and slowly work your way up in terms of strength and the frequency of application, then you may not experience any irritation at all.
5 Things You Need To Know About Retinol
1. Retinol deteriorates quickly when exposed to air and light. Make sure you only buy retinol products packaged in airtight, opaque tubes or bottles. Always avoid jar packaging!
2. Retinol can make your skin more sensitive to UV rays and thus more susceptible to sun damage. So, use your retinol cream or serum at night only.
And never forget to use a broad-spectrum sunscreen SPF 30 or higher during daytime. If you aren't careful about sun protection, even the best retinol creams won't be able to deliver the results you want.
3. Less is more when it comes to retinol! A pea-size amount for your full face is all you need (NOT more). If you're a retinol newbie, mix it with your moisturizer or moisturize your skin after applying the retinol product to buffer any irritation (redness, flaking etc.)
4. If the varying numbers of retinol percentages are confusing to you, know this: All percentages will improve the skin, but higher percentages produce faster results.
Once your skin has adjusted to the lower retinol concentration levels (like 0.1% – 0.25%), you can slowly step up your retinol game by switching to a higher strength formula up to 2%…take it easy though with high amounts of retinol!
5. Retinol is not recommended during pregnancy or breast-feeding so you shouldn't use retinol-based skincare products if you are planning to get pregnant.
And of course, be consistent and patient! Even though some over-the-counter formulas claim you'll see results within a couple of weeks, it takes an average of at least 10-12 weeks for retinol to really produce noticeable improvement in the skin.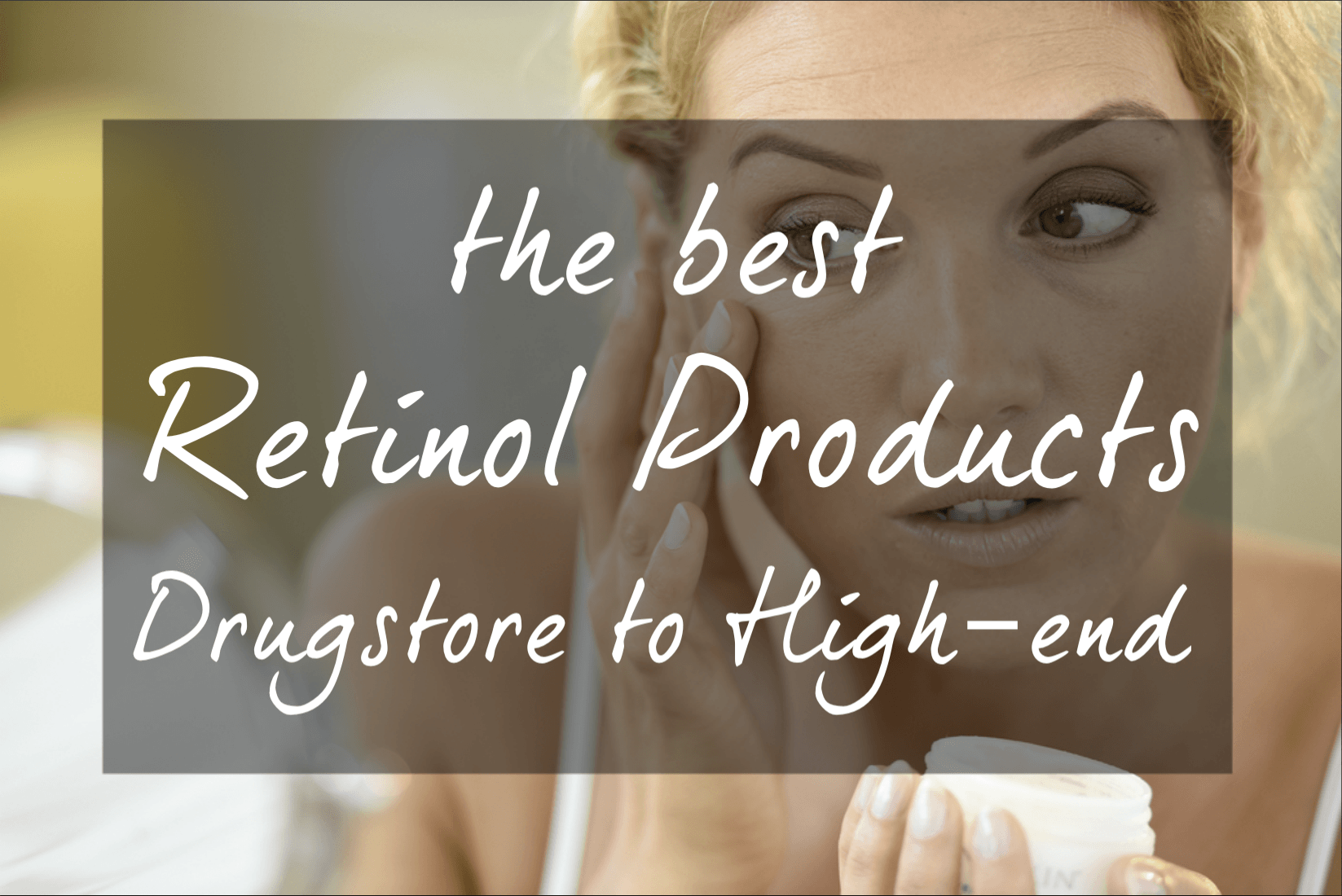 How Often Should Retinol Be Used?
Most dermatologists recommend starting with twice a week. Once your skin has adapted to retinol, increase the frequency (gradually) to 3 – 5 times a week.
I have been using a retinol serum every other night for about a year now, and always apply a gentle moisturizer after it to keep my naturally dry skin happy!
If you are over 30, retinol MUST be a part of your skincare routine to keep those pesky wrinkles away. Even if you are well into your 40's or 50's, it's never too late to start and look your best!
So, stick with it for at least 3 months to see the real difference…it's not magic!
Best Retinol Creams and Serums Under $50
Now that we have covered the basics of using retinol, let's get to the best drugstore retinol creams and serums under $50 that can give you great skin on a budget.
You can easily pick up most of these retinol treatments at your local drugstore and they are easily available at Amazon prime as well…even better, right?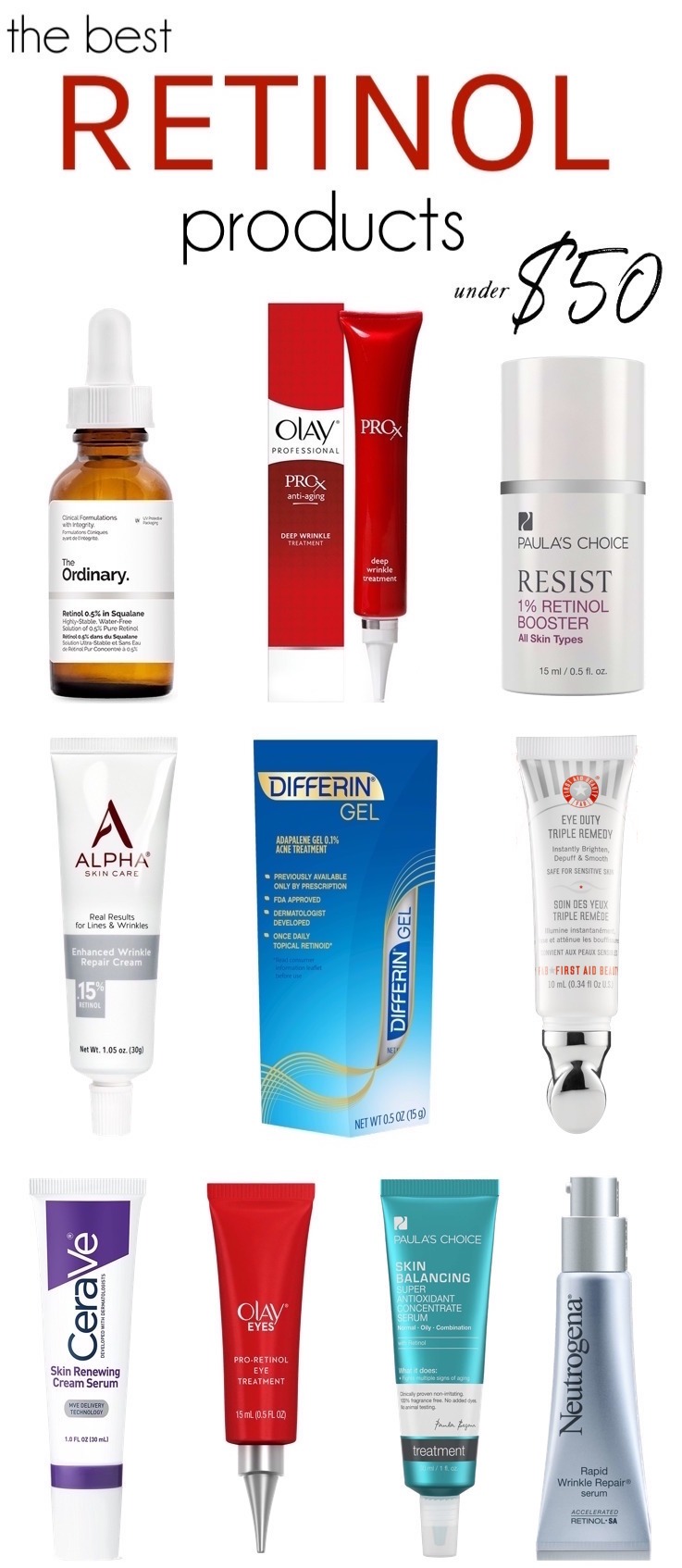 1. The Ordinary Retinol 0.5% in Squalane ($6.50)
One of the most affordable retinol products on the market, this highly stable water-free solution contains 0.5% pure Retinol. Free of parabens, sulphates, mineral oil, alcohol and other nasties, it has a clean ingredient list and a lightweight serum texture.
The Ordinary offers Retinol products in different strengths (all under $10) so you can switch to a higher concentration, more potent (yet non-irritating) formula like the Granactive Retinoid 5% in Squalane when your skin gets used to retinol.
2. Olay Pro-X Deep Wrinkle Treatment ($23.49)
Formulated with a fusion of pro-retinol, amino peptides, niacinamide and glycerin, this drugstore favorite is not only an effective anti-ager but also delivers a concentrated surge of hydration (which prevents any dryness or irritation from retinol). It has a silky, thin lotion texture that pairs well with other products.
3. Paula's Choice Skincare RESIST 1% Retinol Booster ($49.40)
This multi-tasking retinol booster with a water-like texture is designed to be mixed into your favorite serum or moisturizer rather than used on its own. This gives you the ability to turn a product you already use into a potent retinol treatment!
It's perfect for those who haven't yet found a retinol serum/moisturizer that suits their skin type or concerns. Aside from 1% retinol, this product contains multiple antioxidants and soothing ingredients to boot.
4. Alpha Skin Care Enhanced Wrinkle Repair Cream ($15)
Considering what a rockstar retinol is when it comes to anti-aging, this under $15 wrinkle fighter with 0.15% retinol plus antioxidants is a beauty steal! It comes in a stable packaging to keep the light-and air-sensitive ingredients effective and is gentle enough for all skin types.
And it's a great skincare dupe for StriVectin-AR Advanced Retinol Concentrated Serum ($119)
5. Differin Adapalene Gel 0.1% Retinoid Acne Treatment ($11.27)
Differin Gel contains 0.1% adapalene, an acne-fighting retinoid that was previously available only by prescription. This acne treatment gel is the first and only FDA approved over-the-counter topical treatment to contain a full prescription-strength retinoid.
Not only does it clear breakouts deep in pores, but also acts as an anti-inflammatory agent to reduce redness and swelling…and a little goes a long way! A must-have for acne-prone skin. It's easily available at drugstores like Walgreens and Target.
6. First Aid Beauty FAB Skin Lab Retinol Eye Cream with Triple Hyaluronic Acid ($44)
Formulated with micro-encapsulated retinol, hyaluronic acid, colloidal oatmeal, aloe, ceramides, vitamins C and E,  and this rejuvenating eye cream tackles crow's feet, fine lines and wrinkles while reducing dark circles and puffiness.
Also, it instantly brightens under-eye darkness with light reflecting minerals, leaving the eye area looking smoother, firmer and more youthful. The fragrance-free formula has a rich cream texture that feels silky and hydrating without being greasy.
7. CeraVe Skin Renewing Retinol Serum ($14.37)
This retinol serum is formulated with encapsulated retinol which stabilizes and delivers retinol gradually, so it won't cause irritation. In addition to retinol, the fragrance-free formula also contains three essential ceramides (1, 3, 6-II) to provide long lasting hydration.
The non-greasy and fast-absorbing formula has a lightweight moisturizing texture that works well for all skin types.
8. Olay Eyes Pro-Retinol Eye Treatment ($18.74)
If you're looking for a great drugstore eye cream with retinol, Olay's Pro-Retinol Eye Treatment might be your best bet! Formulated with Retinyl Propionate, this eye cream is potent and nourishing at the same time, and decreases the appearance of crow's feet and wrinkles without irritating the sensitive eye area.
9. Paula's Choice Super Antioxidant Concentrate Serum with Retinol ($34)
This gentle serum supplies skin with a variety of age-fighting antioxidants PLUS an effective but gentle amount of retinol that helps visibly reduce fine lines, treat sun damage and unclog congested pores.
With a weightless gel formula, it's the perfect pick for oily or combination skin. This one is a great choice for retinol beginners and anyone with sensitive skin!
10. Neutrogena Rapid Wrinkle Repair Serum ($17.06)
This silky serum combines Retinol SA, Glucose Complex, and Hyaluronic Acid (which adds line plumping moisture) that work together to brighten your skin and diminish dark spots, while smoothing fine lines and wrinkles, including crow's feet. The formula has a light, fresh scent and sinks into skin quickly.
Best Retinol Serums That Give You The Most Bang for Your Buck
And if you are in the mood to splurge a little, here are the best retinol serums that give you the most bang for your buck! These hard-working heroes check off all the boxes when it comes to doing retinol right, treating sun damage, dark spots and wrinkles without the irritating side effects.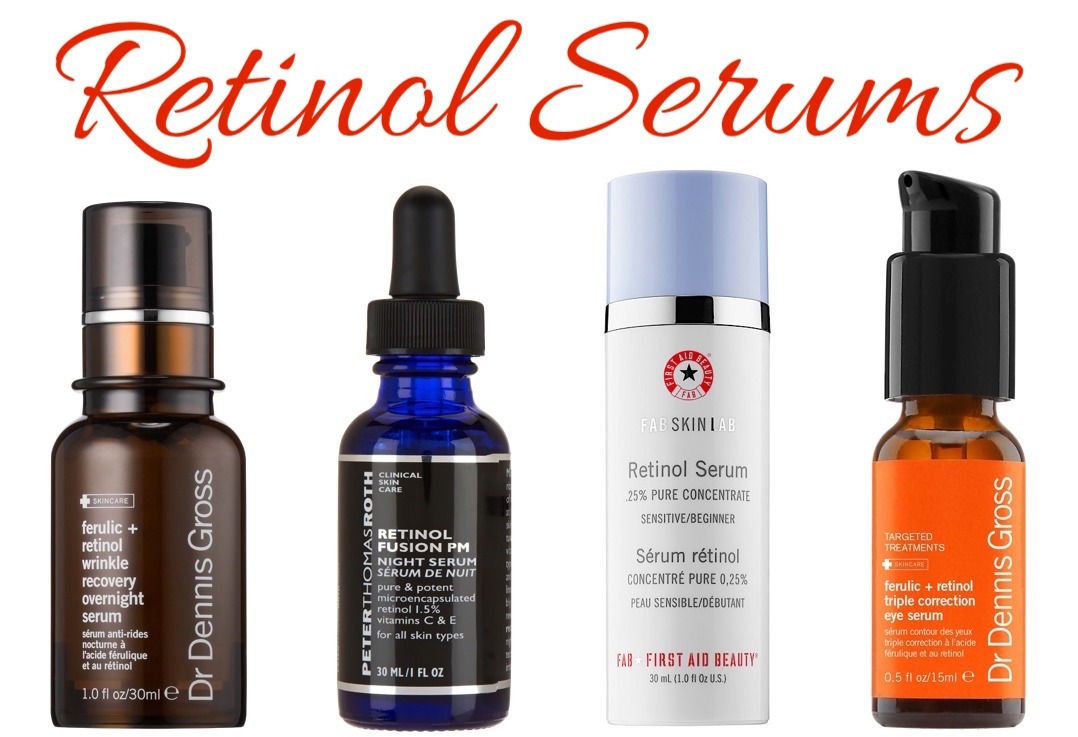 1. Dr. Dennis Gross Skincare Ferulic + Retinol Wrinkle Recovery Overnight Serum ($88)
This retinol serum kicks ass in the wrinkle-fighting and hydration department, thanks to an A-plus combination of retinol, ferulic acid and niacinamide. And the formula is vegan and cruelty-free.
2. Peter Thomas Roth Retinol Fusion PM ($34.89)
Packed with a potent concentration of time-released microencapsulated Retinol at 1.5%, this lightweight serum packs a solid punch against all your skin woes, from fine lines & wrinkles to sun damage and discoloration.
Also infused with Vitamins C and E, the moisturizing formula is suitable for all skin types and delivers maximum results with minimal irritation. It's a tried and true cult favorite!
PS: I found this amazing Value Set at Ulta with 3 Retinol Fusion PM products – it includes this serum, Retinol Fusion PM Eye Cream and Overnight Resurfacing Pads (20 ct.) – All for only $58. Grab it here!
3. First Aid Beauty FAB Skin Lab Retinol Serum 0.25% Pure Concentrate ($58)
This is a gentle retinol serum that both sensitive skin and beginner Retinol users can use comfortably without worrying about any harsh side effects.
The lightweight lotion formula combines 0.25 % Retinol and Peptides, along with several soothing hydrators like Hyaluronic Acid, Vitamins C + E, Aloe, Colloidal Oatmeal and Ceramides that comfort and nourish skin.
4. Peter Thomas Roth Retinol Fusion PM Eye Cream ($55)
If there's an eye cream that's really worth the splurge, this is it! It hits all the right notes in terms of delivering a potent concentration of micro-encapsulated retinol (1%) with a gentle release of retinol over eight hours. Not only does it tackle fine lines and wrinkles but also takes care of dark circles caused by pigmentation.
And the rich, moisturizing formula is also loaded with antioxidants vitamins C and E plus nourishing shea butter and caffeine to help reduce puffiness.
5. Dr. Dennis Gross Skincare Ferulic + Retinol Triple Correction Eye Serum ($68)
Another excellent option when it comes to gentle eye creams with retinol! Powered by retinol and supercharged with ferulic acid plus soothing licorice root extract, this one helps brighten dark circles, reduce wrinkles, as well as crepiness on the eyelids.
The weightless formula has a silky gel-like texture that enables eye makeup to apply more smoothly. Also, it's vegan and cruelty-free.
Do you have a favorite retinol cream or serum? If not, which of the above retinol treatments will you be trying out first?
Shop this post…