Press sampleMetallic makeup is totally on trend these days. When you want to get a little bit more dramatic with your look, metallic makeup is definitely a fun way to do so! And what better time to experiment with foil-like finish than in the fall?
Even if you haven't hopped on the bandwagon just yet, it's not too late! Being a true lipstick lover, I think metallic lips is the easiest way to get in on the fun…no matter your skin tone or your makeup skill level.
All you need is a pigmented metallic lip color like the new L'Oréal Paris Infallible Metallic Lip Paints!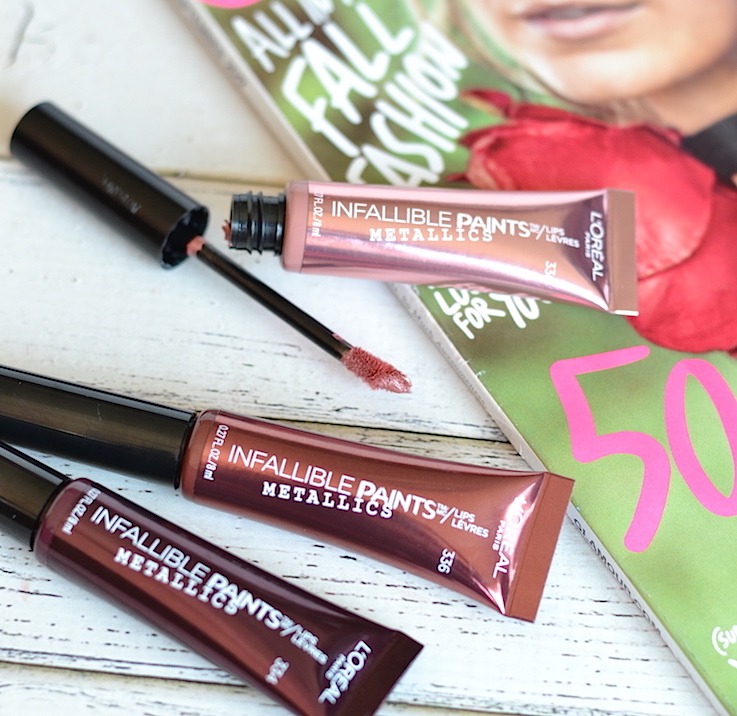 Available in 6 radiant shades from beaming hot pink to burgundy, the L'Oréal Paris Infallible Metallic Lip Paints line promises to be a full coverage metallic liquid lipstick with bold, vibrant color that wears comfortably and won't feather or bleed.
I love the original L'Oreal Infallible Lip Paints formula that launched last year and then the new L'Oréal Infallible Matte Lip Paints became one of my go-to lip colors this summer. And now after trying out the new Metallic Lip Paints, I can say that these lippies are a keeper as well!
L'Oreal Infallible Metallic Lip Paints have a true metallic finish…it's glossy and really pretty without being over-the-top sparkly. The formula has a lightweight yet creamy liquid lipstick texture and applies very smoothly.
The pigmentation is excellent with a rich, opaque coverage in one pass and it's easy to build up the color for more intensity.
The Metallic Lip Paints are available in 6 shades – Studded, Moon Lust, Galactic Foil, Smoldering Eclipse, Liquid Venom and Chrome Cherries.
I had 3 of these but happened to misplace two when we moved to our new house and before I had a chance to swatch them. Here is a pic with swatches of all shades of Infallible Metallic Lip Paints from L'Oreal's Pinterest here.
True to its claims, the formula wears comfortably without feeling heavy, sticky or tacky and doesn't leave my lips dry which is always a big plus!
As for the wear time, it's only about 2-3 hours on average and the color doesn't hold up very well through coffee or lunch break. So, if you are looking for a truly long-wearing metallic liquid lipstick, this might not be your best bet.
My personal favorite shade is Liquid Venom…it will be one of my go-to lipsticks this fall! I am loving this gorgeous metallic fall makeup look that I found here from L'Oreal's Pinterest board!
Bottom Line
From the glossy metallic finish to a pigment-packed and easy-to-wear formula, everything about L'Oréal Infallible Metallic Lip Paints ticks the right boxes. If you're into the metallic trend, these lippies are sure to please!
L'Oreal Infallible Metallic Lip Paints are available at Ulta Beauty, Target, and Amazon.com for $7.99 each.