Finding the right sunscreen can be tricky, but finding the right mineral sunscreen can even be trickier!
When it comes to sunscreens, my personal choice has always been a mineral sunscreen with a lightweight moisturizing feel, NO white cast or greasiness, won't clog pores and wears well under makeup.
In my quest for the perfect mineral sunscreen for face, I've met a lot of duds. But the good news is I've also found a few gems that deliver gentle and effective sun protection while meeting my expectations (and I am super picky about my SPF!)
Ahead, I've rounded up 4 of my current favorite mineral sunscreens that tick all the right boxes and that too at an affordable price point!
Solara Suncare Go! Daily Defense Soothing Mineral Sunscreen SPF 30 ($24.99)
Infused with soothing aloe, antioxidant-rich green tea and skin barrier supportive Lactobacillus ferment, this fragrance-free mineral sunscreen for face contains non-nano Zinc Oxide (19%) for broad-spectrum UVA/UVB protection.
It has an elegant lightweight lotion texture that glides on smoothly and quickly melts in with a soft matte finish that looks natural…no shine or greasiness at all. It blends in completely, and there's absolutely NO white cast. It's also oil-free, silicone-free and non-comedogenic (won't clog pores)
Those with combination to oily skin will especially love this sunscreen's super light texture that doesn't feel thick or tacky on the skin. And it wears well under makeup too. Available at Target
Hero Force Shield Superlight Sunscreen SPF 30 ($20)
Made specifically for acne-prone skin, this super lightweight mineral sunscreen has an ultra-breathable formula with a smooth, skin-like finish that won't clog pores.
In addition to 17.53% Zinc Oxide (non-nano) for broad-spectrum UVA/UVB protection, this sunscreen also contains antioxidant-rich botanicals like green tea extract, turmeric extract, neem extract, ivy gourd fruit extract, red algae extract, moringa seed oil and raspberry seed oil which protect your skin against environmental stressors.
It has an airy-light gel cream texture that absorbs very quickly with a smooth matte finish. It feels barely-there on my skin without being sticky or greasy and layers weightlessly under makeup. The formula has a sheer green tint (more photos here) that blends and disappears into skin as you rub it in and helps mask a little bit of redness.
On my light-to-medium skin tone, it leaves no white cast or chalkiness. However, those with deeper skin tones might notice a bit of white cast with this sunscreen. Overall, it's a great formula and if you have combination to oily or acne-prone skin, you'll love this fantastic mineral sunscreen for face! It's also fragrance-free and silicone-free. Available at Target, Ulta Beauty and Amazon.com
First Aid Beauty Mineral Sunscreen Zinc Oxide SPF 30 ($28)
Formulated with 20% non-nano zinc oxide as the active ingredient plus vitamin E and avocado oil for hydration, this First Aid beauty mineral sunscreen is totally fragrance-free and non-comedogenic so it won't irritate your skin or cause breakouts.
It has a lightweight cream texture that takes a few extra seconds to blend in completely, but it does and there is no white cast left behind. It feels a little bit sticky on my skin initially but wears quite comfortably through the day.
This sunscreen has a natural satin finish (not dewy, nor matte) and doesn't make skin look greasy or shiny. Also, it's hydrating without being heavy. This one is best for those with normal to dry or combination skin. Available at Sephora
Kinship Self Reflect Probiotic Moisturizing Sunscreen Zinc Oxide SPF 32 ($18.20)
Infused with antioxidant-rich turmeric and Kinbiome (plant-based probiotic) to soothe your skin, this sheer tinted mineral sunscreen for face contains an impressive concentration of 22.4% non-nano zinc oxide for broad-spectrum UVA/UVB protection.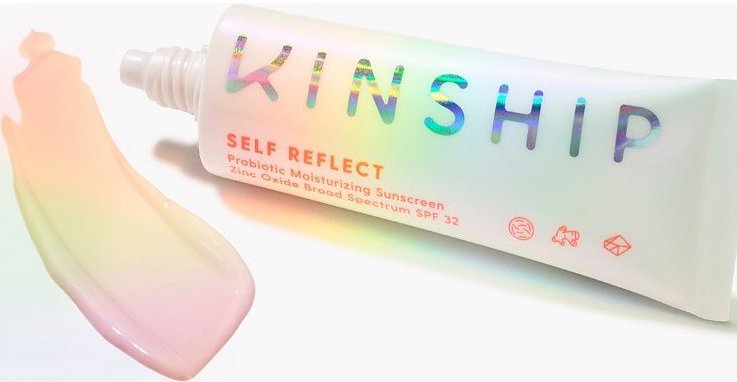 The lightweight formula has a sheer pinky-beige tint that blends in easily, so there's no chalky white cast to worry about. It leaves skin smooth and moisturized with a dewy glow (no greasiness though!) Even sweeter: it smells like a hint of vanilla. Best for normal to dry skin, this sunscreen is silicone-free, paraben-free and vegan. Available at Ulta Beauty
So, these are some of my tried and tested favorites! If you are looking for a mineral sunscreen without white cast, all of these are great options. Not to mention, all of the above mentioned sunscreens are cruelty-free, reef-safe and perfect for sensitive skin types.
Pin This For Later!
By the way, I'm excited to be one of Google's paid early testers for their Thank with Google pilot program! Thank with Google is an experimental feature that allows you to purchase a virtual sticker (or send a free one) and directly show your appreciation for content on my website.
As a loyal supporter, you can now feel more connected and engaged because you have the ability to express yourself and share which content you value the most.
There are a variety of stickers to select from and every time you send a paid sticker, you can add a personal message which I love reading! For me, these virtual stickers translate into direct revenue to support the work that goes into creating the content you enjoy on my blog.
You can find the Thank with Google feature in multiple places on my website, including in the sidebar and as a button at the top and bottom of all my blog posts. Just click and send a virtual sticker to get started! If you try it out, let me know what you think. Thank you so much for your continued support and encouragement, it means the world to me!