Affiliate links Last week I posted about the best new drugstore makeup hitting the shelves in 2019. Today, get ready for a roundup of all the new drugstore skincare launches!
From silky serums with super-powered actives to night creams that give new meaning to the term beauty sleep, below you'll discover a whole bunch of exciting new drugstore skincare products coming your way in 2019!
Drugstores have seriously stepped up their skincare game in a major way this year, but these fabulous finds won't cost you a fortune – they are all under $25! Scroll through to find new wins for your skin!
New Drugstore Skincare 2019
1. Pacifica Sea & C Love Vitamin Serum ($16)
This antioxidant serum contains the beloved Vitamin C in combination with kelp, red seaweed, green algae, hyaluronic acid, turmeric and green tea. Not only does it brighten up dull skin but also helps fight the affects of blue light from phones & computers.
2. Elf+ Dewy Coconut Refreshing Mist ($8)
Perfect for a mid-day refresh, this facial mist is infused with coconut water, hyaluronic acid and argan oil to hydrate and nourish your skin leaving a dewy glow.
3. Elf Hello Hydration Face Cream ($12)
Packed with skin-loving ingredients like Niacinamide (Vitamin B3) to brighten and even skin tone plus Hyaluronic Acid, vitamin B5 and peptides, this nourishing cream is a heavy-hitting hydrator (without a heavy feel!)
4. Bliss Hydration Salvation Camellia Facial Oil ($22)
This luxurious vegan facial oil blend is supercharged with 10% fermented camellia oil (packed with nourishing omegas 3, 6 and 9) to deliver tiny antioxidant-and-moisture-packed molecules that plump and rejuvenate even the most parched complexions.
5. No7 Laboratories Resurfacing Skin Paste ($23)
Pesky pores and stubborn spots be gone! This at-home peel uses a specially formulated 10.5% blend of glycolic and fruit acids to gently exfoliate for smoother, brighter skin (in just 15 minutes). The addition of soothing licorice extract minimizes any irritation.
6. Bliss Rose Gold Rescue Soothing Facial Moisturizer ($18.99)
Infused with soothing rose flower water and nourishing colloidal gold, this sensitive-skin friendly face cream provides lightweight moisture with no greasy after-feel. Best for normal to oily/combination skin. Cruelty-free.
Photo: Bliss Facebook
Bliss also a new Rose Gold Rescue Gentle Foaming Cleanser ($10.99) that's sulfate-free and removes dirt, makeup and excess oil without over-drying.
7. Olay Sun Face Sunscreen Serum + Makeup Primer SPF 35 ($25)
Skincare that doubles as makeup? YES, please! This antioxidant-infused sunscreen serum with a barely-there feel protects, primes and mattifies skin for makeup so that it doesn't smudge or fade through the day. No more settling for greasy sunscreens!
Olay has also introduced a new Olay Face Sunscreen Serum + Shine Control SPF 35 ($26.99) with an ultra-lightweight, antioxidant rich formula that controls oil to help your skin stay shine-free all day.
8. Yes To Grapefruit Vitamin C Glow-Boosting Unicorn Peel-Off Mask ($15.99)
Formulated with the goodness of skin-brightening vitamin C and grapefruit, this iridescent pink mask peels away the nasties for an instant glow. The tube comes with a built-in spatula for easy, mess-free application and removal.
The Yes to Grapefruit collection also has a new Vitamin C Glow-Boosting Unicorn Clay Cleanser ($10.99) with a pink clay formula that turns to yellow when its ready to be rinsed off!
9. Pixi Beauty Vitamin C Skincare Collection ($15-$24)
This new Vitamin C-rich brightening skincare line by Pixi is designed to reduce the effects of sun damage, while improving skin tone and boost skin luminosity. The collection has everything from a Vitamin C antioxidant serum and lotion to cleansing water and exfoliating toner.
Photo: Pixi Beauty
10. CeraVe Hydrating Hyaluronic Acid Face Serum ($18.99)
With 3 essential ceramides, hyaluronic acid & vitamin B5, this refreshing gel-cream formula locks in moisture and improves the appearance of dry lines for instantly smoother, softer skin. It's non-comedogenic, paraben and fragrance-free.
11. Physicians Formula Rose All Night Ultra-Rich Restorative Cream ($14.99)
With calming rose water, brightening kakadu plum and wrinkle-relaxing Sea Mayweed (natural alternative to fillers), this ultra-rich night cream repairs and rejuvenates skin for a healthy glow.
12. Burt's Bees Hydrating Overnight Mask with Avocado and Prebiotics ($14.99)
This moisturizing mask boosts your beauty sleep, thanks to avocado oil and prebiotics that deeply moisture while helping your microbiome.
13. Pacifica Sea Purify Balancing Clay Mask ($15)
Great for combo to oily skin, clogged pores and blackheads, this clay mask is infused with marine extracts and charcoal that come together to clarify and lift away all sorts of gunk and grime. 100% Vegan and cruelty-free
14. Dove DermaSeries Dry Skin Relief Overnight Face Cream ($14.99)
Designed to relieve very dry skin from the discomfort of dehydration, this night cream from Dove contains a balanced blend of shea butter and glycerin to nourish the epidermis deep down. The fragrance-free, non-comedogenic formula is even suitable for eczema and psoriasis-prone skin.
15. Physicians Formula Skin Booster Vitamin Shots ($12.95)
Physician's Formula has introduced three new Vitamin Shots formulated to tackle all your complexion concerns. Use vitamin C based Brightening serum blend to reduce dark spots, Hydrating to moisturize dry skin, and Time-Restoring to smooth fine lines.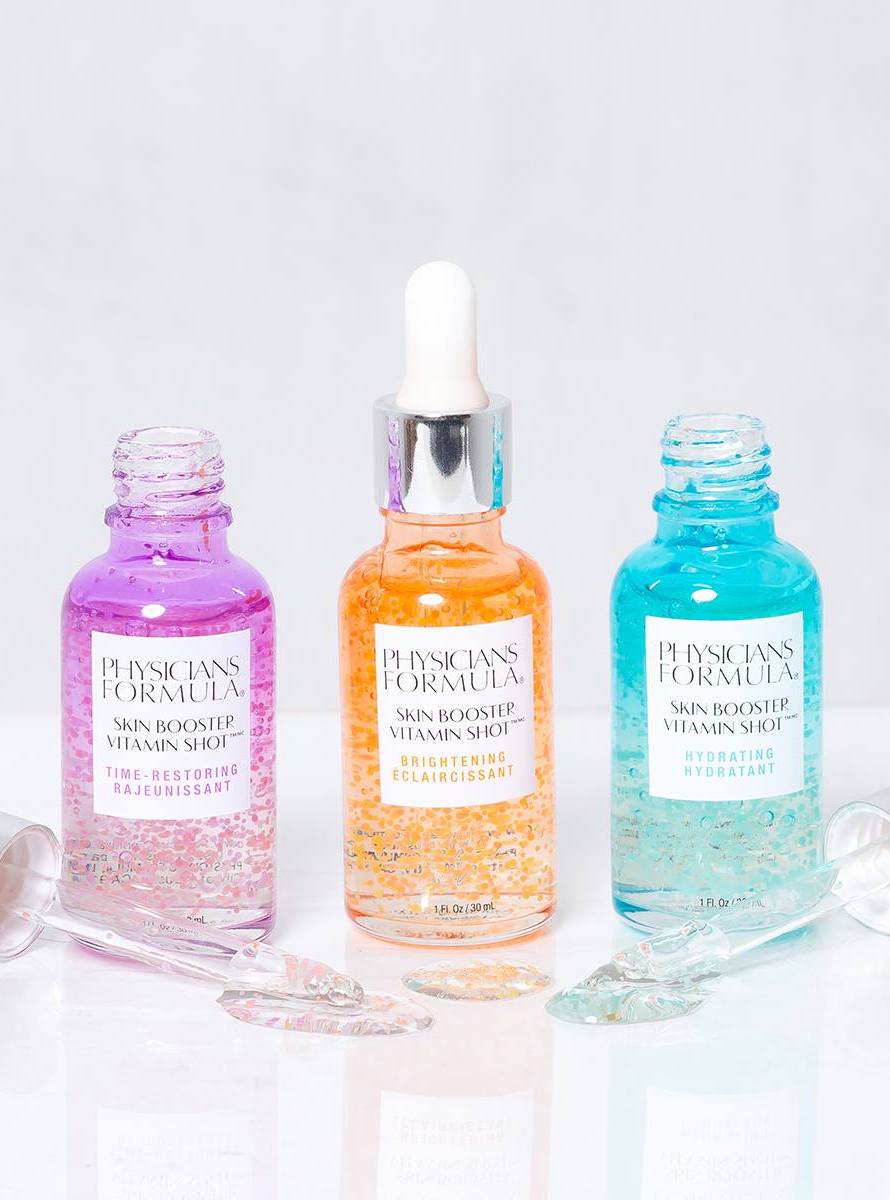 Photo: Physicians Formula
16. Honest Beauty Pure Retinol Serum ($27.99)
With a blend of retinol and hyaluronic acid, this night serum hydrates and reduces the signs of aging. Honest Beauty (now available at Target stores) has also added a new Vitamin C Radiance Serum, Hydrogel Cream, Magic Beauty Balm Stick, and Magic Gel-to-Milk Cleanser to their natural skincare lineup.
Photo: Honest Beauty
17. Yes To Tomatoes Detoxifying Charcoal Acne Spot Treatment ($9.99)
This portable acne spot treatment in a rollerball applicator delivers a concentrated dose of salicylic acid, tea tree oil and witch hazel to banish breakouts, while bisabolol and ginger extract reduces redness.
18. Bioré Blue Agave + Baking Soda Instant Warming Clay Mask ($6)
The clay based self-warming formula soaks up excess oil, clarifies skin and helps tighten pores while the blue agave keeps it from drying out less-oily areas.
19. Elf+ Mattifying Lotion ($8)
Infused with Kaolin Clay and Tea Tree, this whipped, clay-infused lotion provides just the right amount of hydration and oil control for a long-lasting matte finish.
Photo: Elf Cosmetics
20. Pixi DetoxifEYE Masks ($27)
These hydrogel eye mask patches instantly depuff under-eye area while reducing the look of dark circles. Infused with cucumber and gold to soothe and nourish, plus caffeine and hyaluronic acid for a quick hit of hydration, it's the perfect pick-me-up for your eyes!
21. Bliss Jelly Glow Peel ($12)
This gentle jelly peel uniquely exfoliates with soft plant-based fibers that act like micro-lint rollers and give you supremely smooth skin–no harsh scrubbing.
22. Yes to Tomatoes Triple-Threat Acne Treatment Kit ($12.99)
This zit-zapping kit knocks out blemish-causing bacteria with a concentrated blend of sulfur, charcoal and witch hazel. Works best an overnight acne treatment!
23. Pixi GLOW Glycolic Boost (3 sheet masks, $10)
This sheet mask gets you glowing with a serum concentrate of glycolic acid and herbal extracts. Just leave on for 10-15 minutes for a luminous looking complexion.
24. Pacifica Flower Power Rose Targeted Face Masks ($5)
Formulated with floral stem cells, green tea and rose hip extract, these pretty pink spot masks are designed for areas that need extra love including frowny face and smile lines. No need to rinse after!
25. Bliss Ex-glow-sion Eye Cream ($17.99)
Infused with stabilized Vitamin C and Niacinamide, this ultra-light, but super hydrating eye cream with a subtle iridescent sheen brightens instantly and diminishes the appearance of dark circles.
26. Physicians Formula The Perfect Matcha 3-in-1 Melting Cleansing Balm ($14.99)
Enriched with Matcha green tea extract, this ultra gentle creamy cleansing balm melts away makeup effortlessly while leaving skin feeling soft and supple.
27. Pond's Rejuveness Anti-Wrinkle Daily Facial Moisturizer SPF 30 ($9.99)
Infused with Alpha Hydroxy Acids (AHAs) and collagen, this new anti-wrinkle moisturizer smoothes the appearance of fine lines while hydrating and protecting skin from daily sun exposure.
28. Burt's Bees Hydrating Lip Oils (with Sweet Almond Oil or PassionFruit Oil) $5
Infused with natural oils to deliver intense hydration, this 100% natural formula reduces the appearance of dry lip lines leaving lips super smooth and soft. The lip oils add a subtle shine without feeling sticky.
Shop this post…