Affiliate links Maybelline Made For All Lipsticks is a new collection of universal lipstick shades that have been specially created to complement every skin tone. Available in 7 shades — reds, pinks and neutrals — the Made for all lipsticks come in satin and matte formulas with honey nectar for a smooth & comfortable feel.
According to the brand, Maybelline Made for All lipsticks feature specially selected pigments needed for each shade to work on every complexion. And all these lipsticks were tested on 50 diverse skin tones from fair, medium and deep skin to everyone in between. They are designed to take the guesswork out of your lipstick shopping experience.
I am not too sure of every lipstick shade in this collection being flattering for all skin tones – not every red or nude lipstick can look equally amazing on everyone! Just like foundation, lipstick shades have different undertones that flatter your skin tone (or don't!)
That said, I have always loved Maybelline lipsticks so when I spotted this new collection at Ulta the other day, I couldn't resist picking up 2 shades that caught my eye! I got Spice for Me and Ruby for Me.
Let's start with Maybelline Made for All Lipstick in Spice For Me
This is a beautiful burnt orange-brick color with a satin finish. What I really love is that the undertones in this color are not too orange nor too brown and complement my complexion well.
The brick toned shade is especially perfection for fall…I always gravitate towards such shades in fall/winter months! This is the type of shade I reach for when I want a somewhat bolder lip look, but not red.
Maybelline Made for All Lipstick in Ruby For Me
I love a bright red lipstick and this is a fabulous find! It's a pigment-packed, peppy red with slightly pink undertones and satin finish. Just one swipe gives me full-on, opaque color! It really is a statement-making shade. I fell in love with it right off the bat! It's bold and beautiful…just the perfect pick for a night out!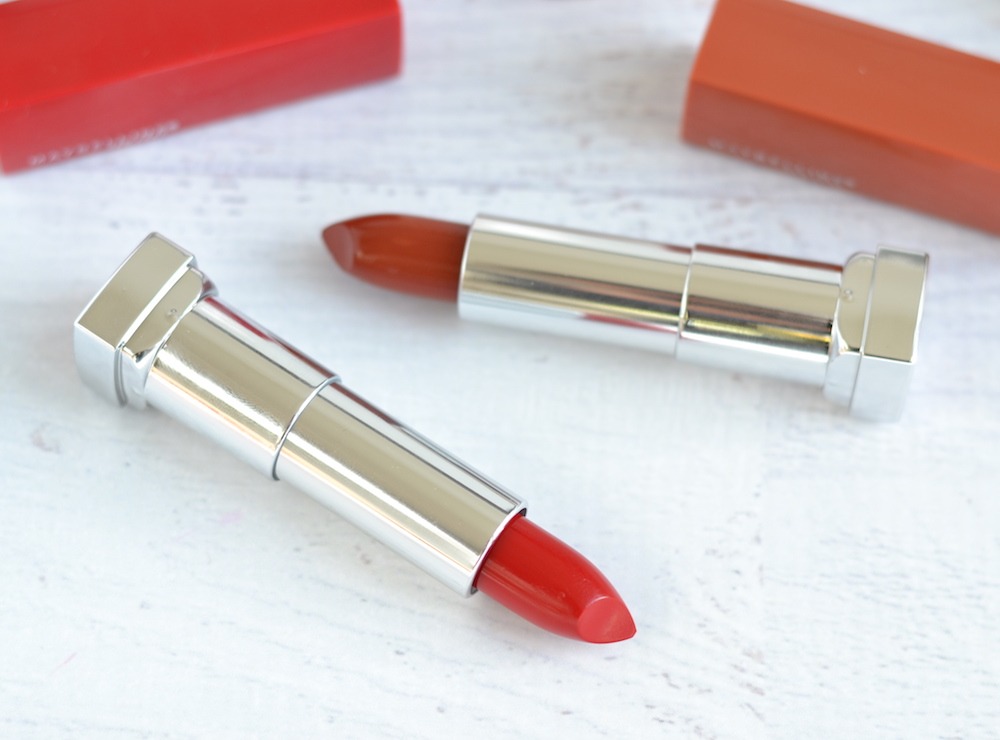 As for the formula, these lipsticks glide on lips smoothly with a creamy feel and the color payoff is excellent for both the shades. The wear time is about 5 hours for the shade Spice for Me while Ruby for Me lasted even longer (7-8 hours).
I didn't find the satin formula hydrating but it's not drying either (as long as I've used a lip balm before applying this lipstick.) Now that it's winter, my lips are even drier than usual so I need an extra layer of moisture! Here are the swatches of Spice for Me and Ruby for Me
Bottom Line
Overall, color me impressed with the Maybelline Made For All Lipsticks! Maybelline really nailed it with the formula and finish of these lipsticks. Both the shades I tried are beautiful and very flattering on my complexion but it's hard to say if they are really 'universal' to suit every skin tone!
That said, these lipsticks are absolutely worth trying and you will definitely find a shade or two in the collection that you'll love!
Maybelline Made For All Lipsticks are available for purchase at Target, Amazon.com and Ulta Beauty (Buy 1, Get 1 at 50% off) for $5.99 each.
Here are the swatches for every shade in the Maybelline Made For All Lipsticks collection (from Amazon)